'I love donkeys,' enthuses EO director Jerzy Skolimowski. 'I'd have one as a pet, if it wasn't for their size.' The Polish filmmaker, a veteran of such '70s cult cuts as Deep End and The Shout, would know: he's just spent two years working with six of them to bring his Oscar-nominated masterpiece to the screen. Set in Poland and Italy, EO shows the world through a donkey's eyes, inviting us to share its joys and suffering in a way that's guaranteed to make you a donkey convert.
A key touchstone for the film is Robert Bresson's 1966 donkey classic Au Hasard Balthazar. Skolimowski saw it at the cinema when it came out and it stuck with him – he remembers weeping at the travails of its little donkey hero. But transplanting its themes to modern-day Europe made for a singular filming experience, even for a director who lives in the Polish forest and loves to connect with nature (ask him about feeding the local deer). Its unique, four-hoofed stars saw to that.
Donkeys may not be unionised or carry Equity cards, but their working conditions are still enshrined in law. The working day is capped at eight hours, and while they won't retreat to their trailers like high-maintenance thespians, directorial notes need to be delivered quietly – and, ideally, with a carrot. And even that isn't always enough to get them to hit their marks.
Donkeys are highly intelligent, sensitive animals but they are stubborn
'They're highly intelligent, sensitive animals but they are stubborn,' says Skolimowski. He remembers making an unusual intervention to get a donkey to respond to a call of 'action'. Soothing words and juicy carrots were offered in the hope of keeping the donkey on-script. Nothing worked. Then the director put his head next to the donkey's to take the same perspective. 'I noticed an exposed camera lead on the ground,' he says, 'and it represented potential danger – perhaps he thought it was a snake?'
The cable was covered, the donkey reassured and filming resumed.
'We had a whole arsenal of treats, including special donkey biscuits, to keep them motivated,' says EO's on-set animal wrangler, Agata Kordos. She and her fellow wranglers are the film's unsung heroes, dunking themselves in freezing rivers to coax the four-hoofed actors forward and ensuring they were rested and nurtured throughout the shoot. There was also six months of pre-production bonding before the camera even started rolling. Trust is hard-earned in the donkey world.
The six animals – Tako, Hola, Marietta, Ettore, Rocco and Mela – all came with different personalities that helped determine which scenes they were used for. Tako and Hola were responsible for the vast majority of the scenes shot, with four other, non-professional donkeys filling in for the film's Italian scenes.

Hola, the most 'feminine' of the six, came from a herd of wild donkeys and had to be taught to pull a cart and walk through shallow rivers. 'She initially wanted to dominate but eventually she learnt to trust and cooperate,' says Kordos. Then there was Tako, dubbed 'the Tom Cruise of donkeys' because of his willingness to undertake the film's (relatively) high-octane dramatic beats.
We used

special donkey biscuits to keep them motivated
Through a strange twist of fate, EO isn't the only donkey story at this year's Oscars – in fact, there are three of them. The Banshees of Inisherin stars Jenny, a guileless donkey owned by Colin Farrell's equally guileless Pádraic. The pair are so close, they even share a house, much to the annoyance of Pádraic's sister. The real Jenny was a more diva-ish collaborator than Tako or Hola, giving Farrell a hefty kick when he made the mistake of touching her nose during rehearsals. But the pair overcame that friction and if Farrell wins a Best Actor gong, expect Jenny to get a shoutout on stage.
Then there's the less fortunate creature in Ruben Östlund's fellow Best Picture nominee, Triangle of Sadness, that doesn't even last long enough to get a name. The poor braying creature is minding its own business when a group of super-rich shipwrecked passengers wash up and see it as a necessary sacrifice to their newfound survival instincts.
All three films are vastly different but each, in their own way, uses donkeys to say something very similar about humans and our unbalanced, often exploitative relationship with the animal kingdom.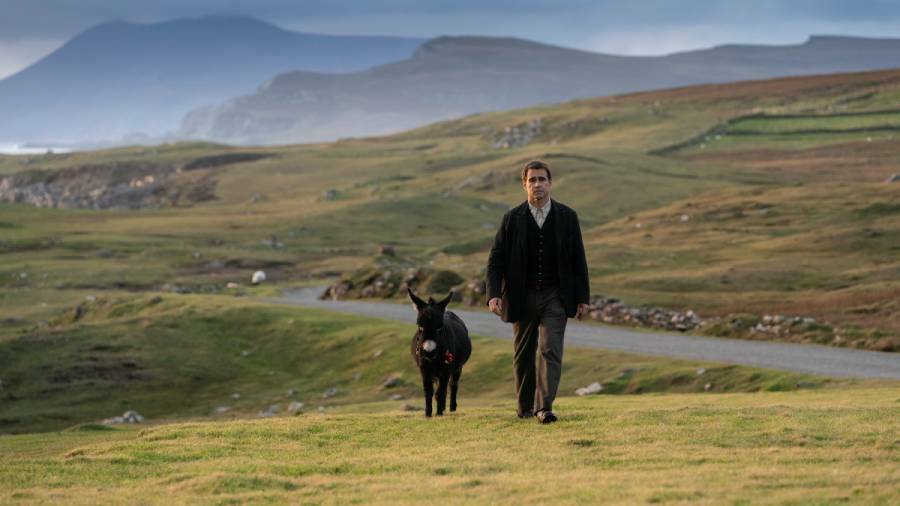 EO's Skolimowski recalls being beguiled by the donkey's disproportionately big eyes. 'They watch everything,' he reflects. He hopes that inviting people to watch them back will help dispel the stereotypical view of donkeys as plodding beasts of burden. The animal welfare community's reviews are glowing. 'It's a poignant tribute which recognises the intrinsic value of donkeys,' says Devon's The Donkey Sanctuary. Their hope is that EO will elevate their status in the public consciousness and maybe even teach us to be better versions of ourselves. 'People can learn patience, sensitivity, intelligence and to pay attention [from donkeys],' says Marek Russ, another EO animal wrangler.

Even as the Oscars spotlight hovers over their human collaborators, EO's stars will go back to their quiet lives of munching hay and contemplating the universe. 'We still keep in touch,' says Kordos. 'When we went to visit Tako, he ran from one end of the meadow to another to greet us.' Their film is a cry from the heart to be more caring towards animals, but it might also contain a canny lesson for us all in another tumultuous year: Be More Donkey.
EO is in UK cinemas on Feb 3. The Banshees of Inisherin is on Disney+ now.
Outsiders and Exiles: The Films of Jerzy Skolimowski runs at London's BFI Southbank, Mar 7-Apr 30
Head here for information on adopting a donkey at The Animal Sanctuary.