Using the sink in her Parisian flat, Julia Ducournau is explaining why the soon-to-be-viral self-inflicted nose-breaking scene in her new film Titane had this writer yelping. 'It's this sound,' she says, tapping on the ceramic. 'You're anticipating the moment and you're thinking: Hell no!' Anticipation is definitely the word with the moviemaker of the moment: a Palme d'Or winner whose latest hits the heart and the nervous system like a hurricane.
Titane follows Alexia (Agathe Rousselle), a cold-blooded killer who embarks on a journey of self-discovery, gender fluidity and busted noses across France.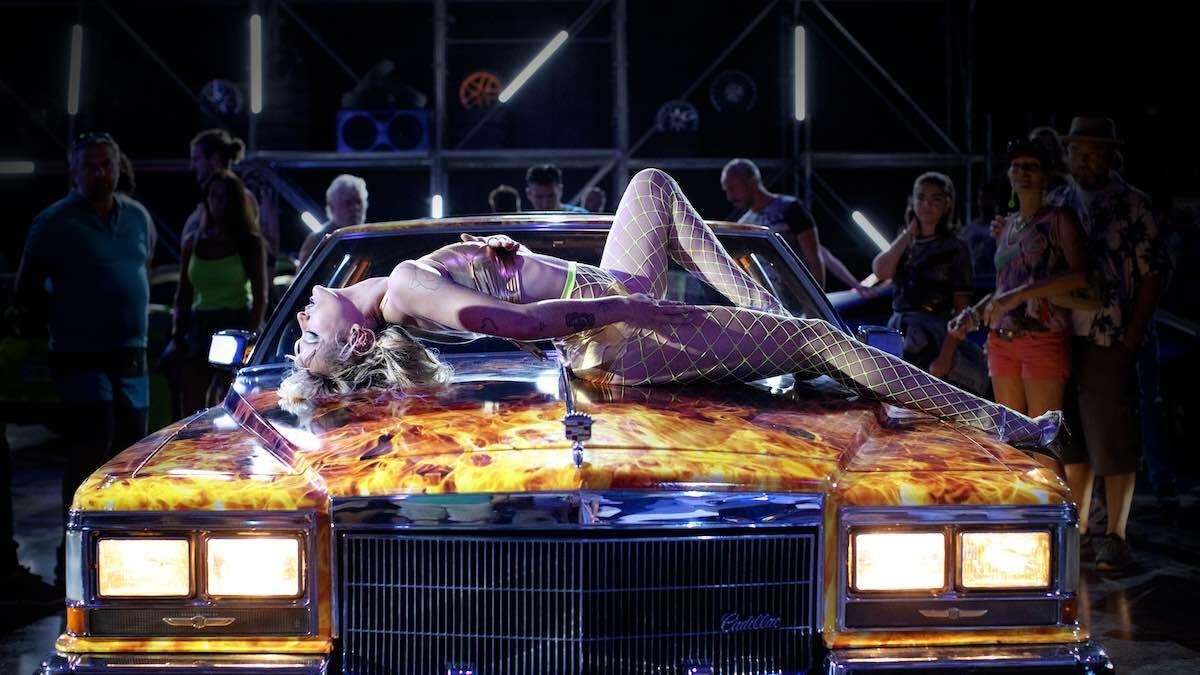 Let's start with the nose scene. I watched it through my fingers.
'It's less violent than it looks. The moment she breaks her nose on the edge of the sink, it's actually two shots of the same thing: we do one shot where she's moving down and one when she's moving away [afterwards] and she's wearing a prosthetic nose. We used VFX to mix the two shots. No noses were broken during the making of this film.'
Famously, someone fainted during a screening of your debut Raw. What's the most extreme reaction you've had to Titane so far?
'I'm not on social media so I don't know. There was a girl who came for a hug and cried on my shoulder. I understand how you can react to some work of art that makes you question your vision of yourself – it can be overwhelming – so I tried to be as soothing as possible. But isn't the fainting old news, a bit?'
Titane is a story of gender fluidity and acceptance. How personal is it to you?
'Obviously, it's not an autobiography (laughs) but I am everywhere in my films. I don't think your gender defines you as a human being. The [way] gender stereotypes intervene in the interactions you have with other people is terrible, and I wanted to imagine a world in which the spectrum of what it is to be human is way broader.'

No noses were broken during the making of this film
It's been compared to Cronenberg's Crash. Is there a lesser-known film that inspired you?
'I love Una Giornata Particolare ("A Special Day") with Sophia Loren and Marcello Mastroianni. He's gay and she's straight but they love each other for who they are. It's a beautiful film.'

Your Palme d'Or win was accidentally announced at the start of the Cannes ceremony. What was that like for you?
'It was a wild ride! But in retrospect, I'm super-happy it was like this. It had been two years since the last Cannes and it felt like this big machine that you had to restart and it was kind of clunky. There were mistakes but in the end it was really relatable. Even when they called my name, I still thought it was a mistake.'
Are you a downstairs-bathroom kinda award winner?
'No man, I've been home so little that I thought that if I get burgled I didn't want them to find it, so I hid it in a remote place in my apartment.'

That is so paranoid.
'Yes, I know (laughs). I am paranoid.'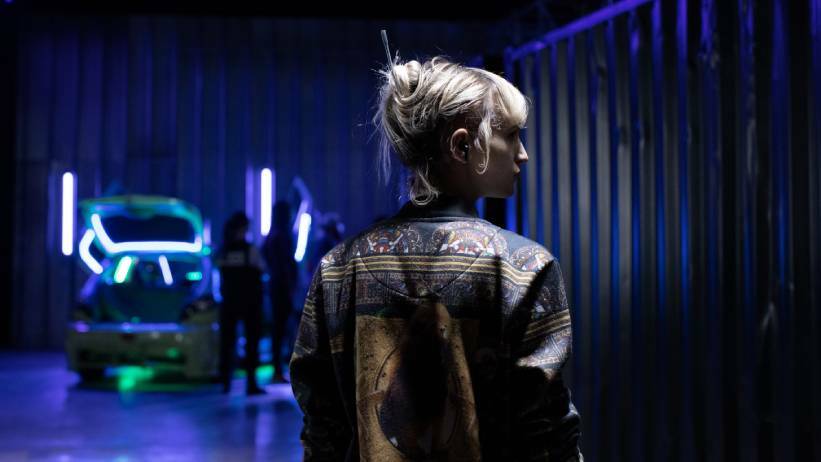 What is on the cards next for you? Is Hollywood of interest? Could you make a Julia Ducournau movie for $200 million?
'With $200 million, can I make my movie? I can make ten movies for that!'
But there's a certain kind of movie that Hollywood makes. Are you interested in making those kind of films?
'You mean like Marvel stuff? Of course, I'm interested in making films in the States. For me, the best would be to be between the States and Europe and to keep doing what I do in France, because in France this use of genre is a new world for us, so there's [scope] to dig a bit further – whereas in the US, it's more formed, there are more directors. But I would love to go to the US and work with some actors and actresses that I like. With the superhero movies, I've had this question so much that I wonder why it gets asked so much: does it mean that for you it's a mandatory rite of passage? Something that you have to do? It's a question that has no real answer because it depends on the film, the people behind it and all that.'
Only because it's a trajectory that a fair few breakout indie filmmakers have taken in recent years, and when you have a Palme and two acclaimed films behind you, the phone obviously starts ringing. There's an interest in how much you want to answer those calls and how connected you feel to those worlds.
'Well, to answer your question, I think I would be interested in bringing my really organic signature to these films which are not organic at all. And if people would allow me to do that, then I could have fun with this.'
You're coming to London for the film festival. Is it a city that's close to your heart?
'I love London. It's actually where I go with my best girlfriends every year for my birthday. We spend three or four days, walking around, seeing the food markets – because we don't have them in Paris – and going to clubs. I'm very attached to the city and I'm very attached to the festival because I received the Sutherland award, which was a very high note for me. I remember staying for a screening of Raw and it was the most focused screening room I'd ever seen, to the point where I actually thought people were either asleep or dead.'
During a London screening of Raw, I thought people in the audience were either asleep or dead
Do you have a favourite place to go out in London?
'I went to Bethnal Green Working Men's Club with my friends and I didn't want to leave. There was a lot of drag shows and in a room that was a bit messy but in a good way. It warmed my heart like few clubs have.'

It sounds like a location from one of your movies.
'Absolutely. It was so un-clubbish and free. Completely unleashed.'
Lastly, Titane features a scene where someone gives CPR while singing 'The Macarena'. Are you taking 'The Macarena' viral again?
'I'm not sure I have this power! There are two songs that are good for CPR: "Stayin' Alive" by the Bee Gees, which would have taken the whole budget of my film, and "The Macarena", which is also not cheap but it's not the Bee Gees. It's so funny that I had to make it a comedic scene. You can't do "The Macarena" seriously.'

Titane is the Time Out gala at the London Film Festival on Oct 9. Out in US theaters Oct 1, and UK cinemas Dec 31. Read our review here.