Karen Gillan is super busy. When we speak on the phone – I'm in London, she's in LA – I expect her to be rushed, flustered even. It's early in the morning and she's in a car, on the way to her first appointment of the day. Instead, she's instantly chatty, punctuating her sentences with an easy giggle.
The 29-year-old took a risk when she swapped Scotland for Los Angeles after leaving 'Doctor Who' and the role of the Time Lord's perky companion Amy Pond. 'When I arrived I didn't have anywhere to live,' she tells me, laughing. 'I rented this really dodgy apartment. I was a total mess trying to get myself together.'
But her transatlantic gamble has paid off. This week, you can see her on the big screen as the villainous alien Nebula in the second 'Guardians of the Galaxy' movie. After that there's the 'Jumanji' reboot, and later this summer she plays Emma Watson's techy colleague in Silicon Valley drama 'The Circle'. Gillan has also written and directed her first feature film back home in Scotland – its working title is 'Tupperware Party'.
You have to wear an awful lot of blue face paint in the 'Guardians of the Galaxy' films? Is it hard to wash off?
'Yes! I find blue bits in my ears a week later! It takes about four hours to get ready each morning. Going to the bathroom on set is a whole thing.'
Nebula has got a bigger role in the new film. Were you expecting that?
'No! I was over the moon to read the script and find I had all this stuff to do. Nebula is bitter and twisted. Her backstory isn't just hinted at, we really get into it [in the new film].'
You shaved your hair off completely for the first movie. You didn't fancy doing it again this time around?
'I just shaved the back section of my hair this time. But having no hair was an amazing experience. I'm glad I did it. People did keep calling me sir, though. One time I was laying on a hotel room bed in the dark during the day. A man came in to do the turndown service and said, "Oh, I'm sorry, sir." I was tired and didn't want to have to explain that I was a woman, so I just put on this deep voice and went, "No problem." It was one of the weirdest moments of my life.'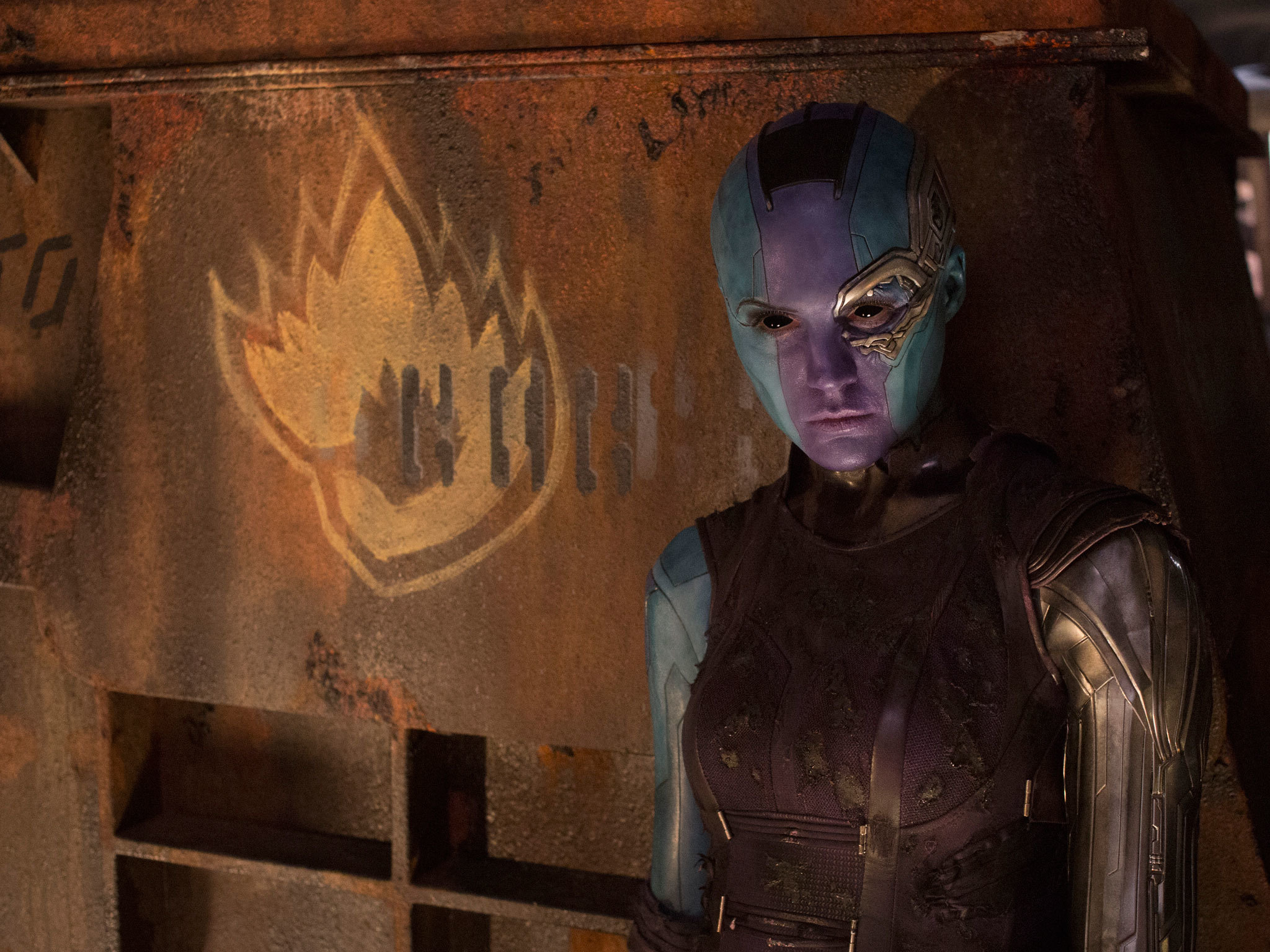 Karen Gillan in 'Guardians of the Galaxy Vol 2'
'I hate jumping off things but I will do it – sometimes screaming'
It's a pretty physical role. How good are you at stunts?
'I'm not naturally good at it. But I keep getting these roles which are stunt-heavy! I work really hard to get as good as I possibly can and then I rely heavily on the stunt doubles. I hate jumping off things but I will do it – sometimes screaming. As a child I would go up to the people who run rollercoasters and ask them how secure their rides were. I haven't changed. "Jumanji" is the most physical film I've ever done. It's constant fighting. I'm taking out like 20 men at a time.'
Pictures of your character's skimpy outfit in 'Jumanji' got quite a negative reaction on social media. Were you expecting it to be controversial?
'Not at all. But I was armed with the knowledge of why she's wearing that. If you just see a picture out of context it's like, "That's ridiculous. The men are all fully dressed." There's a very valid reason and my character is definitely not happy about it either.'
So we'll understand it once we've seen it?
'I'm such a fan of the original "Jumanji". I think the script is really good and people are going to like it. I won't audition for things that I don't think are sending out a good message. I wouldn't take a role that sent women backwards. I feel strongly about that.'
You recently wrote and directed your first feature film. Have you always wanted to get behind the camera?
'Yes. I had this video camera when I was a kid and I made little horror films on it. I feel like I was always supposed to direct. I've fallen in love with it. It's what I want to do.'
First look at 'Jumanji: Welcome to the Jungle'
'I wouldn't take a role that sent women backwards'
What was it like to film a movie in the town you grew up in?
'I've always wanted to do something set in Inverness. I was staying with my parents in my old childhood bedroom and they would drop me off at work. The story is about a girl who is having a hard time dealing with the suicide of her best friend. She can't communicate with people very well, as a lot of Scottish people can't really. We bottle things up.'
You live in LA now. Does Scotland still feel like home?
'Completely. I miss the British humour, the sarcasm, the bad weather. Living in LA is one massive cliché. There are palm trees and everyone you meet is like, "Hey, I'm an actor."'
Last question. Your first big job was 'Doctor Who'. Should the next Doctor be a woman?
'Oh my God, yes. Why not? A woman could bring something new to the role.'
'Guardians of the Galaxy Vol 2' is in UK cinemas Fri 28.