Last time we saw Tom Hiddleston's trickster god of mischief, Loki, he'd apparently cheated death at the hands of Thanos in Avengers: Endgame. As Earth's mightiest heroes travelled back in time to save humanity, Loki got his hands on the all-powerful Tesseract and hot-footed it out of there. Or did he?
As new Disney+ show Loki reveals, the errant Asgardian's attempt to rewrite his own narrative is shut down by the Time Variance Authority (TVA). Basically time-travelling cops, Lovecraft Country star Wunmi Mosaku's Hunter B-15 is on his case. While co-star Owen Wilson tires to press Loki into service, she distrusts his loyalties. It's a really fun role for Mosaku, who gets to go head-to-head with a shapeshifting troublemaker in this gleefully bonkers show. And she gets to join in on the mercurial god's body-swap party.
'It's like going to acting school,' says the British-Nigerian star, speaking from her home in Los Angeles. 'You're playing one character, then you're playing another, and then you go back. You want people to be like, ''Oh, that's someone different''. So it's a challenge, but it's also really fun.'
With so many Brits on the show, I felt a little bit of that taste of home whilst I wasn't able to travel back
What was less fun was when the production was shut down due to world events that even the Avengers would struggle to stop. When Mosaku and co-stars, including fellow Brits Gugu Mbatha-Raw and Richard E Grant, returned to the set in Atlanta, they had to navigate super-tight bubbles that limited their interactions with the crew, and head straight home afterwards to stay put. 'It was kind of scary, getting on the plane, but then getting back and actually seeing people that you already know felt really supportive,' Mosaku says. 'With so many Brits on the show, I felt a little bit of that taste of home whilst I wasn't able to travel back.'
She's known Hiddleston since they were at London drama school RADA together. She was in first year when he was a senior. 'I've always looked up to him as an actor, because not only because he was my third year, but he's also brilliant,' she says of landing the role and stepping on set with Marvel's big-hitter. 'I was a little nervous, but Tom's so sweet. He puts everyone at ease very quickly. And there's no ego or anything. So it was joyful. Honestly, we had such a good time. And Gugu went to RADA too.'
When the months-long lockdown temporarily halted the shoot, in some ways Wunmi never really stepped away from the role. At first she thought last year's crisis would blow over in a few weeks. When it beccame apparent it was a long-haul, the enforced break was a rare opportunity to dig deeper nto Hunter B-15. 'I did a lot of pottering around the garden, and re-reading the script,' Mosaku says. 'We had the time to tighten things up. But I was always ready to go back. I didn't unpack for ages.'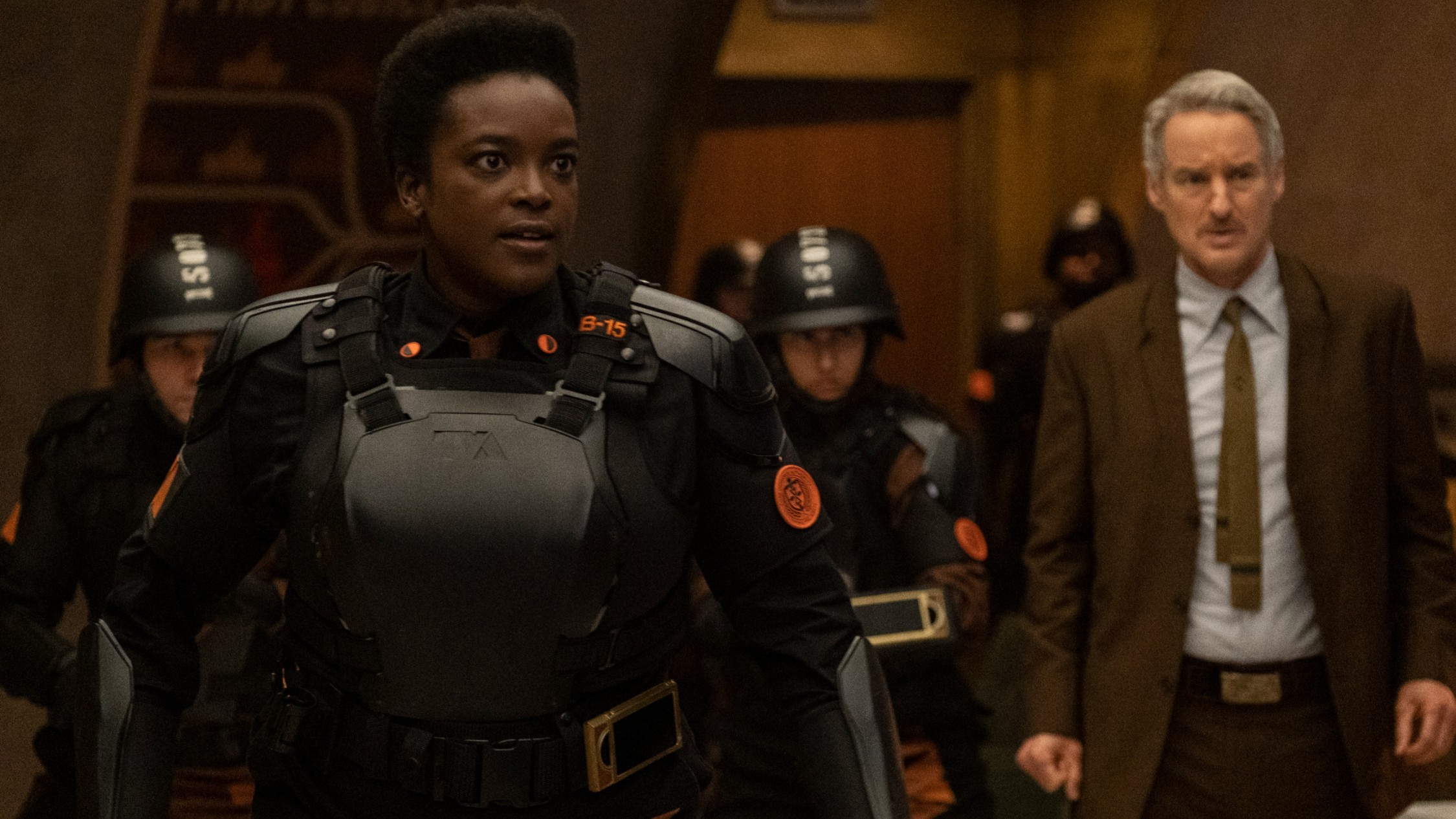 Speaking of unpacking, she was super-glad to step out of her heavy, hot, armoured costume. Designer Christine Wada's work was more like her efforts on sci-fi show Altered Carbon than the gowns she whipped up for rom-com Bridesmaids. 'It definitely helped me get into character,' Mosaku says of Wada's creation. 'There's that weight you're carrying, and you're bigger. You end further than you end, so you knock into things and take up more space, and I'm comfortable with that. But yeah, I thought it was gonna be real easy after Lovecraft Country. I was like, ''Yay, no more heels and skirts,'' but give and dresses and flats any day. That would be great.'
While the general tone of Loki is more madcap than mad, bad and scary, the show certainly has its darker moments. Mosaku seems to revel in genre fare that gets kinda creepy, whether it's Lovecraft's reframing the famously racist horror writer, HP Lovecraft's work via an African-American lens, or back in the UK with the stab-happy investigations of Luther and the straight-up scary movie of refugee-themed His House. Is she a scream queen at heart?
'Oh god, no. I can't watch horror,' she confesses. 'I'm an absolute wimp. The first horror movie that I really watched and enjoyed was Get Out, and I only watched that because it was Daniel [Kaluuya]. And then I was like, ''Oh, horror can have a social commentary too.'' And so then, when I read His House and Lovecraft Country, I was like, 'Oh, this is brilliant. Because I feel like the layers are so rich and deep and mattered to me.'
Loki is streaming on Dinsey+ worldwide now.