In the two decades since he was let go as director of Studio Ghibli's Howl's Moving Castle – a department all the tougher to take given his fondness Hayao Miyazaki's films – Mamoru Hosoda has emerged as the natural successor to his childhood hero, earning an Oscar nomination for 2018's Mirai and an unprecedented 14-minute standing ovation when his latest, Belle, debuted in Cannes. It's a breathtaking film, combining traditional cel and computer animation to tell the story of Suzu, an ordinary 17-year-old student whose online avatar becomes a global singing sensation in an online world called 'U'.

It isn't the first time Hosoda has embraced the digital world in his work; his first film was 1999's Digimon, a kind of digital Pokémon story. Miyazaki's influence was evident in more recent films, including The Girl Who Leapt Through Time (2006) and 2012's Wolf Children, but by the time the beguiling Mirai received its Oscar nomination in 2018, Hosoda had stepped out of his hero's shadow and was drawing worldwide recognition as an animator and an artist.
What was more satisfying, the Oscar nomination for Mirai or the 14-minute standing ovation for Belle at Cannes?
'I was concerned for people's hands! Fourteen minutes is a long time to be clapping. Obviously, I was really happy about that because it shows what the audience think of the film, and maybe the prize-winning films at the festival only got a four-minute ovation. But then again, who doesn't want to be nominated for an Oscar? That's important in a different way. In Japan we really like prizes and awards, and if you haven't won the prize, you don't get the same sort of recognition. But for me, I think the 14 minutes is maybe worth more.'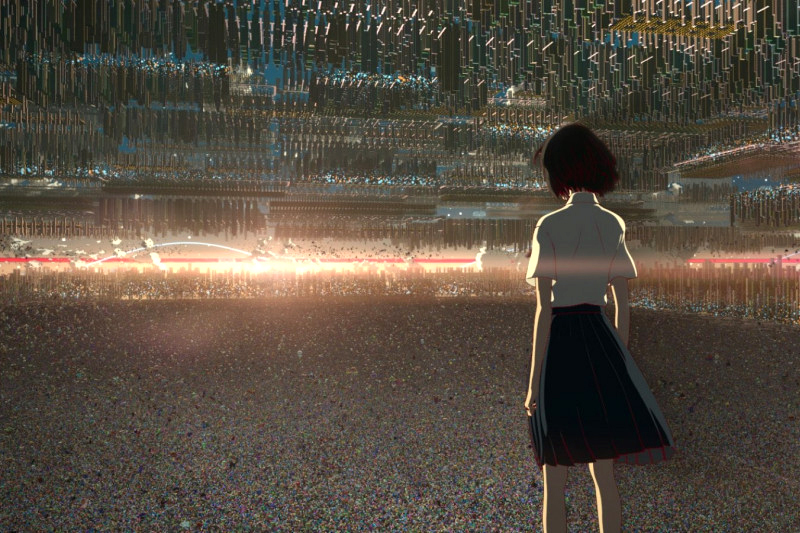 What was the inspiration for Belle's unique take on Beauty and the Beast?
'It may sound odd but if I thought my five-year-old daughter was going to grow up to be this matchless beauty, I don't think I would have been able to make this film. She's an ordinary little girl, like Suzu. But I want this to be a world where she can be happy, which is what any parent wants.'
I've been fed up with the internet being shown as this dystopian place
It's refreshing to see a positive story about a young person's online experience.
'I've been fed up for a while with the internet being shown as this dystopian, dangerous place. I think that's a very boring point of view, an old man's viewpoint; adults looking down on young people and saying: "The world's a dangerous place!" I don't want to be that grown-up. I want to stand with the young people and say: "Enjoy it and be free and don't worry about it." The internet goes back 25 years and I've been making films about the internet for 20 years. I think I'm one of the only directors who's been doing that, and I'm proud of that. But rather than showing it as this bad place, I want to be positive about the internet and hopefully, by making a film like Belle, help [young people] to be excited about the future and enjoy what they have as they build this new society.
Studio Chizu, the animation studio you formed to make Wolf Children, is now ten years old. Have you achieved everything you wanted to achieve?
'The aim wasn't to keep going for ten years because you've got to take each film as it comes, and if a film fails at the box office maybe you don't get to go any further. But we have made it to ten years and I'm happy about that. If Belle is successful, I'll have an opportunity to make another film, but it's not just about the box office – it's also how people react to the film, how well it connects with the audience. That's what gives you the right to carry on.'

This interview originally ran in 2021. Belle is out on DVD and Blu-ray Jun 27.
The 50 coolest filmmakers in the world right now.

The 100 best animated movies of all time.