'In Bruges' director Martin McDonagh's latest, 'Three Billboards Outside Ebbing, Missouri', is as funny as it is painful. It's also hotly tipped to win Oscars this year. He shares its story.
You've been sitting on this idea for years. Where did it start?
'I was on a bus going through one of the southern states when I saw two billboards in a field [with a message similar to Mildred's]. I thought it was angry and painful and despairing, calling out the cops. It flashed past me and that idea stayed in my head. About eight years ago I decided I wanted to put pen to paper. Once I decided it was a mother who'd put those billboards up, Mildred just jumped out and ran off down the road with a Molotov cocktail.'
You wrote this with Frances McDormand in mind. What would have happened if she'd said no?
'There isn't anyone else who could play Mildred. There isn't anyone with that same integrity and forcefulness, or someone who can play a working-class woman without being patronising about it… Thankfully she said yes. We'd have been fucked if she hadn't.'
Why did you write it for her?
'I met her when [my play] 'The Beauty Queen of Leenane' was on in New York [in 1998]. I met Frances and Joel [Coen, her husband] just after the show, for a few seconds. Then I met her again about five years after that. I said we should work together, do a play together. She said, "No, not a play. A film." There are just people who I want to write for. I didn't write for her because she told me to. I would have done it anyway. All the power was on my side.'
And how did you work together?
'I thought she would be tough and she was! I knew she'd be a take-no-shit kind of person. That can go two ways. I hoped the performance and the integrity of that would be the most important thing to her, and it was… She's very strong-willed, as am I. I'm pretty pedantic about sticking to the script and making sure it's all word for word. I'm not really open to fucking around with that.'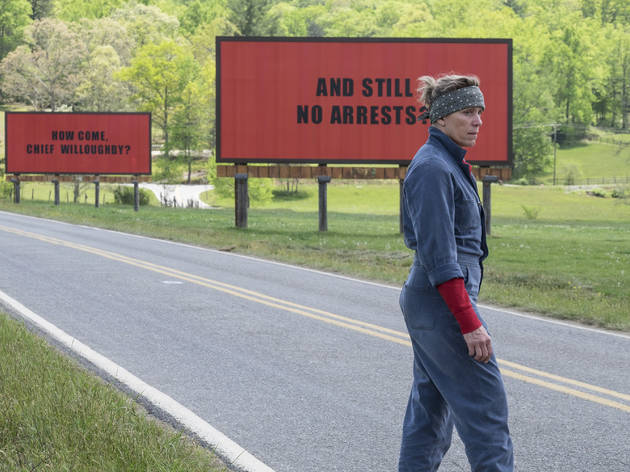 How do you feel about the awards buzz around the film?
'You don't want to just go under the radar, like "In Bruges" did in America. We finished this last January and even then I was thinking: I can't believe anyone's going to be better than Frances this year.'
You've won an Oscar, for your short film 'Six Shooter'. Does that make you more relaxed about it?
'Definitely. When I was nominated for Best Screenplay for "In Bruges", I had a relaxing time, because I had one already. And I knew I wouldn't win!'
Your brother, John Michael McDonagh, is also a filmmaker. Do you give each other advice?
'Haha, never. We're too big-headed.'

'Three Billboards Outside Ebbing, Missouri' is in cinemas on Fri Jan 12.