Director Nadine Labaki has earned a growing following since debuting her 2007 film 'Caramel', thanks to her keen ability to present relatable social themes from an Arab perspective. With 'Capernaum', she focuses on the refugee crisis and a Lebanese boy (Zain Al Rafeea) who sues his parents for bringing him into the world. Prepare yourself for heartbreak.
What makes you stand out as a filmmaker?
'I don't care what is expected from me: neither as a woman nor as a filmmaker. I just do what my body needs to do and what my instinct tells me to do. No matter how good or bad the film is, I'm not talking about the quality of the film but the connection I have with people, with audiences. It's a blessing.'
What was it about your young lead, Zain Al Rafeea, that made him right for the role?
'I didn't think we could find everything I was asking for in one child, but when I watched Zain in his casting interview I just knew it was him. It's strange, four years ago I saw a child sleeping on the street and later that night I angrily drew the face of a child shouting at adults. When I compare that picture with Zain now, I see the same eyes, the same anger.'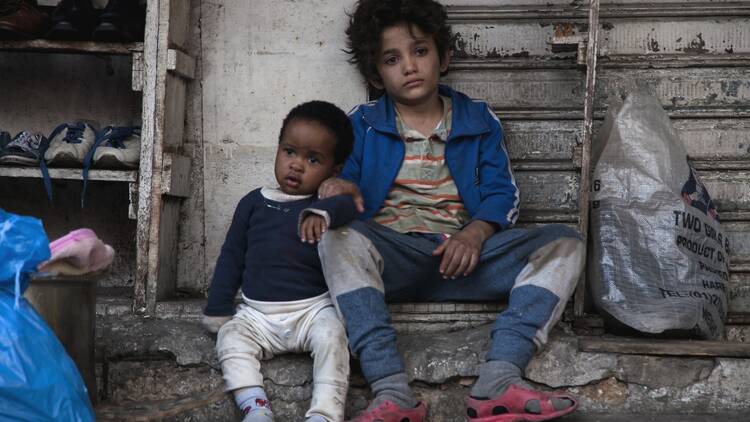 Zain Al Rafeea (right) in 'Capernaum'
The good and bad guys in 'Capernaum' aren't clear-cut. What was the purpose of presenting a more silent villain?
'The villain is the system, that's why in the film you cannot judge. You have to be on this rollercoaster of contradictory emotions where you hate the parents and then love them.'
The film is shot with handheld cameras. Why did you take that approach?
'To be as real as possible. It was natural to use handheld cameras and be ready to shoot anything, be very mobile, and not to be stuck in the classical structure of making films. We had to be at the actors' service and not the other way around. I didn't want control, I wanted chaos.'

As an Arab filmmaker, what's your impression of the way Western movies depict Arab lives?
'We're not well represented – it's very clichéd in Hollywood. It's ignorant. Ignorant in the sense that they don't know us, so it's just [a projection of] an idea they have of us, of Arab women and Arab culture. It's very frustrating, but I'm sure if I made a film about an American guy or woman, I'd be a little off [too].'

'Capernaum' opens Fri Feb 22. Read our review here.