Jodie Whittaker and Paddy Considine seem so much like lifelong mates, it's hard to believe they only met when the effervescent and seriously sweary actress (and latest Doctor Who) auditioned for the actor-writer-director's boxing rehab drama 'Journeyman'. You barely need to interview them; just switch on your dictaphone and kick back. When I sit down with them, they're shooting the breeze about podcasts ('I fucking love a podcast!' says Whittaker, '"S-Town" is amazing') and reminiscing about their first informal meeting a couple of years ago. 'I didn't have to read any scenes,' she recalls, 'I just chatted about myself. And I was absolutely fascinating.'

She's joking, of course, but it did the trick. Considine cast her in only his second directorial project. A presence on both sides of the camera this time, he plays dedicated middleweight Matty Burton, who suffers a brain injury in his final bout. She's Emma, his wife, who's left to pick up the pieces. It's a warmer watch than his bleak debut 'Tyrannosaur', but it still packs a serious emotional wallop.
Paddy, why did you cast Jodie?
Paddy Considine: 'I had the shape of this character, Emma, in my mind and Jodie just fit it. I like to write with people in mind, like with Olivia Colman in "Tyrannosaur".'
Jodie Whittaker: 'The script I read was very different.'
Considine: '"Tyrannosaur" wrote itself in one draft, but this one was more trial and error. In the first draft, there were too many characters and there was an affair. It was a bit soapy. But it became this love story between these two characters. At the time, I didn't know that Jodie had worked with people with Alzheimer's.'
Whittaker: 'I worked in a residential home when I was 19. The one thing I couldn't stand was people not being spoken to appropriately. There was a scene in the film where I couldn't cope with the way people were talking to you. I don't know if I was supposed to react like I did!'
Considine: 'I thought it was incredible that your natural instinct took over.'
'Journeyman' is a boxing term but it's not really a boxing movie, is it?
Whittaker: 'I didn't know it was a boxing term! I remember asking Paddy if he liked any sports. He said, "Believe it or not, I quite like boxing."' [laughs]
Considine: 'It's not a boxing movie with the typical arc and the climactic fight, but the spirit of boxing is definitely in it. I've been a fan since I was a kid. I'm not campaigning for anything with it: it's about acceptance.'
Considine as Matty Burton in 'Journeyman'
Jodie, has Paddy shared his passion for 'Rocky' with you?
Whittaker: 'I know he's a massive film geek and that "Rocky" is one of the films he loves. I was a massive fan of "The Goonies" and "ET" as a kid. I'm only here now because of "The Goonies".'

'I know Paddy loves "Rocky". I was a massive fan of "The Goonies" as a kid. I'm only here now because of "The Goonies".'
Who would Paddy play in the 'Doctor Who' universe?
Considine: 'I haven't watched it since I was a kid – when Tom Baker was in it. I'd be The Master.'
Whittaker: [Laughs] 'Yeah. You'd be good as The Master.'
Of all the reactions you heard to the news of your casting, were there any that made you laugh?
Whittaker: 'There's been some intriguing ones! My brother thinks it's hilarious to find the most insulting stuff and send it to me. I sent him my headshot and signed it "To Jodie Whittaker's brother, Chris" – spelt wrong, because he spells it with a 'K' – and he posted it on Twitter. He had a load of followers for about two days, until they got bored of him.'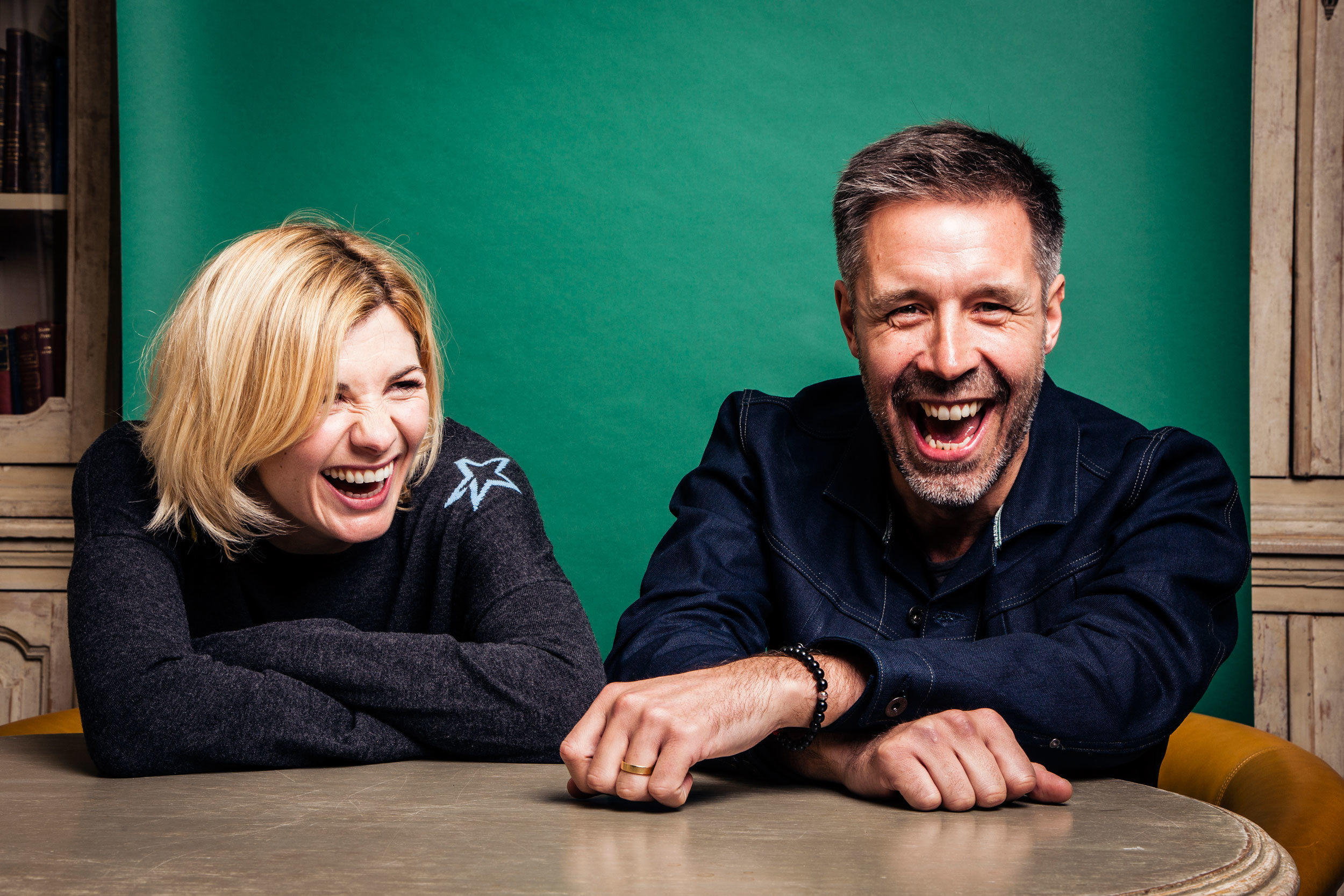 Portrait by Andy Parsons
Do you have any favourite memories of shooting in London? Paddy, you had a Waterloo station moment in 'The Bourne Ultimatum'…
Considine: 'The film's great but all I had to do was walk around pretending I was being followed.'
Whittaker: 'You do that every day! I had to do a rave at Liverpool Street in "St Trinians 2", that seminal movie. [Puts on helium-squeak voice] "I played Beverly, school secretary."'
Considine: 'Did you do that voice? That's a brave choice.'
Whittaker: 'The director told me to pull it back because my performance was too big. I said, "There is a man dressed as a woman as the lead. How is my choice too big for this film?"'
'Journeyman' is in cinemas on Fri Mar 30.