Film sets are glamorous places, right? Not the set of 'David Brent: Life on the Road' – an abandoned telephone exchange in Watford filled with crates of loo roll and tampons. This is the headquarters of Lavichem, the sanitary products company in Slough where we find our 'hero' around a decade after 'The Office'. David Brent is down but not out. He might be making his living as a travelling urinal-cake salesman, but he's still clinging to the rock 'n' roll dream, on tour with his band and confident that fame, fortune and a record deal are sure to follow.
Considering he's writing, directing and starring in 'Life on the Road', Ricky Gervais looks surprisingly chipper when he pops over for a chat, sporting Brent's tache-and-goatee combo.
So how has David Brent changed since we last saw him in 'The Office'?
'In "The Office", Brent was in charge. He was 40, he was going through a midlife crisis, but he was in charge of quite a sweet office with nice people. Now the world has changed around him. It's dog eat dog. People get on "The Apprentice" by saying "I will destroy anyone who gets in my way!" There's a whole new culture of rolling over people to get what you want. And he's no longer in charge. He's in an office full of alpha males. So he's got no chance!'
But he's still playing music with his band, planning this grand tour...
'Well, he says it's a UK tour, but if you look closely, it's mainly in the Berkshire area. He's haemorrhaging money and the crowds are tiny. After all, he's just a guy who was in a docusoap at the beginning of the noughties that no one really remembers. The only gig that sells well is a student night. He's really excited – then it turns out it's all ironic. It's called Shite Night.'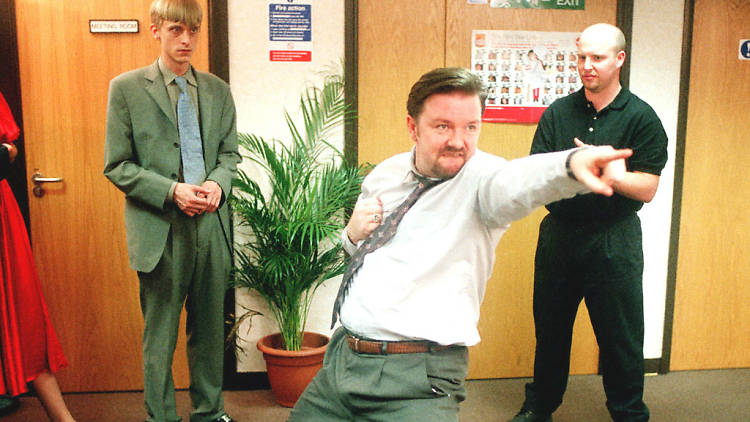 What's the fascination for you with this tragic, pathetic character?
'I like him because he has this amazing resolve, he never gives up. He falls over for our pleasure but he stands up and dusts himself off. He's gone through a lot. He's had a bit of a breakdown. But he even shows off to his therapist. He can't not show off!'
So there's still that bit of empathy we felt for him in 'The Office'?
'If anything, I think you feel that even more. Brent allows you to laugh and smirk because he's such a dork. He says the wrong thing, but his heart's in the right place. He's just desperate. He wants to be one of the gang, be funny and be loved, like we all do. If a group of people stripped him and threw him in the fountain, he'd tell it like his mates were having a laugh. "Bunch of nutters!" '
How do you strike that balance between the comic and the tragically awful?
'You're laughing at a man who thinks it's going to be all right and it isn't. That's comedy at its most basic. Comedy is an ordinary guy trying to achieve something that he's not equipped to do. That's Brent in a nutshell. Essentially, this is a movie about a sad man who's living his life like an open wound. A man in freefall being crushed by the modern world. But it's still funny!'