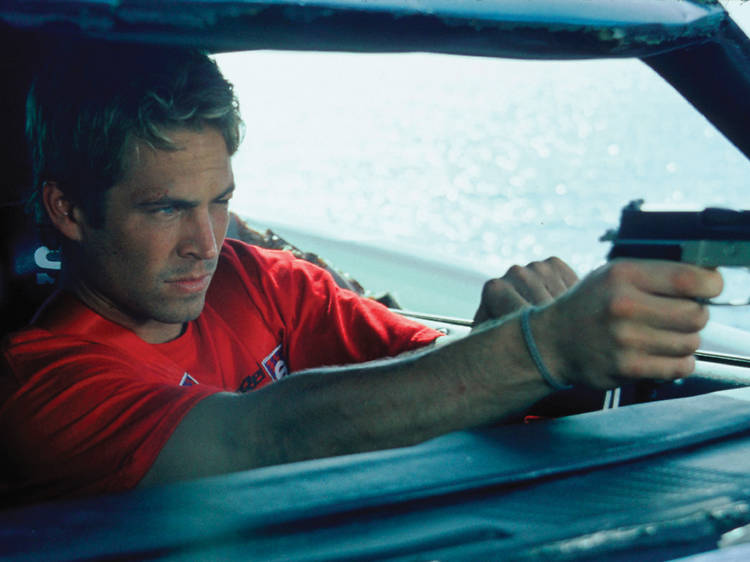 '2 Fast, 2 Furious' (2003)
7.52am
Not seen this one before, and I've heard nothing good about it. Even the title is idiotic. There's no Vin this time, so P-Dubs has teamed up with childhood buddy Tyrese Gibson. They seem to have a profound fascination with each others' bums. 'When I needed your ass, you were nowhere to be found,' accuses Gibson. 'I got something for your ass!' bellows Walker a few minutes later, brandishing his middle finger.
9.25am
This ass business is getting out of control. The film's best line: 'Stay your ass off my homeboy's boat!' Also, 'That's some driving for your ass!' which could be the tagline for the entire series.
'The Fast and the Furious: Tokyo Drift' (2006)
9.47am
This is the black sheep of the franchise, featuring neither Walker nor Diesel. It's about a surly high school kid called Shaun, played by Lucas Black, whose car gets flipped, turned upside down. He gets in one little race and his mom gets scared and says 'You're moving in with your grouchy ex-military dad in Japan.' I amuse myself by making up Fresh Prince lyrics for the next hour.
'Fast & Furious' (2009)
11.49am
The title is the same as the first movie, only with 'the' and 'the' taken out. It's confusing. But I'm thrilled to see that the original cast is back, looking older and leatherier, if not exactly wiser.
1.39pm
We're headed for Mexico, which is my cue to whip up a steak burrito for lunch. I try to eat one-handed like a trucker, but end up with soured cream all down my arm.
1.15pm
It's getting a bit Indiana Jones as our heroes pursue the bad guys through the world's most well-maintained mine shaft. My vision is starting to go a bit crooked. I clutch the sofa as the camera plunges, feeling decidedly queasy.