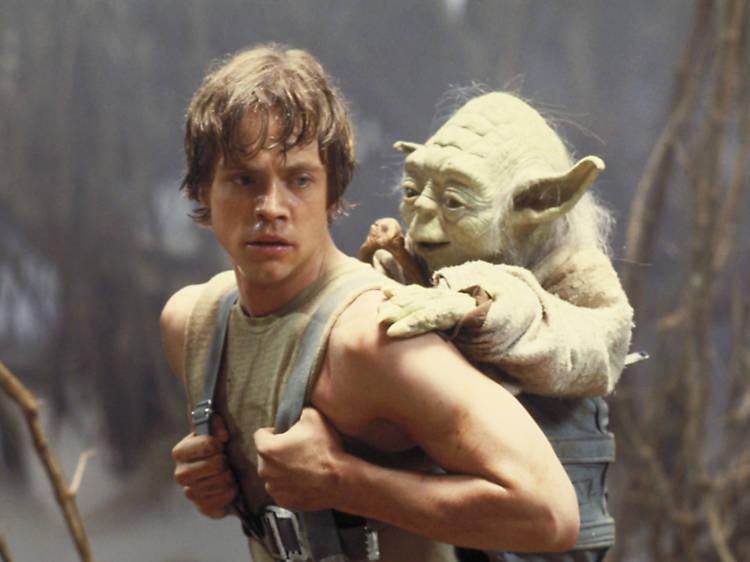 10.58am
The crowning glory of the saga, 'Empire' is one of my very favourite movies, a go-to retreat in times of illness and/or extreme hangover. For Phil, it's thrilling for an entirely different reason. 'Fucking hell, you didn't tell me Cliff from "Cheers" was in it! Brilliant!'
11.51am
'That's Yoda, right?' Yes. 'Get in!' We've landed on Dagobah to meet the mystic muppet, and by this point we're both thoroughly entranced. There's just time for a late brekkie: snake soup for the Jedi, toast and jam for us.
12.40pm
I've learned that Phil doesn't know who Luke's dad will turn out to be. Sadly, I've made such a fuss about it that he's figured it out on his own by the time Darth steps up for the big reveal. But we glide through to the finale in good spirits. 'I'm really enjoying myself, actually,' says Phil. 'It's cheesy but fun. I wonder why I didn't want to see them when I was nine? I think I was just an unusual child.'
1.36pm
I've always known the opening act of 'Return of the Jedi' gave me a creepy feeling, but I'd never really analysed it before. 'It's a bit bloody pervy, this,' observes Phil, as we watch a giant fleshy snake being throttled to death by a woman in a bikini, while outside people are thrown into a gaping anus filled with writhing penises.
1.49pm
Phil is worried about Princess Leia, and with good reason. Freed from her bondage chains, she seems content to take a back seat to the guys' heroics. 'She's been marginalised in an annoyingly patriarchal way,' snaps Phil Harrison, space feminist. I explain that Leia's downgrade was partly down to Hollywood chauvinism and partly down to Carrie Fisher's galloping drug problem.
2.33pm
'Oh cool, Lionel Richie's got the good plane,' grins Phil as Lando Calrissian pilots the Falcon into the final battle. I feel like he still hasn't quite got the hang of things, but at least he's enjoying himself. Dark clouds are gathering, however, and I think before long weesa gonna be in bombad trouble…