Heads up! We're working hard to be accurate – but these are unusual times, so please always check before heading out.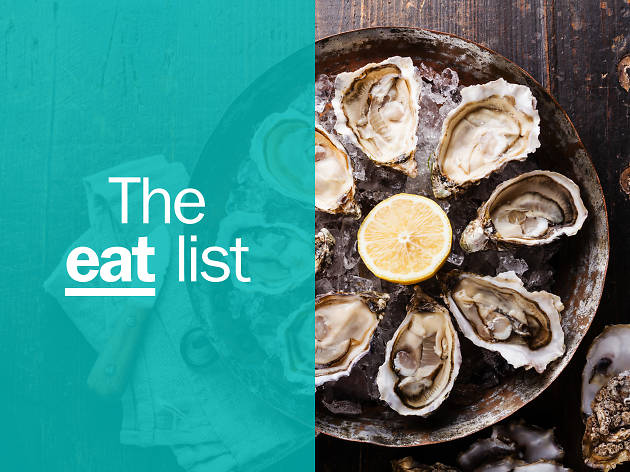 The 15 best restaurants in Hamilton
Dine out on delicious food all over the city with our pick of the best restaurants in the city
Ask a stranger in Hamilton where to eat and their suggestions might lead you to James Street or King William, to what can be considered the epicenter of the city's food scene. Perhaps said stranger might direct you to food-frenzied neighborhoods like Locke and Ottawa Streets, both brimming with independent restaurant and other food (as well as other great things to do unrelated to food). To help you navigate the city's newly celebrated dining scene—from top-notch eateries to more casual, but just as delicious spots—we share with you our list of best restaurants in Hamilton. Bibs at the ready, people.
Best restaurants in Hamilton
Photograph: Courtesy Yelp/Jennifer K
What is it: Husband and wife team Fraser Macfarlane and Georgina Mitropoulos met while cooking at Toronto's Scaramouche and went on to train in some of Europe's Michelin-starred restaurants. On their own turf, here at Quatrefoil, the duo serves five-star dishes inside a beautifully restored heritage home in Dundas.
Why go: Boasting a French-inspired seasonal menu, a sophisticated atmosphere and unparalleled service, Quatrefoil is Hamilton's top fine dining destination.
Price: Pricey
Photograph: Courtesy Yelp/Aberdeen Tavern
What is it: Before there was The French and The Diplomat, city staples, there was Aberdeen Tavern, brought to you by the same folks behind Equal Parts Hospitality.
Why go: Comfort food served in an upscale environment? Count us in. Aberdeen Tavern serves consistently exceptional dishes in what feels like an exclusive supper club in the main dining room, a gorgeous private event space on the upper level called The Apartment, and a pretty outdoor patio. Feast on mains like garlic butter ricotta agnolotti or juicy striploin, or visit for brunch for an equally impressive menu that includes cheesecake stuffed French toast.
Price: Pricey
Photograph: Courtesy Yelp/Sanjin B.
What is it: This rather casual Italian restaurant is always packed and doesn't take reservations but we promise that it is worth the wait. In addition to the delicious pizza, diners revel in huge, Italian-style portions of meatballs, cannelloni and the famous chicken red and white (that would be: tomato and Alfredo sauce). Do wear your stretchy pants.
Why go: Save yourself the trip to Chicago and enjoy the delicious pizza at this local spot itself. Fun fact: the team behind Chicago Style Pizza started serving this cheesy, saucy goodness in the Windy City itself.
Price: Average
Photograph: Courtesy Yelp/Steve R.
What is it: Whether you're Downtown or at Crown Point, you're guaranteed a fine burger thanks to the HAMBRGR crew. They get their meat from local farmers and have a serious passion for beef patties.
Why go: Not for a classic burger, that's for sure. Be adventurous and order a Maui Wowi (pulled pork and pineapple jam) or the 'Weekly Chef Smash', which is the catch-of-the-day equivalent for a burger. And if you're avoiding red meat, there are chicken and vegan items too.
Price: Average
Photograph: Courtesy Yelp/Andrea C.
What is it: If you're a fan of Top Chef Canada, then you may already know this joint. Just like The Good Son in Toronto, Born & Raised is owned by Top Chef finalist Vittorio Colacitti.
Why go: The Italian-Canadian chef opened Born & Raised in an ode to his heritage. The olive oil comes from a friend's farm in the Abruzzo region of Italy, he uses a wood-fired oven from Bologna and the bread and pasta is all made in-house. The menu, in turn, features well balanced, flavorful dishes that utilize fresh, seasonal ingredients that are sourced locally as much as possible.
Price: Average
Photograph: Courtesy Yelp/Berkeley North
What is it: A contemporary dining space is the ideal setting for West coast-inspired small plates made with locally sourced ingredients. The sleek black and white design, exposed brick walls, potted plants and a garage-style door that opens in the summertime add even more character to the experience.
Why go: The food, to put it simply. Start off with a tantalizing cocktail or house-made kombucha and then attack the seasonal menu, which is meant for sharing. May we suggest the mushroom dumplings with ginger and scallion, the crispy chicken with Japanese BBQ sauce and the teriyaki Pacific halibut with edamame?
Price: Pricey
Photograph: Courtesy Yelp/Sarosh J.
What is it: Put simply, this is a soup restaurant that happens to be endorsed by Guillermo del Toro.
Why go: Once you visit one (or both) of The Burnt Tongue's locations, you'll actually start craving soup. The creative dishes are made even better with a grilled cheese to dip in them or an order of fries. Check social media for the day's menu, which includes vegetarian, vegan, celiac-friendly and dairy-free soup options plus burgers, salads and sandwiches.
Price: Bargain
Photograph: Courtesy Yelp/Joel L.
What is it: Smoked meat for breakfast, lunch and dinner, plus made-from-scratch comfort food and a '50s diner feel make this Southern-style barbecue joint so damn good.
Why go: The smoker runs 24/7 and can hold 500 pounds of meat at one time. No, we ain't lying. Order the slider combo to taste most of the legendary meats: pulled pork, beef brisket and a mini burger. If you prefer, commit to another one of their dishes like buttermilk fried chicken, smoked wings or award-winning baby back ribs.
Price: Average
Photograph: Courtesy Yelp/Ann H.
What is it: Helmed by husband-and-wife team Salar Madadi and Jeannie Crawford, this is Canada's first poke bar. The small but mighty restaurant on Concession Street actually is Pokeh's second location. The first is a stall in the Hamilton farmers' market.
Why go: Crowds are willing to line up for this Hawaiian dish and for good reason. Choose from twenty different toppings when building your own bowl or opt for the classic order, which includes soy sauce/sesame oil ahi tuna, onions, cucumbers, sesame seeds and macadamia nuts on a bed of rice or cucumber noodles.
Price: Bargain
Photograph: Courtesy Yelp/The Heather
What is it: Don't expect flowery nuances at The Heather, because the place is in fact named after owner Matt Cowan's mother.
Why go: The prices are high here ($85pp food only, $55 wine pairing, $35 per bottle BYOB), so you may want to save your visit for a special occasion, but you certainly won't regret it. For your money you get seven courses and absolute intimacy, as there are only 12 seats in this elegant restaurant.
Price: Blowout
Photograph: Courtesy Yelp/Peggy L.
What is it: Nique manages to offer an eclectically delicious fusion of flavors on a single page menu. Expect younger crowds looking for a trendy location and a fun drink menu to surround you.
Why go: The menu is a cultural mosaic featuring dishes like falafel, roasted cauliflower with poblano hummus and sushi nachos—and they're all actually good. Upon entry, notice the open concept kitchen to the right, a large square bar in the back and pop art all throughout.
Price: Pricey
Photograph: Courtesy Yelp/Angus L.
What is it: Ancaster Mill is a fine dining restaurant with character, set beside a waterfall and built with 19th century limestone blocks on the site of historic flour mills.
Why go: Guests visit to feast in the dining room overlooking the falls, to indulge in the $53 Sunday brunch buffet and to savour the freshness of organic Ontario ingredients. Ancaster Mill looks to the season's harvest to build the menu, so you'll find items like spring minestrone soup and braised pork belly with roasted fiddleheads on offer—depending on the time of year, of course.
Price: Blowout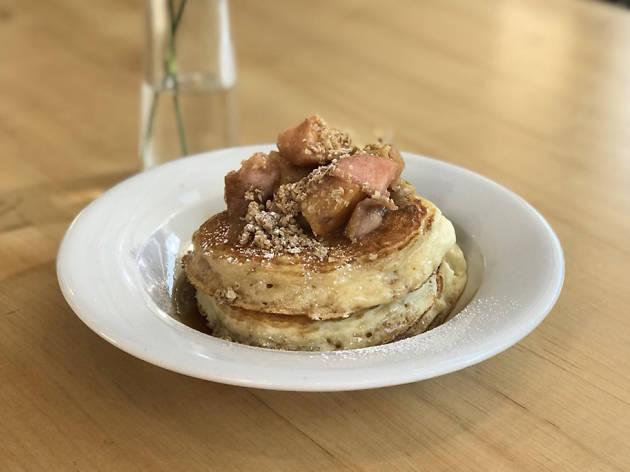 Photograph: Courtesy Yelp/Lorraine L.
13. Saint James Espresso Bar & Eatery
What is it: This cozy eatery may look like a coffee shop upon entry but, once you taste the food, you'll feel part of an upscale yet accessible dining experience.
Why go: Find natural light, an intimate atmosphere, photo-worthy plates and a small but thoughtful menu to define your meal. Items as simple as a "drive-thru inspired" breakfast sandwich or blueberry crumble pancakes are elevated to new heights. For dinner, entrées like ricotta dumplings and pan seared trout with lemon risotto will truly revolutionize your taste buds.
Price: Average
Photograph: Courtesy Yelp/Yvonne D.
What is it: The award-winning meat and seafood restaurant offers fine dining in a Great Gatsby-like manor, complete with a curated wine selection from around the world.
Why go: If a breathtaking backdrop is what you're after, this is your spot. The building, constructed in 1921, features a sweeping marble staircase that dates back to the 1800s, wooden floors, original stonework, lavish chandeliers and views of Lake Ontario. Start off with fresh oysters or crab cakes and enjoy a charbroiled steak or one of the many other entrée options as your main.
Price: Blowout
Photograph: Courtesy Yelp/Judy W.
What is it: Get transported to Europe with authentic Portuguese cuisine in a rustic, casual atmosphere. Set on James Street North, Wild Orchid is right in the midst of the city's Portuguese population and plays off the neighborhood's history.
Why go: Life doesn't get much better than sharing a platter of shellfish with friends. Expect a mix of mussels, lobster, crab, tiger shrimp, scallops, clams and calamari. More into traditional dishes? Opt for the sardines, chorica, favas, roaster rabbit and lamb.
Price: Average
Discover Time Out Market: the best of the city under one roof
Planning a trip to Hamilton?
Whether a local wanting to play tourist or a tourist craving a sense of what the city is all about, check out our list of essential things to do in Hamilton.