Heads up! We're working hard to be accurate – but these are unusual times, so please always check before heading out.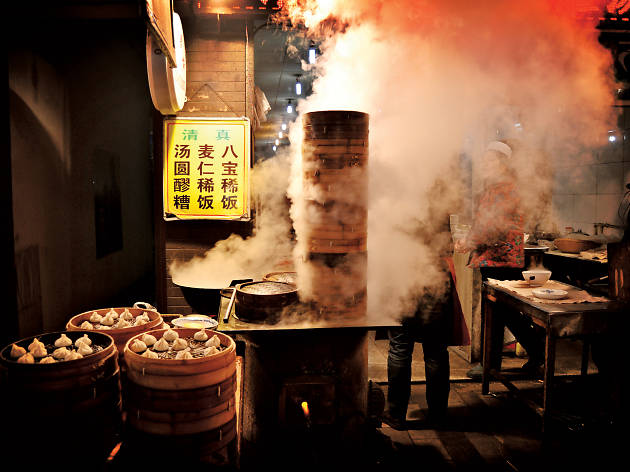 Street eats: the Beijing treats
Guada Plaza Petersen takes her camera and her empty stomach to the markets and alleyways of Beijing and finds out what makes the Chinese city one of the street food capitals of Asia
One of the biggest street food draws in Beijing, the Donghuamen Night Market, closed in June due to hygiene and noise complaints. But do not fret as there are plenty of alternatives in the Chinese capital if you are a fan of roadside eating. There's something special about Beijing when it comes to the variety of snacks you can find on the tiny stalls hidden away in the back alleys and the markets. We head off to experience them for ourselves in a dedicated street food tour.
More than 11 million people reside in Beijing. That's a lot of hungry mouths. And this is a city that's renowned for its colossal architecture and pharaonic avenues, as well as its preserved historic areas and its 'hutong' alleyways which run across town, an endless maze of houses that create an eye-catching melange of whites and greys. So there's scope for street food everywhere. In fact, there are hundreds of different kinds of foods being offered up across town, some coming from recipes that date back literally thousands of years in China and beyond. Expect Hui, Mongolian and Manchurian ethnic flavours as well as foods that date back to the Ming and Qing dynasties.
The journey begins

On our trip, in which I'm six months pregnant and eating for two, we land in Beijing in the evening and take a cab to our hotel in the middle of the downtown area. The streets are already noisy and crammed with all sorts of unimaginable means of transport that pollute the atmosphere with endless blankets of smog. We don't wind down our windows as there's no chance of any fresh air outside. But we are able to peer through the dusty glass at the endless lines of street food stalls. This is the first taste of our prize. With the eyes.
Then we head out to explore. Beijing is home to some incredible food markets. You can find anything and everything in these hustling, bustling bazaars. Our journey begins at Wangfujing Snack Street, which sits right next to Wangfujing Street in Dongcheng district, the busiest shopping street in the city. This is a massively popular and wonderfully lit tourist haven which really comes to life at night with those seeking snacks at the roadside or in the restaurants alongside travellers looking for good souvenirs and handicrafts. We immediately come face-to-face with an array of exotic street foods like deep-fried insects, meaty kebabs, candied fruits and scorpions. It seems as if any part of any animal on Earth is being sold somewhere here, either on a stick or in a bun.
A feast for the eyes
In these markets, you almost feel like you're hallucinating as you're hit by the smells, colours and tastes in the air. The shish kebabs are our clear favourites, along with the exotic and extravagant species we taste, like snake, silkworms, scorpions, caterpillars, beetles and tarantulas. We have these critters fried, grilled, sautéed or even as a confit and then crossed on a stick and ready to eat. The flavours are so strong and you get so into tasting these morsels that at one point we're almost run down by a motorcycle and we remember you do have to keep your wits about you in these streets, especially when you are tucking into your juicy delights.
Some people try to eat some of the foods, particularly the insects, as a challenge. You see noses turn up as a tourist crunches through a scorpion shish kebab. But don't despair. If you really don't have the stomach to try the more exotic dishes, then there are stalls that safely tout corn-on-the-cobs, vegetables, soy products, spring rolls, kidneys, birds, dumplings and fruits. You don't necessarily have to try the tarantulas to get the best out of the street markets and stalls in Beijing. We just suggest you're missing out on some incredible flavours if you just stick to those fruits.
Next we head off to Niujie Mosque, which is located in Xuanwu district, the spiritual centre of the city for Muslims. It's the oldest mosque in Beijing and its architecture is more traditional Chinese on the outside while also being more traditional Islamic within. It's fantastic to see but, to us, it becomes even more incredible when you tour the surrounding area, which is populated by 23 ethnic groups and sees the roads packed with street food vendors who sell genuine Muslim foods, particularly beef and mutton, as well as pastries. We feast once more on both religion and great snacks.
The final stand
By this point, we've pretty much seen all the street food you can conjure up so we head to Fucheng Road in Haidian district, which is home to gastronomically luxurious eateries. This is upscale to the max and sees a range of cuisines, including Sichuan, Hunan, Jiangsu and Western. Our favourite restaurants are the seafood ones which specialise in an array of culinary styles. This may cost a whole lot more than street food but we recommend a few grandiose meals here to break up your trip.
Our final excursion is to Yonghe Temple, also known as the Lama Temple, in Dongcheng district. It's a spiritual place, with monks walking through the galleries and beautiful voices in the air, warming us up for our tour of Guijie, or Ghost Street, a few blocks away outside. This is our last street food stop of our tour and we spend hours wandering up and down the 1.5km stretch of shops and stalls. The prices are cheap, the colours are vibrant and the hot and spicy shrimps and grilled fish offerings are some of the culinary highlights of our trip. And that's it. We've eaten our fill and we're off to experience the Chinese countryside. But we'll be back one day, for sure. And hopefully, if you like to taste everything and anything under the sun, you'll be there on the streets of Beijing with us. Who needs Donghuamen Night Market?
For more on Guada Plaza Petersen's travels, see guadalupeplazapetersen.com.
To fly from Hong Kong to Beijing you can go with Dragonair (dragonair.com), which offers roundtrips starting from $4,000 or travel with Hong Kong Airlines (hongkongairlines.com), which offers pretty economical roundtrips starting from $1,100.
On our trip, we stay at the Pentahotel Beijing (3-18 Chongwenmen Wai St, Dongcheng, +86 10 6708 1188; pentahotels.com). Prices start from $784 per person a night. Also recommended in the same district, so you can be close to the best street food markets, is the pretty luxurious New World Beijing Hotel (8 Qinian St, Dongcheng, +86 10 5960 8888; beijing.newworldhotels.com), with rooms starting at $1,845 per person a night.