The best scuba diving sites in Asia
A journey into the deep blue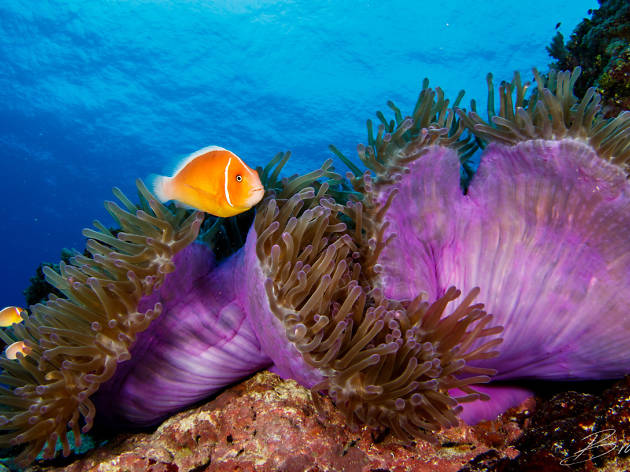 Asia offers secluded islands, mirrored waters and year-round sun – all the ingredients for the perfect scuba dive. It's really no wonder that this continent is home to some of the best scuba diving in the world! So dive in and come with us to the most prestigious destinations of the underwater world.
Asia's best scuba diving spots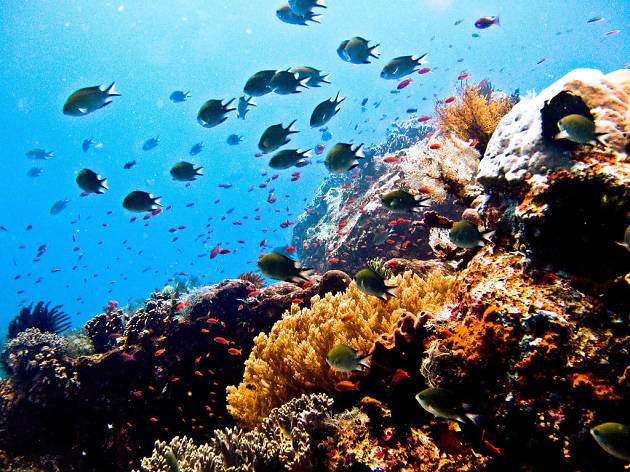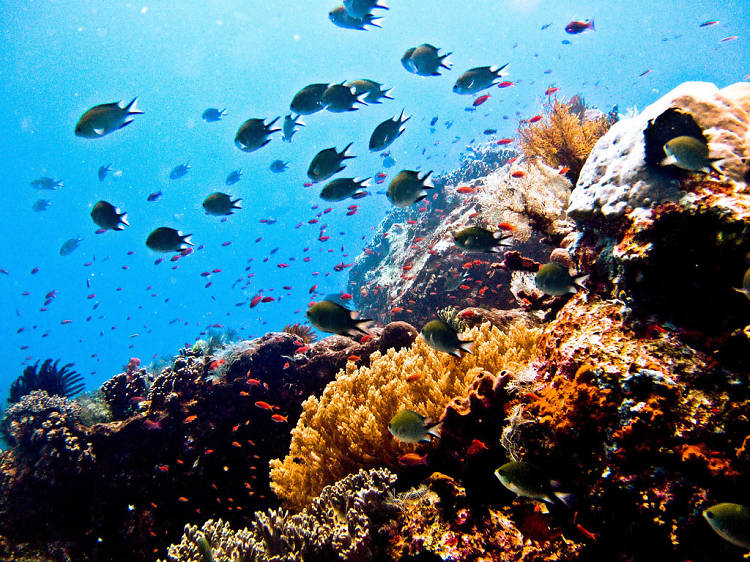 Komodo Islands, Indonesia
Indonesia is part of the world-renowned 'coral triangle', one of the most beautiful places on the planet to get your head wet. As an epicentre of coral reef biodiversity, you'll have the chance to see over 850 different species of coral, which is unheard of in any other place on the planet. Komodo isn't the only place in Indonesia that offers these kinds of natural wonders, though – diving in Wakatobi (Sulawesi) is equally as stunning, as are Gili Islands and Nusa Penida.
What you can see: Manta rays (head to the dive site Manta Point in Komodo National Park), dolphins, sharks, turtles, sea snakes, clown fish, and of course the most colourful coral in the world.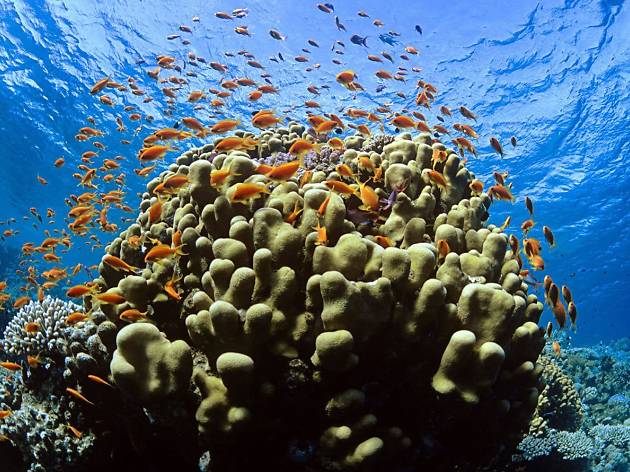 Tubbataha Reef National Marine Park, Philippines
Tubbataha is the Philippines' first national marine park and is also a UNESCO World Heritage Site, a place of global importance as a protected bird and marine sanctuary. Rising from the volcanic depths of the Sulu Sea in the western region of the island nation, these magnificent atolls encompass an astonishing diversity of marine life.
What you can see: Tubbataha supports an unparalleled variety of marine creatures. Colourful reef fish crowd corals growing in the shallows while sharks and pelagics haunt the steep drop-offs to the open sea.
Rising 600 metres from the seabed, Sipadan is the only oceanic island in Malaysia, located in the Celebes Sea off the East coast of Sabah, Borneo. This island is well known for its unusually large numbers of green and hawksbill turtles which gather to mate and nest. It's not unusual for a diver to see more than 20 turtles on each dive.
What you can see: Sharks, turtles and vast schools of fish such as barracuda and jacks, with the possibility of seeing mighty hammerheads or thresher sharks. There's a reason scuba divers from across the world flock to Sipadan.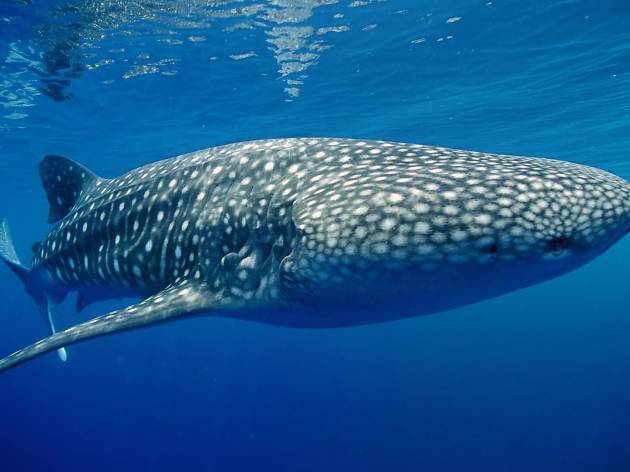 While Thailand is perhaps best known for its cheap PADI (Professional Association of Diving Instructors) courses for the scuba-obsessed who want to turn their hobby into a career and become Divemasters, this famous stretch of the Andaman Sea lying between the Similan and Surin Islands is the path less dove and is, simply put, whale shark haven. With nothing else for miles around, the largest fish in the world are attracted to the Rock to feed on the rich planktonic blooms that occur there. It's only possible to dive at Richelieu Rock from late October to early May due to rough sea conditions prohibiting diving outside of this period.
What can you see: Well, we've already answered that, however the rock also boasts great biodiversity and is worth several dives, with or without whale sharks.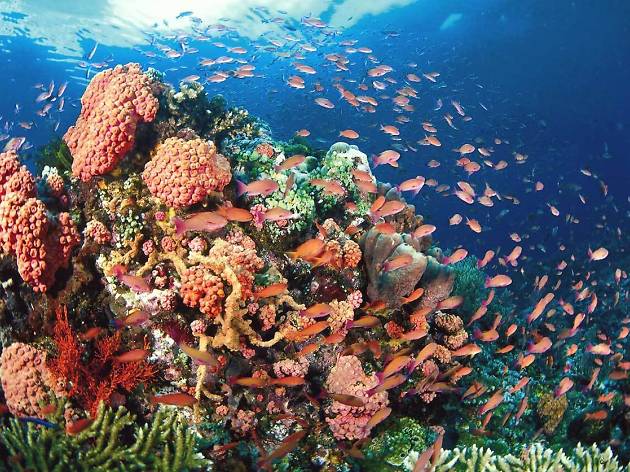 Mergui Archipelago, Myanmar
Located in southernmost part of Myanmar, this archipelago comprises is made up of 800 islands each as stunning as the last. Due to its virtual isolation, the islands and surrounding seas are alive with an amazing diversity of flora and fauna as well as very beautiful underwater scenes and marine life. Like the rest of Myanmar, diving here is still in its infancy, as the entire region has been off-limits to outsiders since the late 1940s. After several years of negotiation by dive operators, the archipelago was opened for tourism in 1997, yet much of the area remains unexplored.
What you can see: One of the main attractions for divers is the strong possibility of seeing bigger animals, especially sharks and rays. More dependable, however, is the tremendous variety of smaller fish and reef creatures including many unusual species, some of which are rarely encountered in neighbouring waters.
East Timor is South East Asia's newest nation and a new destination for diving, offering the adventurous an opportunity to explore the unexplored. The diving here is world class with kilometres of majestic walls that drop off into the deep blue sea, acres of untouched reefs and an abundance of prolific marine life including nearly 600 different species of reef-building corals, six of the world's seven marine turtle species and more than 2000 species of reef fish.


What you can see: Diving in Timor-Leste gives you a chance to see everything from hammerhead sharks and endangered dugongs to critters like frogfish and ghost pipefish. Dolphins and migrating whales can also be seen around the waters here.
Sarah Richard is a Divemaster, coffee addict and travel writer at coffeewithasliceoflife.com. Her solo travels around the world see her diving at some of the best sites on our planet, just like the ones above. If you want to join her in her mission to dive all around the world join her Facebook community or get in touch with her via her website.
More to explore