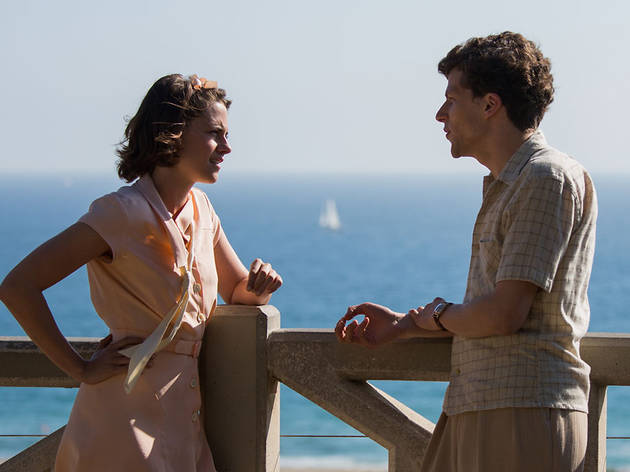 Time Out diyor ki
Woody Allen'dan 1930'larda geçen romantik bir komedi.
Romantİk dönem filmi 'Café Society', hayallerinin peşinden koşan genç adam Bobby'nin (Jesse Eisenberg) hikâyesini anlatıyor. Bobby, 1930'lu yılların New York'unda aile şirketini bırakıp oyuncu olma hayalleriyle Los Angeles'taki menajer amcası Phil'in (Steve Carell) yanına gidiyor. Amcasının sekreteri Vonnie'ye (Kristen Stewart) âşık olan Bobby, kadının amcasıyla gizli bir ilişki yaşadığını öğreniyor. Bobby bir süre sonra ailesinin yanına hayalleri sönmüş bir şekilde dönüyor ve Veronica (Blake Lively) adlı bir kadınla tanışıyor.
'Café Society' sonlara doğru toparlasa da ne romantik ne de komik bir film. 'Radio Days' (1987), 'Midnight in Paris' (2011) ve 'The Curse of the Jade Scorpion' (2001) gibi filmler 1920'ler ve 30'ların Woody Allen için ayrı bir cazibesi olduğunu gösteriyordu. 80 yaşındaki yönetmen 'Café Society'de doğduğu döneme geri dönerek, aslında hep sorduğu soruları tekrar ediyor: Hırslarımızın bizi küçük düşürmesine nasıl izin veriyoruz? Aşk neden garip davranmamıza neden oluyor? Niçin kendimize ve başkalarına sadık kalamıyoruz? Görüntü yönetmeni Vittorio Storaro ile ilk defa çalışan Woody Allen, yumuşak renklerin ön plana çıktığı bir görsel dünya kuruyor. Filmin ses bandını ise caz müzik dolduruyor. Fakat enerjiden ve belli bir odak noktasından mahrum olan 'Café Society' bazı temalarla flörtleşse de hiçbirinin sonunu getiremiyor. Allen'ın filmografisi içinde iz bırakmayacak bir yapım.
Ayrıntılar
Sürüm detayları
Yayın tarihi:
12 Ağustos 2016
Süre:
96 dk
Oyuncular ve ekip
Yönetmen:
Woody Allen
Senaryo:
Woody Allen
Oyuncular:
Jesse Eisenberg
Blake Lively
Kristen Stewart