King Arthur: Legend Of The Sword (Kral Arthur: Kılıç Efsanesi)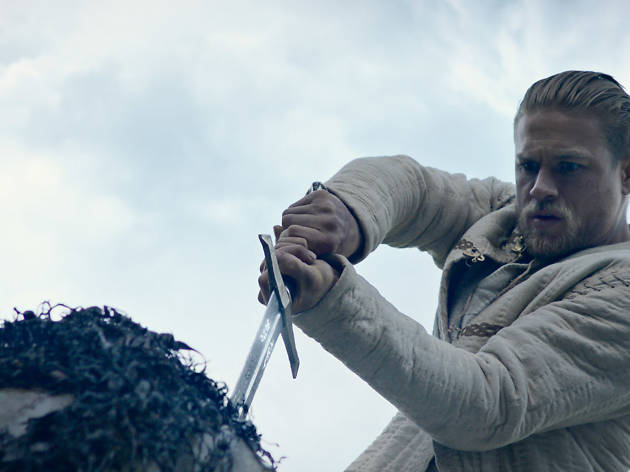 Time Out diyor ki
Efsanevi Kral Arthur ve kılıcının hikâyesini Guy Ritchie yorumuyla izleyin
Kral Arthur ve dillere destan kılıcı Excalibur, Guy Ritchie yönetmenliği ile beyaz perdede. Senaryosu Joby Harold, Guy Ritchie ve Lionel Wigram tarafından yazılan filmde Kral Arthur'u yakın zamanda 'The Lost City of Z'deki kâşif karakteri ile karşımıza çıkan Charlie Hunnam canlandırıyor. Filmin oyuncu kadrosunda aynı zamanda Jude Law, Eric Bana ve Djimon Hounsou gibi isimler de yer alıyor.
Filmde Arthur'un iktidarı ele geçirme ve doğru kararları verme çabası anlatılıyor. Arthur'un henüz çocukken öldürülen babasının ardından, taht Arthur'un amcası Vortigern tarafından ele geçirilir. Londinium'un arka sokaklarında ekmeğini kazanmak için çalışan ve gerçek kimliğinden bihaber olan Arthur'un hayatı Excalibur adlı kılıcı eline almasıyla tamamen değişecektir. Kılıç sayesinde gerçek kimliğinin ve mirasının farkına varan Arthur iktidarı elde etmek için savaşa soyunur. Bu sadece bir iktidar yarışı değil, aynı zamanda da öldürülen babasının ve elinden alınan tahtının da intikamı olacaktır. Televizyon dizisi 'Queer as Folk' ile ünlenen Charlie Hunnam'ın mitolojik kralın hakkını verip veremeyeceği merak konusu.
'King Arthur: Legend Of The Sword (Kral Arthur: Kılıç Efsanesi)' 12 Mayıs'ta vizyonda.
Ayrıntılar
Sürüm detayları
Oyuncular ve ekip
Yönetmen:
Guy Ritchie
Senaryo:
Guy Ritchie, Joby Harold, Lionel Wigram
Oyuncular:
Charlie Hunnam
Jude Law
Djimon Hounsou
Astrid Bergès-Frisbey