The Fate of the Furious (Hızlı ve Öfkeli 8)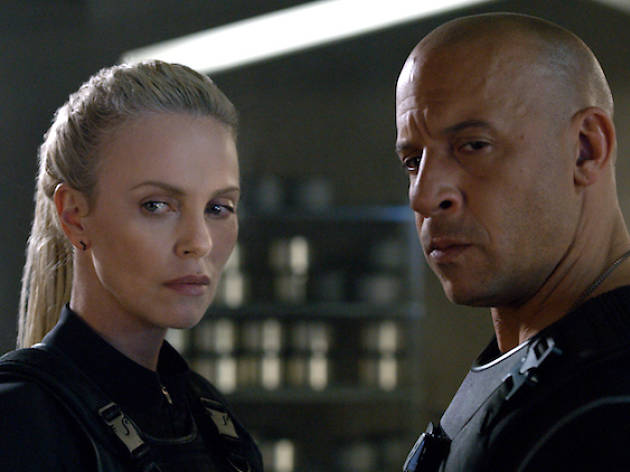 Time Out diyor ki
Serinin aksiyon dolu yeni filminde Charlize Theron boy gösteriyor
'The Fast and the Furious' serisinin sekizinci filmi kadrosuna Charlize Theron'u da katarak tüm hızıyla beyazperdeye geri dönüyor. Elini ayağını suçtan çekmeye karar vermiş grup, Charlize Theron'un canlandırdığı gizemli karakter Cipher'ın devreye girmesiyle eski günlerine geri dönüyor. Cipher, Dom'u gizli planlarına dâhil ederek tekrar suça bulaştırınca, grubun geri kalanı Dom'u durdurmak amacıyla harekete geçiyor. Böylece Dom ve Letty'nin balayı planları, Brian ve Mia'nın ise emeklilik hayalleri suya düşüyor.
Oyuncu kadrosunda Vin Diesel, Dwayne Johnson, Jason Statham, Michelle Rodriguez gibi isimlerin yer aldığı 'The Fate of the Furious'un yönetmenliğini üstlenen F. Gary Gray daha önce 'The Negotiator / Arabulucu' (1998), 'The Italian Job / İtalyan İşi' (2003) gibi yine güçlü kadrolara sahip yapımlara imza atmıştı. Dolayısıyla oyuncu kadrosunda büyük isimlerin yer aldığı son 'The Fast and the Furious' filmini Gray'e emanet etmek doğru bir kararmış gibi gözüküyor. Özellikle 'Mad Max: Fury Road'dan (2015) sonra güçlü aksiyonların aranan oyuncusu haline gelen Charlize Theron'un filme dâhil olması, serinin hayranlarını tatmin edecektir.
'The Fate of the Furious (Hızlı ve Öfkeli 8)' 13 Nisan'da vizyonda.
Ayrıntılar
Sürüm detayları
Oyuncular ve ekip
Yönetmen:
F. Gary Gray
Senaryo:
Chris Morgan
Oyuncular:
Dwayne Johnson
Jason Statham
Vin Diesel
Charlize Theron
Helen Mirren