The 10 best hotels in Koh Samui
The best hotels in Koh Samui include super indulgent resorts, beachside bungalows and everything in between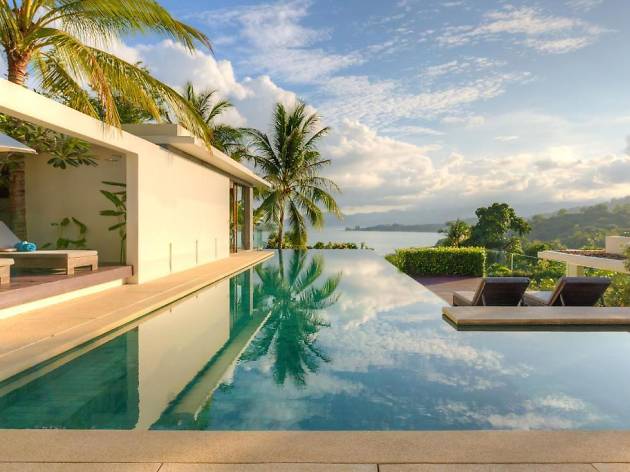 Koh Samui has certainly come of age as a top tourist destination. A million visitors a year now flock to Thailand's second largest island and its still-beautiful beaches. Development literally took off from 1989 when the airport opened, but it is still possible to find an unspoilt corner of this paradise on earth…just. The north and east coasts are the most built-up, and it's here where you'll find razzy spas back-to-back with beer-busting bars and throbbing nightlife. Head south or west for a quieter, more authentic experience.
Wherever you head you'll find the island has an excellent range of hotels to match its great things to do, from luxury 5-star spa resorts through to beachside bamboo bungalows. Our pick of the best here aims to offers something for everyone; whether you're on honeymoon, your family summer hols, a yoga retreat or to party… and however deep your travel pockets are.
The best hotels in Koh Samui
1
Booking.com
Vying for top spot among Koh Samui's most luxurious pads, these 27 individual, modern villas cling to a hillside, offering stunning views across the Gulf of Thailand. All mod cons prevail, including all-weather fully-equipped kitchens and BBQs, and private infinity pools. There's no need for a restaurant as your villa manager or chef will come and rustle up a feast in your kitchen, and if you're too stuffed to move afterwards, fear not – the team of wellness therapists, yoga instructors and even Thai-boxing coaches will also attend to your needs in the comfort of your own villa. The airport is just 10 minutes away.
2
Booking.com
Literally a feast for the senses, or at least the olfactory system, once you light your complimentary incense. Step back in time and choose between a European, Chinese or Thai colonial-style suite (there are 15 in total), all brimming with luxury and opulence but filled with individual pieces to set them apart from eachother. It's set on Bangrak beach, which is clean, swept and great for swimming. Restaurant food is on the pricey side, but the included breakfast is huge. The charming staff are welcoming and on hand to arrange taxis, tours and free kayaks.
3
Photograph: Koh Samui
Find enlightenment just a 40-minute drive away from the airport at this beachside resort that's been sensitively constructed around a hillside and cave where monks and locals have been coming (and still do) to meditate for centuries. This is the place to switch off, reboot and reset your body and soul, and we're not talking the odd yoga or meditation class; an individually tailored spa and wellbeing programme are planned as you check in. Rooms are basic but feature local art and woods, and two open-air restaurants focus on healthy living (don't worry, there's a wine list).
4
Booking.com
Modern minimalism awaits you at this intimate, leafy, boutique resort made up of 46 dazzlingly white and uncluttered studios, suites and villas smack bang in the middle of Chaweng beach. Its signature red swimming pool is certainly striking, but if it's not to your taste, turquoise waters are lapping at the hotel's door. Surprisingly there's no on-site spa (though many others nearby) but there is a small gym, that pool, and of course, a library. The stylish Page restaurant's broad menu includes some lesser-known Thai dishes.
5
Booking.com
Relaxation is the name of the game here, here being at the far end of Lamai beach, where you may be too chilled to even leave the resort. There's a casual, informal vibe to the property and its 47 rooms and three private villas, though it still manages to feel upmarket and boutique. It's a 50m wade if you want to swim from the small private beach, but with two pools at your disposal, save those sea legs. The main restaurant, The Dining Room, is well known for its French cuisine with a twist. Expect Foie Gras and quail on the menu.
6
Booking.com
Beautifully-kept tropical gardens full of jasmine, bougainvillea, hibiscus and cashew trees are the first things you'll spot at this understated five-star gem – look closer and you might even spot the resident water buffalo. The 45 villas, 24 suites and some private pool residences are all spacious and feature Thai-style decor, including heaps of teak and vaulted ceilings. Children are welcome and although there's no dedicated kids' club, they can get involved in the many activities on offer (for all ages) – among them cookery classes, water sports and even Thai language lessons.
7
Booking.com
A lush, tropical jungle practically envelopes this family-friendly beach resort of 106 classic Thai-style rooms and suites. You've a choice of three eateries; the main restaurant, Full Moon Samui, specialises in chargrilled delights, the other two have a good selection of Thai and International dishes. Rooms are on the small side but chances are you'll be in them very little; we'd suggest spending your time in the impressive infinity pool or pampering yourself in the beautifully-designed spa instead. The bars and restaurants of relaxed Fisherman's village are within striking distance should you want to venture further afield.
8
Booking.com
Adults only please, as most guests are here for a weight-loss, detox or spa-pampering programme they've signed up to in advance – the extra-energetic can opt for muay thai (Thai boxing) classes (ceremonial blessing of the headband included). Although it's just 15 minutes from the airport there are no bars, restaurants or beaches in the immediate vicinity, making it almost a retreat (there is though a shuttle service to Chaweng). Décor, from the swimming pool and its surrounding buildings right through to the 38 rooms, is distinctly Moroccan – expect lots of yellow, orange, gold and tassels.
9
Booking.com
Cool and contemporary, this W hotels outpost brings a party vibe to the north coast, where it's set high on a peninsula at the meeting point of Bo Phut and Mae Nam bays, with miles of golden sand down at sea level… though you may not make it down to them. Two bars, two restaurants, a spa, gym, free classes and peach-keen staff ready to go the extra mile really will make it hard to leave. The chic standard rooms (ocean or jungle) measure a suite-like 163 square metres, and all come with private pools and wooden decks; 'wow' villas are even more palatial.
10
Booking.com
For a more European beach-club kind of experience, head west to Lipa Noi and this Thai outpost of the global luxury lifestyle chain. Geared more towards couples and groups, it's sushi, champers and DJs all the way; the Sunday brunch/pool party is a must. Don't worry about the rather remote location as the hotel provides a shuttle to popular spots on the island. Honeymooners will love the penthouse, with its panoramic views of the ocean and the 75m pool below, but the other 20 suites and villas are all spacious and comfortable too.