The 9 best things to do in Koh Samui
You can explore one of Thailand's most beautiful islands with our guide to all the excellent things to do in Koh Samui
Cocooned within the Gulf of Thailand, affording it with calm seas and clear blue skies for the majority of the year, is it any surprise that the best things to do in Koh Samui are bound to ravage your idea of what's wonderful in life. This is the Thai island that can be whatever you want it to be.
Looking for beach clubs and full moon parties? You got it. In need of family time? There are plenty of gentle beaches and fun water activities. How about yoga, meditation and massages? You'll find spas, fitness studios and wellness workshops on almost every corner—as well as picture-perfect rainforests, pretty fishing villages and peaceful beaches; plus plenty of amazing hotels to call home base.
Done something on this list and loved it? Share it with the hashtag #TimeOutDoList and tag @TimeOutEverywhere.
Find out more about how Time Out selects the very best things to do all over the world.
Best things to do in Koh Samui
1. Ang Thong National Marine Park
What is is? One of Thailand's most mesmerising marine reserves, laced with limestone islands, coral reefs and secret beaches.
Why go? While you'll find some colourful snorkelling spots around Koh Samui, Ang Thong Marine Park offers a veritable kaleidoscope of aqua-based action. Book a full day trip (including lunch) with a reputable tour operator such as 100 Degrees East, whose shiny white speedboats come with kayaks, trained snorkelling guides and are limited to just 12 guests.
What is it? A serene stand-up paddle tour of Bangrak Beach.
Why go? Koh Samui at dawn offers a glimpse of the Koh Samui of old; empty shores, rustling palms and birdsong. Glide along the coast with iSUP Samui's stand-up paddle tour of Bangrak Beach, which reveals water buffalo plodding along the water's edge, fishermen casting lines from rocks and old ladies collecting shellfish in the muddy shallows.
What is it? A chance to witness Thailand's highly-skilled and thoroughly ferocious national sport up close.
Why go? Known as the 'art of eight limbs', Muay Thai boxing bouts feature in every city, town and village in Thailand. In Samui, fight nights fall every Thursday and Sunday at Chaweng Stadium, starting at 9pm. This is the real deal, there is no play acting here; the squeamish should avoid ringside seats.
4. Samui Institute of Thai Culinary Arts
What is it? One of the best-regarded cooking schools on the island, where you can hone your culinary skills and learn how to impress your friends back home.
Why go? Aprons at the ready! Spicy glass noodle salad with prawns, green curry with chicken and potatoes, pumpkin coconut milk soup with pork balls; these are just some of the classic Thai dishes you could learn to rustle up at the Samui Institute of Thai Culinary Arts. Vegetarian classes are also available.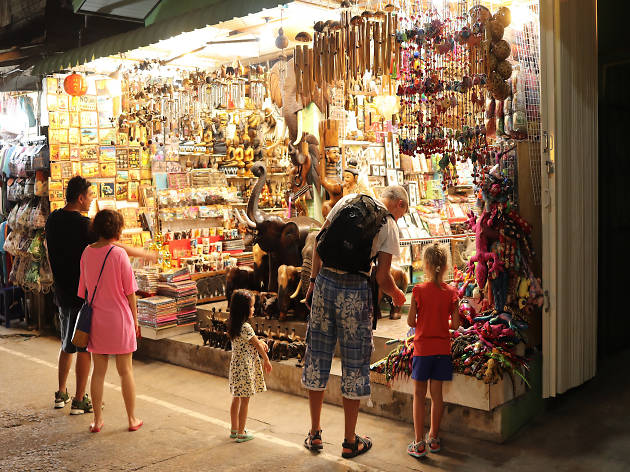 5. Fisherman's Village Walking Street
What is it? A fun Friday night market packed with food and shopping stalls.
Why go? There are numerous walking street night markets on Koh Samui but the best of the bunch is held every Friday night at Fisherman's Village in Bophut. Stroll its lively route and you'll find everything from 100-baht mojitos served in mason jars to live bands and locally designed fashion, as well as the usual selection of Thai souvenirs. A friendly haggle should knock about 20 per cent off the asking price.
6. Greenlight Café and Bar
What is it? A bright and breezy café serving vegan, gluten-free, raw and health-conscious cuisine.
Why go? Tucked away in an old teak mansion on the far end of Fisherman's Village, the Greenlight Café has whitewashed interiors filled with tropical flowers and colourful furniture. Serving breakfast, lunch and dinner, the menu cleverly weaves together health and comfort foods, with many ingredients plucked straight from their own organic gardens.
What is it? Wrapped around the island's northeast coast, this laidback beach is where Samui's expats retreat from the crowds.
Why go? Choeng Men beach is the ideal spot for a day trip or outing with the family. It's easy to reach, with over a mile of squeaky white sand kissed by gentle blue waters, and a scattering of places to eat and drink. At one end, there's a pile of shiny big boulders, while at the other there's a tiny emerald isle which you can wade or snorkel around depending on the tide – just watch out for the anemones.
What is it? A small but perfectly formed waterfall with a natural rock pool tumbling through the jungle.
Why go? Koh Samui might seem to be all about the beach but its lush flowery interior is equally enchanting – and nowhere more so than Khun Si Waterfall. It's trickier to reach than the island's other waterfalls (Na Muang and Hid Lan) but that does mean far fewer crowds, particularly in the early morning. The road in also offers sensational views across the island's rippling green heartland. Make sure you pack sensible shoes for the last 500-metre walk in.
Photograph: Paul Reiffer
What is it? One of the most stylish – and most Instagrammed – party pads on the island and the place to watch the sunset.
Why go? Arrive before sundown and slip into a circular sunken seating pod surrounded by glassy infinity pools. Next, order up a perfectly executed cocktail (we love the Loi Kratong: a gin, negroni and blood orange blend garnished with purple flowers and served in a crystal ball). Then, sit back and take in the jaw-slacking views Koh Phangan silhouetted against flaming orange skies.
Best selling Time Out Offers