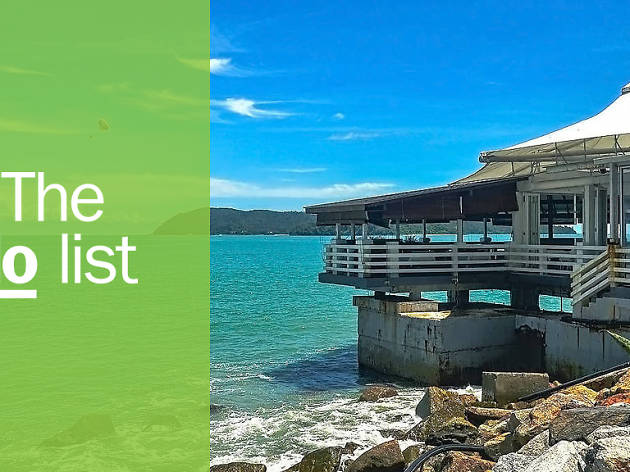 The 14 best things to do in Langkawi
Make the most of your time in this beautiful archipelago with our guide to the best things to do in Langkawi
Breathtaking things to do in Langkawi abound. Made up of some 99 islands across an archipelago stretching almost 500 square kilometres, Langkawi is known as 'The Jewel of Kedah'. The Malaysian region is situated around 30km northwest of the mainland, and most of the population is Malay – which means you can expect seriously tasty food like rendang, satay and delicious, fresh fish. Its sublimely beautiful, tropical islands are the stuff of fairy-tale. And don't miss cocktails over the Andaman Sea – you can thank us later. Here are our hot tips for Langkawi.
Done something on this list and loved it? Share it with the hashtag #TimeOutDoList and tag @TimeOutEverywhere.
Find out more about how Time Out selects the very best things to do all over the world.
Best things to do in Langkawi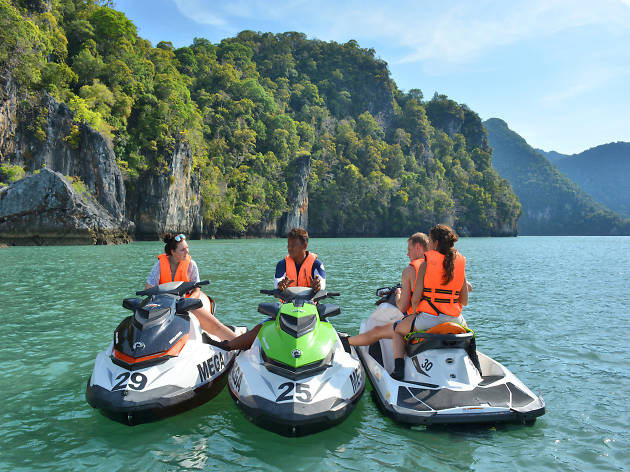 What is it? Island-hopping on a jet ski with Mega Water Sports.
Why go? Well, you could hop on a boat to check out the islands of Langkawi, but why would you when you could jump on a kickass jet ski and see them Bond-style instead? There are numerous tours on offer, and one even comes with lunch thrown in.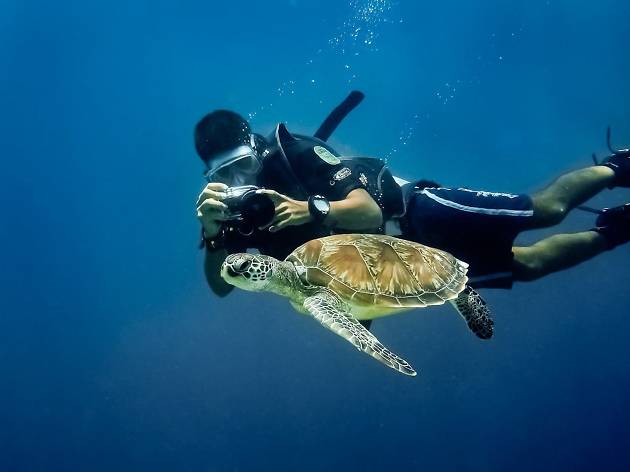 2. Pulau Payar Marine Park
What is it? A snorkelling tour with East Marine at Langkawi's famed Pulau Payar Marine Park.
Why go? You get picked up from your hotel, boated out to the island, and once you're there, you get to swim with sharks and all the colourful fish of the tropics. You'll also experience a protected area jam-packed with beautiful coral. Plus, you'll have someone with you to tell you what's what. Winning.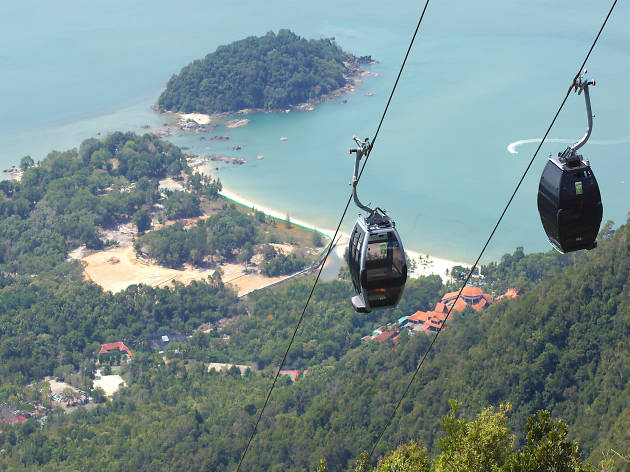 Photograph: Shutterstock
What is it? One of the steepest cable cars in the world.
Why go? Because the views up here really will take your breath away. Travelling some 1,700 metres, you can hop off at the top of Gunung Machinchang mountain to take it all in. You might find some people praying, or others just enjoying the magical rainforest surrounds. Check out Langkawi Sky Bridge while you're there.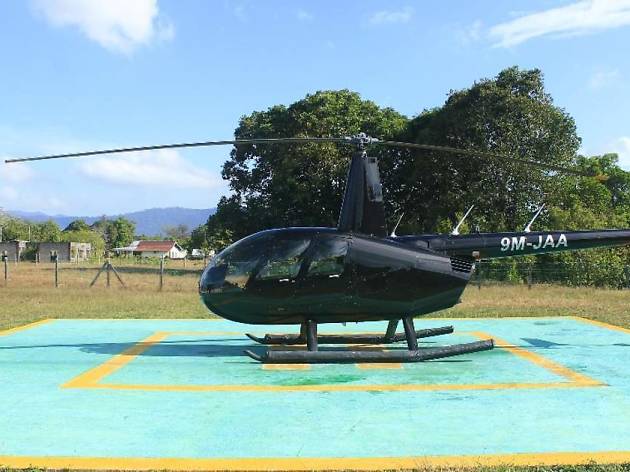 What is it? A helicopter tour over beautiful Dayang Bunting Island and Lake Guillemard.
Why go? Also known as the 'Lake of the Pregnant Maiden' thanks to a myth about a bereaved princess who bestowed powers of fertility over these waters, this freshwater lake is best seen from above. So why not check it out in your own private chopper?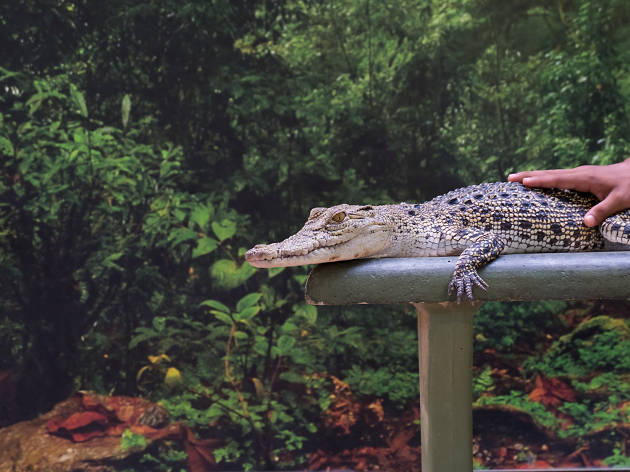 Photograph: Langkawi Croc Adventureland
5. Crocodile Adventureland
What is it? A park where you can get up close and personal with crocs.
Why go? If you've never seen a crocodile, this is definitely the place to check them out. Saltwater crocs are native to Malaysia, and you really don't want to encounter these ancient (and dangerous) creatures in the wild. Here in the park, you can learn about their temperament, watch them being fed and even see them jump. It's a great activity for kids and adults alike.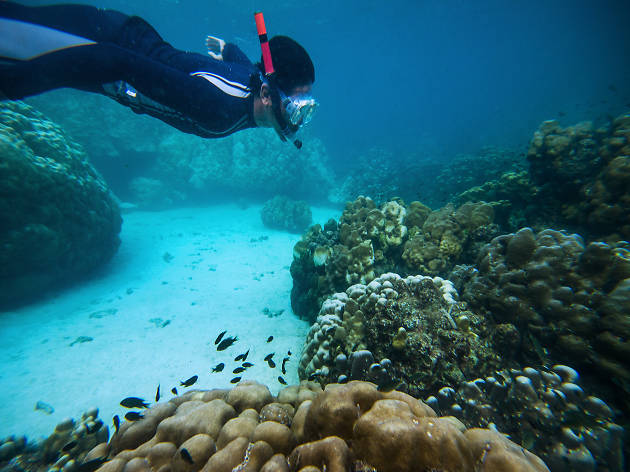 Photograph: Pulau Payar Marine Park
What is it? An aquatic tour around the islands of Pulau Satang Besar and Pulau Satang Kecil where you can swim with turtles.
Why go? Um, sorry, maybe you didn't hear that: you swim with turtles. Starting from Kuching, you'll hop on a boat out to Pulau Satang Besar and Pulau Satang Kecil and go snorkelling with experts. A jungle walk is an option too. They even include lunch.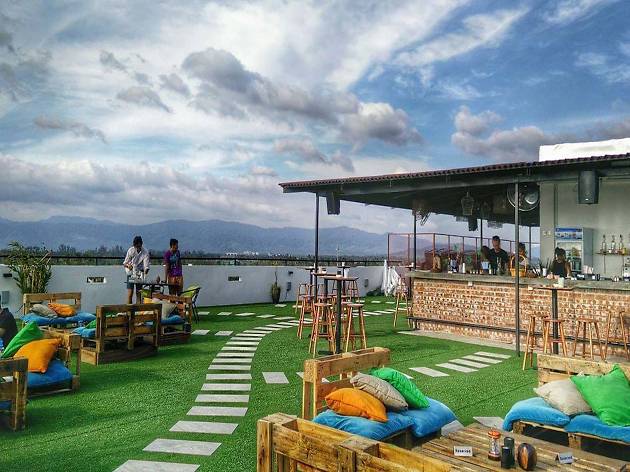 Photograph: Nest Rooftop
What is it? A delightful café-cum-bar overlooking Pantai Cenang Beach.
Why go? For many reasons. This halal eatery is situated on a rooftop with stunning views and a vibe like nowhere else. Gigs are a regular occurrence and although this place is booze-free, for a small fee you can bring your own. Think of all the money you'll save.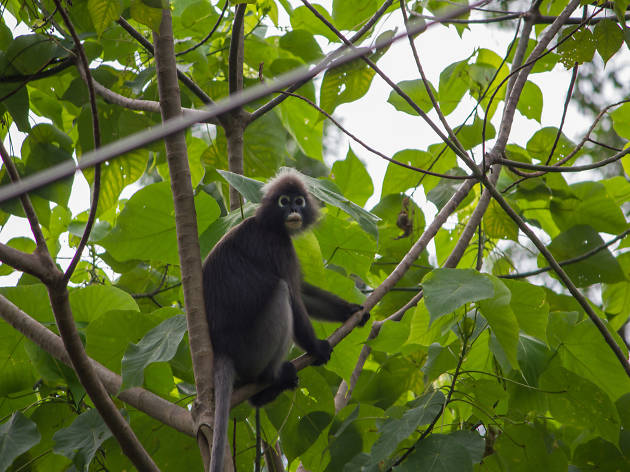 Photograph: Gunung Raya
What is it? A mountain you can climb if you're super into hiking.
Why go? The hike up Gunung Raya not only brings you to a spectacular view at the top (especially at sunset), but along the way you're likely to encounter tonnes of wildlife too, like monkeys, flying foxes, and if you're lucky, maybe even eagles.
Photograph: Siti Fatimah
What is it? A buzzy restaurant serving up authentic local fare.
Why go? For the local experience. Siti Fatimah is well known as the best spot for a lunchtime buffet, when locals have their biggest meal of the day. Feast on brightly-toned curries, fresh seafood and stir-fries for a tiny cost.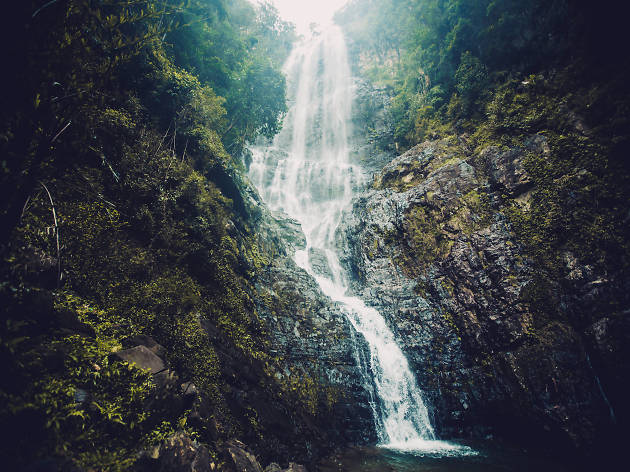 Photograph: Temurun Waterfall
What is it? A stunning trek up to a beautiful waterfall. What more could you ask for?
Why go? Wandering up this three-tiered waterfall is a trip away from the beachy delights of Langkawi. The best bit? Once you reach the top there's a natural pool in which to take a dip and cool off… #paradise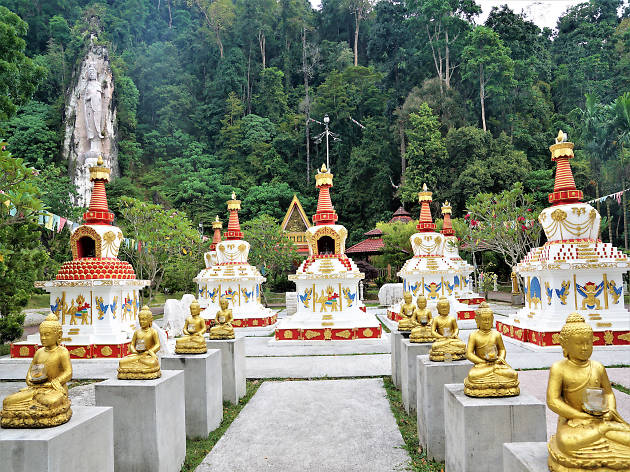 Photograph: Wat Koh Wanararm Langkawi
11. Wat Koh Wanararm Langkawi
What is it? A Buddhist temple built into the hillside.
Why go? Situated just outside of Kuah, Wat Koh Wanararm Langkawi is a modern Buddhist temple with stunning grounds in which to wander and soak up all that positive Buddhist energy. Also, it's free, which is always nice.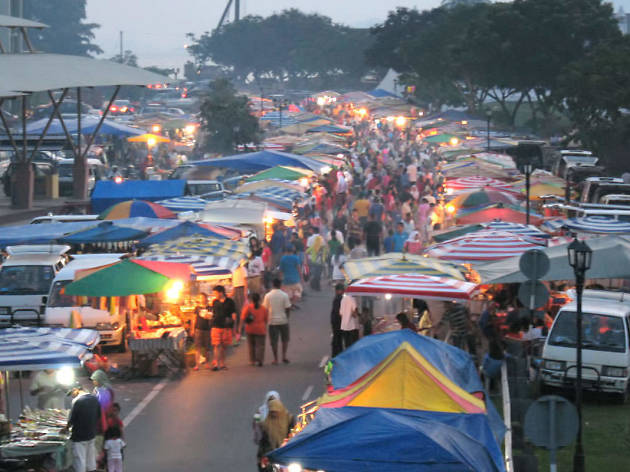 Photograph: Kuah Night Market
What is it? Langkawi's night markets are full of cheap souvenirs (this is bartering territory) and delicious things to eat. Kuah Night Market is one of the best.
Why go? It's always a safe bet that the best food you'll eat in Asia is on the street. In Langkawi, night markets (known here as 'pasar malam') dot the streets – check out the Kuah Night Market, but also those in Padang Matsirat and beachy Pantai Cenang, and eat your nasi ayam amongst the throng.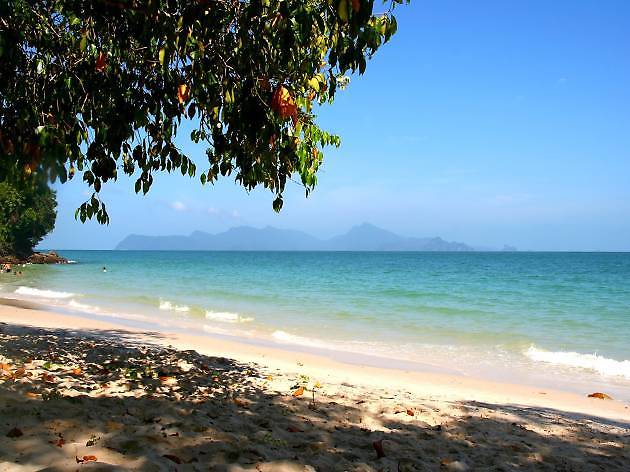 Photograph: Pantai Pasir Tengkorak Beach
13. Pantai Pasir Tengkorak Beach
What is it? A beautiful, secluded beach frequented by monkeys… and you.
Why go? To escape the crowds of Langkawi's busier beaches and feel like Robinson Crusoe for an afternoon. Backed by lush forest, with white sands and crystal-clear water, there are even toilets and showers onsite so you can wash away the salt if you so desire.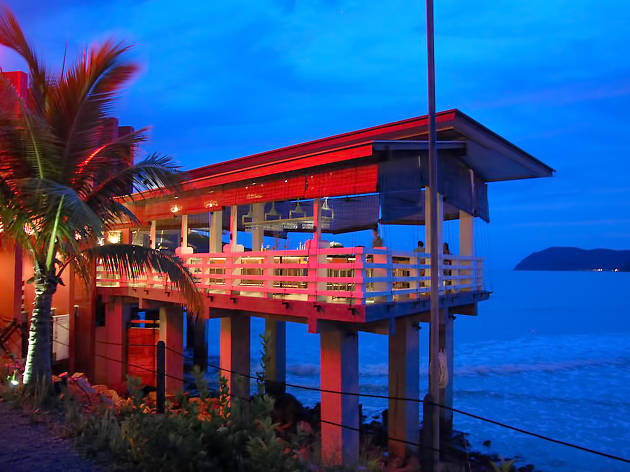 Photograph: The Cliff
What is it? A bar where the sunsets are unparalleled.
Why go? Because what is a holiday without sundowners? Situated in Pantai Cenang overlooking the Andaman, The Cliff serves up drinks and both Malay and Western food. But you're here for that sunset, so just sit back, sip that Pina Colada and be happy you made it to this beautiful place in the world.
Best selling Time Out Offers