The Chronicles of Narnia: The Lion, the Witch and the Wardrobe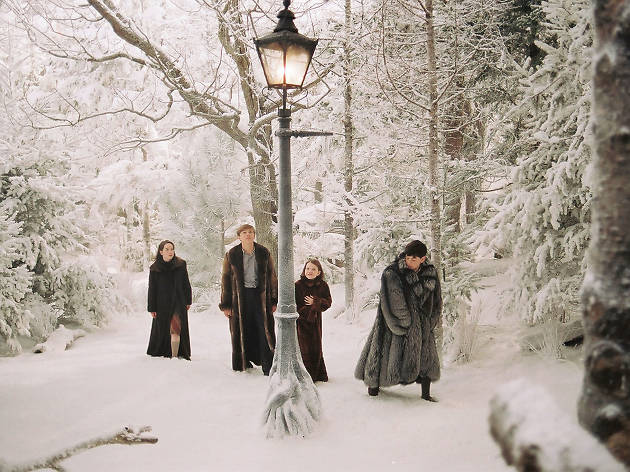 Narnia, the mythical kingdom located somewhere between the back of an antique dresser and a child's fertile imagination, seemed like the next logical frontier for Hollywood fantasists to conquer. Though the first of C. S. Lewis's popular books has been adapted before as an animated feature and a BBC TV series, the adventures of the Pevensie kids screamed out for the kind of big-budget spectacle that turned Tolkien's Middle Earth into a pop-cinema touchstone. All it would take was a director who could translate this tale of good versus evil into an extravaganza capable of wowing filmgoers with pure, giddy excitement.
You'll still need to wait for that last part, apostles of Aslan. Disney's live-action take on the perennial kid-lit staple has its moments of wide-eyed wonderment, yet all Andrew Adamson (Shrek) brings to the table is facility with computer-generated effects and a knack for making young adults seem extraordinarily cloying. Granted, the filmmaker hasn't turned Lewis's Christian parable into the hallelujah-heavy, Passion-ate pageantry many dreaded. But when Adamson finally assembles all his mythological pagan beasties (centaurs, satyrs and cyclopes, oh my!) to do battle for the big set piece, it's simply a triumph of pixilated artificial intelligence. Keeping your battles bloodless for a PG rating is one thing, but turning a canonworthy classic into an anemic blockbuster borders on the unforgivable.

Release details
Rated:
PG
Release date:
Friday December 9 2005
Duration:
143 mins
Cast and crew
Director:
Andrew Adamson
Screenwriter:
Andrew Adamson, Ann Peacock, Christopher Markus, Stephen McFeely
Cast:
Tilda Swinton
Georgie Henley
William Moseley