Where to see art in Las Vegas
Discover the Las Vegas art exhibitions—and no, we don't mean the neon tableaux of the Strip—hidden in plain sight, with our guide to Vegas galleries and installations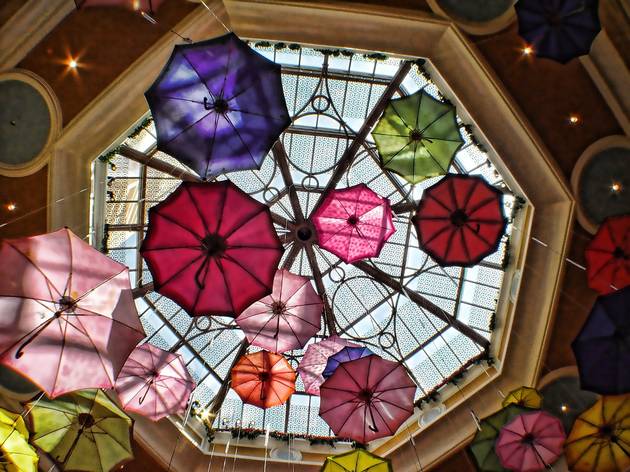 Quick: When you hear "Las Vegas," what comes to mind as you plan downtime in Sin City? We bet "go see art" didn't even make your top 10... but it should.

There was a time when art in Las Vegas wasn't located in a Vegas art gallery, but relegated to whatever you were lucky enough to see in a hotel room. (And frankly, if you've been at the Four Seasons since its 2013 room revamp, or walked through the Cosmopolitan's dreamily digital lobby art, you know that some of the most beautiful art in Vegas hangs not in Las Vegas art galleries but in the Strip's finest hotels themselves!)

The truth is, art in Las Vegas does unexpectedly sneak up on you: the displays at Bellagio's Conservatory and Botanical Gardens, the Palazzo's seasonal lobby displays, the Wynn's arbors and hanging topiaries with their explosive florals. But with just a wee bit of planning, art in Las Vegas can leave quite the lasting impression.

Start with James Turrell's interactive light installation, Akhob (located, of all places, on a hard-to-find floor of the Crystals at CityCenter's Louis Vuitton). A permanent feature of Las Vegas' art landscape, the installation envelops you in colors you can feel.

Off the Venetian's lobby is Imagine Exhibitions, the hotel's in-house space for rotating programming like Da Vinci The Exhibition—a hands-on look at da Vinci's life, research and art. (And before you leave the building, hit Madame Tussaud's for a little art kitsch!) The Bellagio Gallery of Fine Art is a stop for the world's finest painting exhibitions. And to consume art of all kinds in one space, head to the Arts Factory, home to 23 commercial art-related tenants representing photography, fine art, architecture, graphic design and jewelry.

Is there art in Las Vegas? Just take a look around—inspiration awaits.
See the best art museums in America
We've boiled the country's vast visual art scene down to the essential must-sees—these are the art museums to include in your cultural itinerary