A thrill seeker's guide to Vegas
Face your fears and get face-to-face with dolphins and world-class art in Vegas's most exciting experiences
Vegas isn't just about letting it ride on the roulette table—though you'll have plenty of chances to do that if you so wish. The city is also home to a host of other thrills, from getting up-close-and-personal with a one-of-a-kind art masterwork to riding a coaster at the Adventuredome.
Pick your Vegas thrill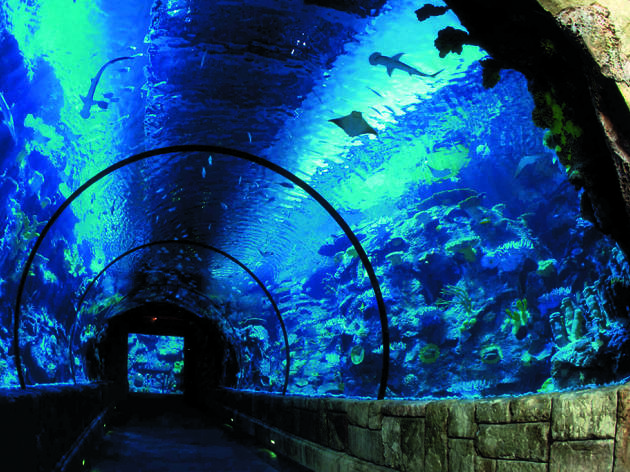 For a spine-tingling thrill: Shark Reef
With a capacity of 1,300,000 gallons, the Shark Reef at Mandalay Bay is more than just a really big fish tank—it's one of the largest in North America. Enter the glass-enclosed tunnel while sharks, rays and other sea creatures swim by, or venture to the touch pool, where you can pet the little critters for yourself. Mandalay Bay, 3950 S Las Vegas Blvd.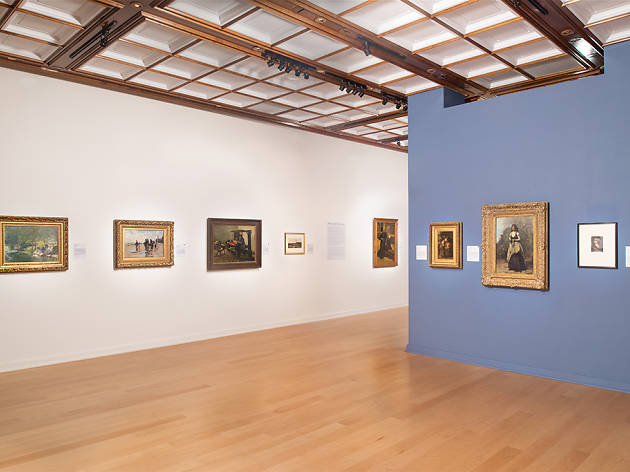 For a high-art thrill: The Bellagio Gallery of Fine Arts
Vegas is known for its dancers—as is French impressionist artist Edgar Degas, so it makes sense that you'd be able to see his vivid pastels just around the corner from the Strip's finest kick lines. By tapping into the collections of the world's finest art institutions, this gallery gives visitors a first-hand look at breath-taking works of art, with rotating exhibits on everything from Picasso to Andy Warhol. Bellagio Hotel and Casino, 3600 Las Vegas Fwy.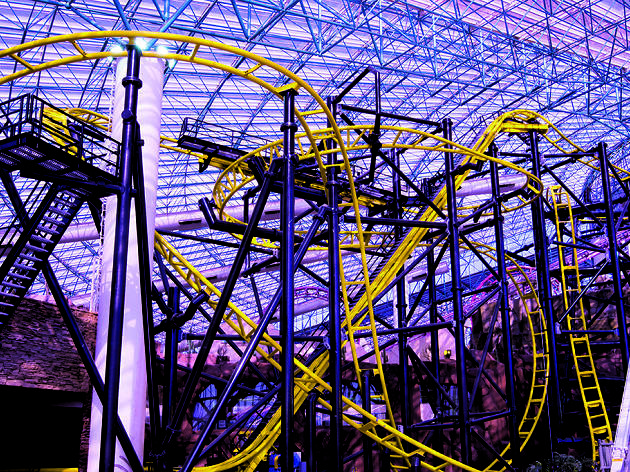 For a high-speed thrill: Adventuredome
You'll hardly have a chance to catch your breath at the jam-packed Adventurdome theme park. Strap into El Loco—a roller coaster that features forces of 1.5 vertical-Gs and hits speeds of up to 45 mph—and Canyon Blaster, the world's largest indoor double-loop, double-corkscrew coaster. The other 23 rides (with names like Inverter and Chaos) are just as action packed. 2880 S Las Vegas Blvd.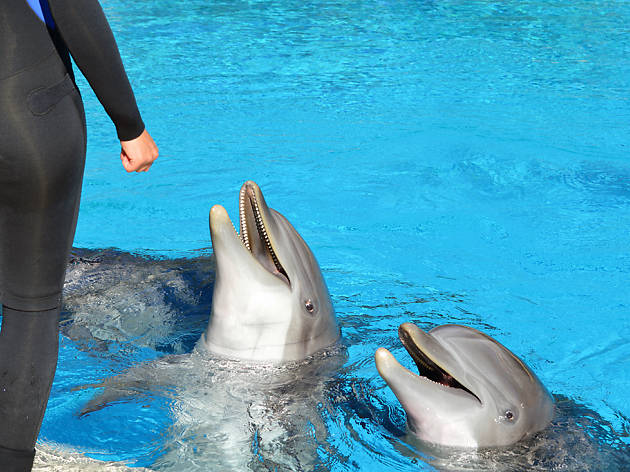 Photograph: Courtesy CC/Flickr/Daniel Orth
For a natural thrill: Secret Garden and Dolphin Habitat
Amid the bustle of Vegas, this serene animal sanctuary is home to white tigers, white lions and leopards, as well as bottlenose dolphins. You can sign up to work with the dolphins' trainers for the day to play with the lovable sea creatures one-on-one or create a painting with a dolphin friend. There's even a morning yoga session that takes place in the tranquil underwater viewing area. 3400 S Las Vegas Blvd.

Photograph: Courtesy CC/Flickr/
Daniel Orth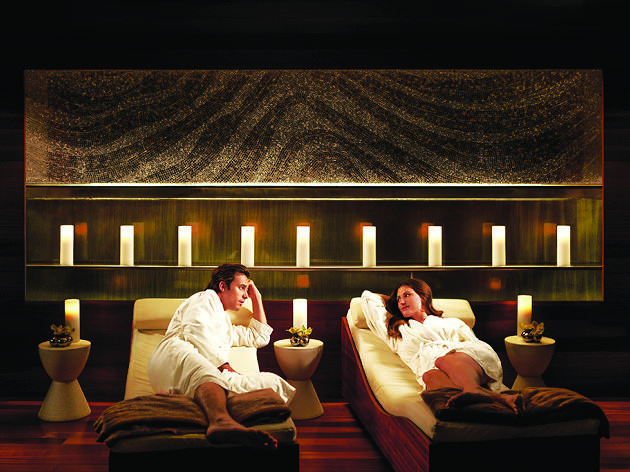 Photograph: Steven Lippman
For a super-chill thrill: Hit the spa
Go from neon lights and slot machines buzzing to candle-lit ambiance and soothing sounds. Spa amenities at MGM's properties include marine oils and sea salts body treatment, Ayurvedic massage and Rose Jasmine scrub. Each location features a unique spa-journey that takes you through a course of tailored experiences centered on one particular element (water, earth, air and fire), all with the same goal: total relaxation. Take a moment to pause and recharge, and you'll be ready to hit the strip in no time.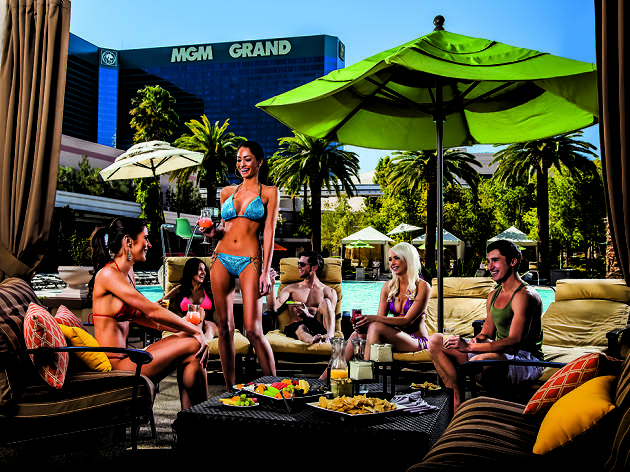 Photograph: Jerry Metellus
For a VIP thrill: Cabana at the MGM Grand
You made it to Vegas so you might as well do it big. Book a poolside cabana at the MGM for VIP treatment for you and your friends to live the high life. The sun-protected area includes reserved seating to recline on and one-on-one service. Just take your pick between lively pool parties at the MGM Grand, tranquil waters of the Bellagio and the tropical sandy beach at Mandalay Bay. 3799 S Las Vegas Blvd.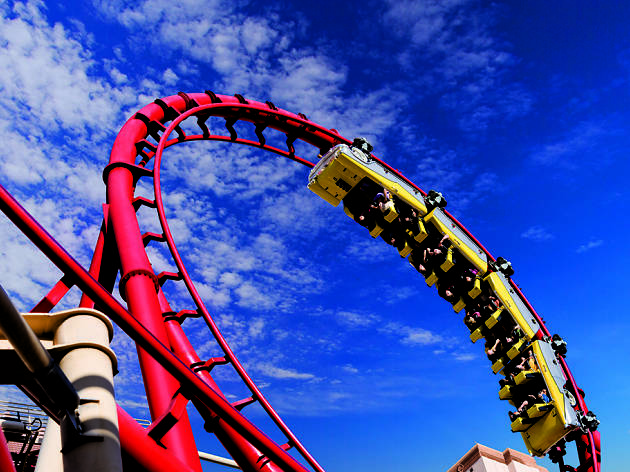 Photograph: Lauren Greenfield
For a big-city thrill: NYNY Roller Coaster & Blackjack
New York City is a great place, but a bit short on roller coasters if you ask us. This attraction at New York-New York fixes that small oversight with a massive 203-foot ride that hits speeds of 67 mph as it soars over a replica of New York harbor, including landmarks you might recognize like the Statue of Liberty, and Empire State and Chrysler buildings. Once you survive that, test your luck at the blackjack tables, which, among other things, offer all-day $5 hands. 3790 S Las Vegas Blvd.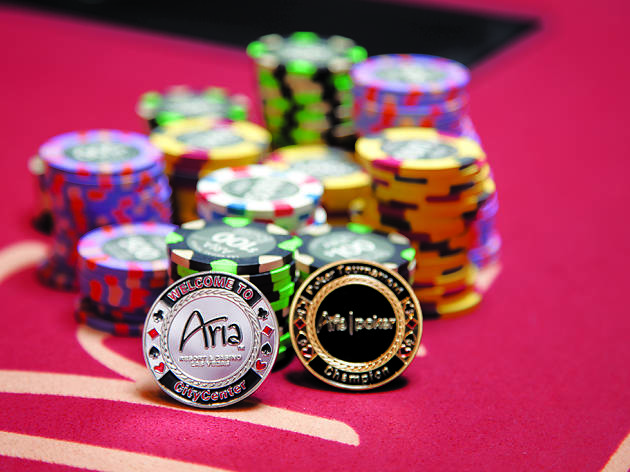 Photograph: Tory Kooyman
For a high-stakes thrill: Aria Poker
No bluffing: It doesn't get more exciting than anteing up with a pocket pair and watching a hot hand unfold during a game of Texas Hold'em. This room, custom built by poker legend Bobby Baldwin, features some of the most sophisticated, technology-enhanced poker tables in the world, with games including no-limit hold'em, Omaha 8 and 7-card stud. You'll be well taken care of while you play: Aria's amenities include on-call masseuses to give you a tension-relieving shoulder rub and to-go food from nearly all of the resort's top-notch restaurants. 3730 S Las Vegas Blvd.