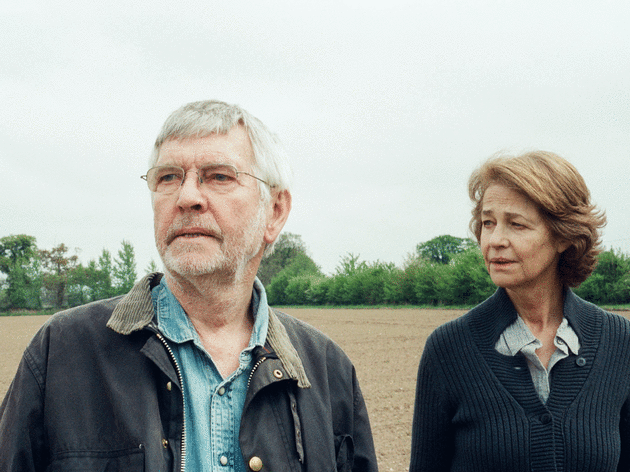 Charlotte Rampling and Tom Courtenay play a couple dealing with the past in this powerful, brilliant British drama
This eerie drama is a haunting, troubled look at marriage and what it means to love someone over many years. It gives us a retired Norfolk couple, Kate (Charlotte Rampling) and Geoff (Tom Courtenay), who we meet in the days leading up to their forty-fifth anniversary party. It's a contained piece, hysteria-free, but full of true emotion. It begins with the arrival of a letter at the pair's rural home: a body has been discovered. Geoff's first girlfriend, Katya, who he knew before Kate, fell off an Alpine mountain 50 years ago while they were on holiday. Now she has been found, encased in ice. It's a small earthquake in the couple's lives, and the aftershocks rumble, often painfully, through the week to come.
They continue to prepare for the party. But questions bubble up. Resentment and fear surface. What did Katya mean to Geoff long after her death? Has he been honest with Kate? Can you be jealous of a dead woman? Writer-director Andrew Haigh, adapting a short story by David Constantine, casts the dark shadow of time and mortality over this restrained, thoughtful story. Ageing Geoff imagines Katya's youth preserved for ever in death. This is a ghost story with no ghost. An infidelity tale with no mistress, no lover, no dropped trousers, no secret texts. Can you betray someone with just your thoughts and memories?
This is a triumph for Haigh, whose acclaimed second film 2011's 'Weekend', was the story of a brief, fun romance between two young men. There's much less sex here. Yet Haigh's search for meaning in everyday, ordinary behaviour, underlined this time by the past and the future suddenly coming into sharp focus, remains the same. So does his sensitive, smart concern for exploring the meaning and limits of intimacy between two people. And his cast are superb: Rampling hides an ocean of sadness beneath surface calm, while Courtenay blusters along in a very male fashion, though he too is crumbling inside. It's a film of small moments and tiny gestures that leaves a very, very big impression.
Release details
Release date:
Friday August 28 2015
Duration:
93 mins
Cast and crew
Director:
Andrew Haigh
Screenwriter:
Andrew Haigh
Cast:
Charlotte Rampling
Tom Courtenay
Dolly Wells

Average User Rating
3.6 / 5
Rating Breakdown
5 star:

2

4 star:

2

3 star:

3

2 star:

1

1 star:

0
Old people in love , even having hugs - oh yuk ! But this is real life in a way most films just don't tackle. Brilliant performances ensure we feel we are dealing with real people , and the subject matter is timeless. Old flame reappears and your partner questions your feelings relative to your love for him or her. In this instance all of the emotions are amplified by 45 years of marriage. Its slow to unfold but deeply rewarding. The film asks questions it does not try to answer. The biggest question is "how would you react ? " and thats a question I have not yet been able to answer.
This is okay. Takes an age to get going, some nice dialogue from the husband. But nothing that special.
Terrific! The shadow of the past, as in Rebecca, crumbles a marriage. Masterpiece. Extraordinary performances.
Charlotte Rampling and Tom Courtenay put in brilliant late-career performances in this masterful slow-burner in which a retired English couple see the foundation of their marriage pulled from under their feet with the arrival of a single unexpected letter from Switzerland, days before their anniversary party. It's a film of tiny moments of intense power; there's barely any plot to speak of, yet I found the end effect devastating
Unlike other two people films,ie Sleuth and the brilliant Dresser,this one is a bit of a flop.It is a flop for the same reason as the recent Broadbent film La Weekend,namely the writing is under par.The premise of two ageing people,full of memories and reflection is a promising one.However the actual dialogue is a bit superficial and trite.The mini plot of a former loved one dead in a glacier in Switzerland is a bit artificial. The usual excellence of Courtney's acting is just too subdued due to the poor writing.No drama,no pathos,no chemisrty between the two leads.It is overall okay,but just a wee bit dull... 2 stars..