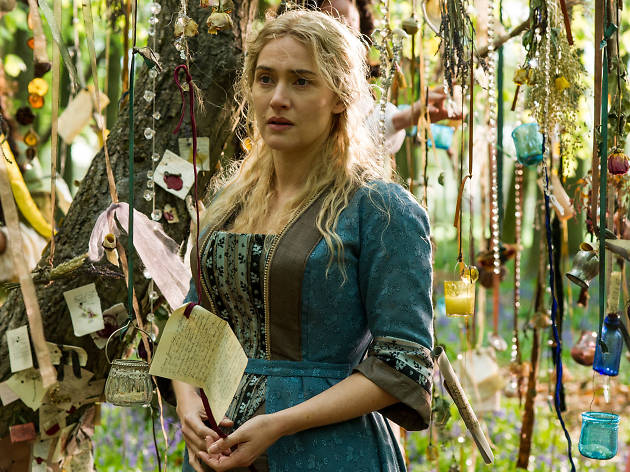 'A Little Chaos' is, you imagine, what Alan Titchmarsh might dream about after watching 'Fifty Shades of Grey'.

Kate Winslet plays a pioneering seventeenth-century gardener in the French court of Louis XIV, and she's the best thing about the film. Wearing a corset so tight that it's a miracle she can breathe, let alone act, she gives an emotionally switched-on performance as Sabine de Barra, a woman with nothing to lose after the death of her husband and daughter. Scandalising the court, she applies for a job with André le Nôtre (Matthias Schoenaerts), the real-life landscape architect behind the Gardens of Versailles.

Sabine, bosom heaving, bonds with André over the begonias. But the usually excellent Schoenaerts is a big letdown, doing what can only be described as dead-fish acting while sporting a career-killing, straggly haircut. To be fair, he does have to work with some hilarious dialogue: 'Your heart beats furiously, mine just ticks'. Helen McCrory gives 'House of Cards' First Lady Claire Underwood a run for her money in the ruthless-bitch stakes as his viper of a wife, while Alan Rickman, also directing, is as dry as a desert in a drought as Louis.
Release details
Release date:
Friday April 17 2015
Duration:
116 mins
Cast and crew
Director:
Alan Rickman
Screenwriter:
Alison Deegan
Cast:
Alan Rickman
Kate Winslet
Stanley Tucci
Jennifer Ehle

Average User Rating
4.5 / 5
Rating Breakdown
5 star:

1

4 star:

1

3 star:

0

2 star:

0

1 star:

0
I absolutely loved this film. I think the reviewers are all mad. It's beautiful, moving and that all too rare thing these days....a proper grown up film for adults. Highly recommended.
It takes a little while to get your head around that Alan Rickman is playing King Loius XIV, but once you get past that, the film is very enjoyable. A woman trying to make her mark while not being anyone's mistress at the time when this was the only way to have any influence over anything, is going to get your attention. There are funny bits, sad bits, wonderful acting, beautiful gardens, and one very determined woman. Just makes you wonder what have women ever done to have to fight so hard to prove that we can do as well as men and often better.