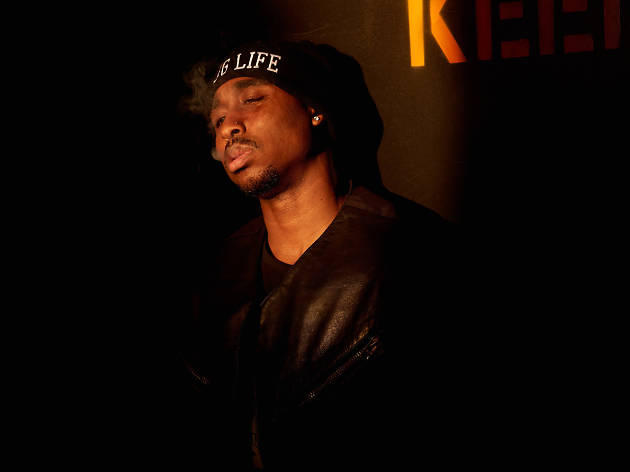 The life story of Tupac Shakur is recounted in efficient but bland and unquestioning fashion
This Wikipedia-page biopic of Tupac Shakur races through the rapper's Major Life Events without ever getting to grips with the glaring questions his story throws up. The bullet points are familiar: Tupac (played by eerily identical-looking Demetrius Shipp Jr) is raised by his Black Panther turned crack addict mum (Danai Gurira from 'The Walking Dead'), hits the big time, beefs with Biggie (Jamal Woolard, who played the same role in 2009's 'Notorious') and ends up dead in the passenger seat of rap mogul Suge Knight's limo following a drive-by shooting.
This feels very much like the Shakur-estate-approved version of events: an essentially decent but desperately unlucky character, 'Pac just happens to be on scene during a shooting and he's asleep while someone's getting sexually assaulted next door. The latter incident is handled with a shameful lack of inquiry – Tupac even blames the system when he's convicted. But at least 'All Eyez on Me' tackles misogyny at all, which is more than could be said for this film's obvious inspiration, the NWA biopic 'Straight Outta Compton'.
The filmmaking is solid, the performances strong and the tunes are pretty terrific. But this is too wary of controversy – and too 'respectful' of the fans – to treat its subject to the hard-headed analysis Tupac's legacy deserves.
Release details
Rated:
15
Release date:
Friday June 30 2017
Duration:
140 mins
Cast and crew
Director:
Benny Boom
Cast:
Demetrius Shipp Jr
Danai Gurira

Rating Breakdown
5 star:

0

4 star:

0

3 star:

0

2 star:

0

1 star:

1
ALL of the reviewers that I have read thus far miss the point! While there is an abundance of pretentious prattle about such things as "authenticity," "story telling "technique," and the like; they miss the central point! TUPAC WAS A MEGALOMANICAL, SELF-DESTRUCTIVE, NIHILIST whose fucked up ideas about thugh life has brought grief to a lt of young black and Hispanic men!!!! Furthermore, he was's even a real thug: HE WAS A PLAY PLAY TOUGH LIKE DONALD TRUMP!!!! The great New york writere and columnist Jimmy Breslen said of Trump:"he was the kind of fake tough guy who can't fight his way out of an empty lot!!!" And like Trump, he liked to hang out with REAL tough guys. But in real life tupac was a lost boy who knew no more about being a real gangster than a mule knows about playing the fiddle!!!!! STOP THE TUPAC WORSHIP!!!!! He is a dangerous role model for young men - especially black and latin males who are slaughtering each other at a far greater rate than racist cops!!! So let me say what none of the ctitics have proven willig or able to say: FUCK TUPAC!!!!
I GIVE IN 1 STAR!!!