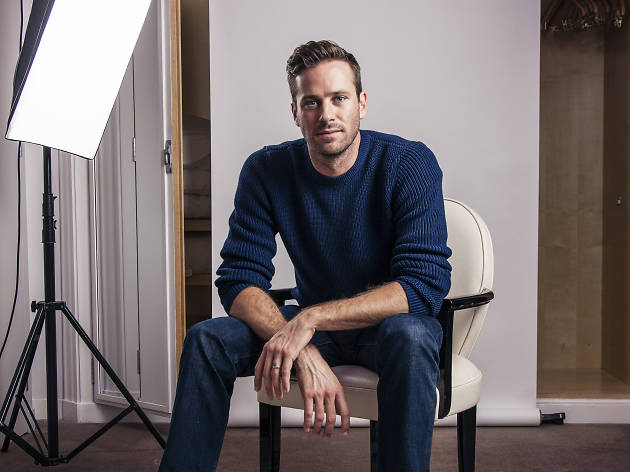 Armie Hammer on going arthouse for 'Call Me By Your Name'
Now Oscar-tipped for his latest role, the one-time Lone Ranger is having a moment. He shares his journey, and his crisps, with Time Out.
He's played twin jocks in 'The Social Network', the handsome prince in 'Mirror Mirror' and the titular cowboy in the 'The Lone Ranger'. Now, all-American Armie Hammer is switching gears and starring in an arthouse film about gay lovers.
Sensitive, sun-drenched and seductive, Luca Guadagnino's 'Call Me by Your Name' is one of the films of the year. In this adaptation of André Aciman's 2007 novel, Hammer's doctoral student Oliver falls for the teenaged Elio (up-and-comer Timothée Chalamet) over a summer in Italy.
When we met during the BFI London Film Festival, Hammer was articulate and succinct – all while munching on crisps and sipping Coke. This is a busy, hungry man. And the film world is hungry for him too.
So, 'Call Me by Your Name'. Wow.
'Thank you. When you start out acting they tell you you're going to find these roles that challenge and change you and you start to think it's an idealistic fantasy, but this was one of those. Luca told me, "I want to reach inside you and grab you and push you." And that's what he did.'
It's told from Elio's point of view – how does it feel to be the object of desire?
'I never enjoy watching myself back. I had to think about Oliver's body language and how he moved with his environment. If you're thinking: How do I look handsome and do I look like an object of desire?, you'd come across as really stiff.'
Did Oliver evolve much during the shoot?
'Definitely. The entire thing was like a living process from start to finish; it was amazing to watch it all come to life. The book is incredible. My wife [Elizabeth Chambers] calls it the sexiest book she's ever read. It humanises love in a really powerful, beautiful way.'
How did you get on with the nude scenes?
'It's the same with any intimate stuff that we may have been apprehensive about before: Ooh, we're going to have to get naked, we have a blow job scene or whatever. The minute you've finished the first take you're [saying], "Oh, that wasn't so bad. Shall we do it again?"'
Have you always felt strongly about LGBT+ rights?
'I've always been on the page that everybody should be allowed to do what they want to do and that love is love. I definitely didn't take on this movie as a bigot and come out the other side and go [puts on comical voice], "You know what, I've changed my mind!" There's a reason I wanted to do the film. Someone said, "I watched 'Call Me by Your Name' and I went home and came out to my parents." I was like, "Whoa."'
Along with Stanley Tucci's 'Final Portrait', this seems like a move in a more indie direction for you.
'I don't have any illusions of control. I'm an actor, I can basically only do my job when people ask me to. All I'm trying to do is work with great directors who inspire me and who I think I can learn from.'
What's next?
'I'm working on a movie right now in Montreal called "On the Basis of Sex" (based on the career of Supreme Court Justice Ruth Bader Ginsburg), also "Hotel Mumbai" will be coming out.'
Would you like to direct yourself?
'I would love to. That's my end game, that's the goal. I'm in my own little film school now, [only] instead of going to classes I get to work with these directors I respect and pester them with questions.'
Guadagnino makes movies you can taste, smell and almost touch – what's his secret?
'I watched him all day every day so I could steal the technique, and I have no idea. It's just part of his art.'
He also makes masturbating with a peach seem poetic. Care to comment?
'You're talking to the wrong guy. I didn't do anything to a peach. I can't answer for Tim [Chalamet], but when I read it I wasn't sure I'd ever seen anything like it in the cinema: "Can we make this a movie, can this stay?" Then I had several conversations with Luca and totally got how it fitted – how it was going to be a beautiful part of the movie.'
I also heard Luca tried it out himself, to see if it worked.
'Yeah.'
That's research for you.
'Don't knock it till you've tried it.'
Call Me by Your Name is in cinemas from Fri Oct 27.
Read Time Out's review of 'Call Me By Your Name'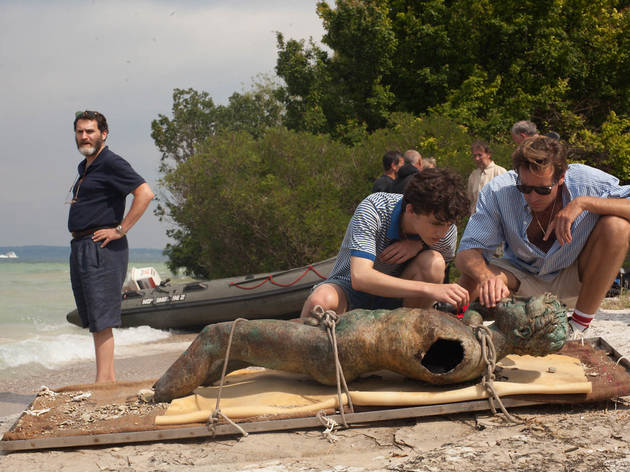 Italian writer-director Luca Guadagnino likes to show off his homeland as a place of sensual self-discovery. But he's never given us the total swirl of sultry weather, budding libidos and teenage confusion that marks his new drama, 'Call Me by Your Name'. It's a triumphant, heartbreaking tale of coming out based on André Aciman's acclaimed 2007 novel.