Backstreet Boys: Show 'Em What You're Made Of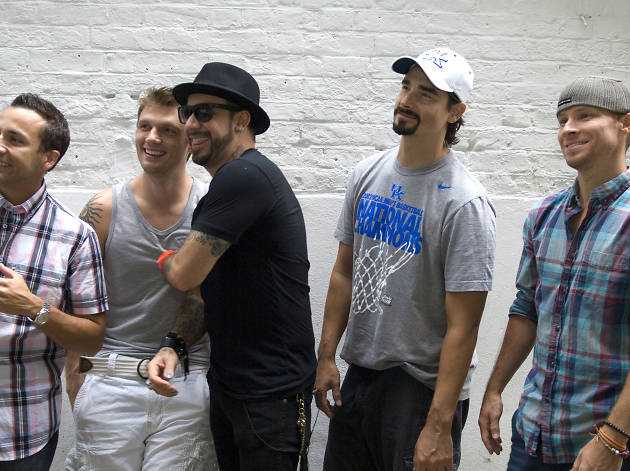 Any non-Backstreet Boys fan weird enough to watch this doc about the globe-conquering US boy band will find it a two-hour cheesefest. And that's no dig at the music.

With video montages from the early days and more tears than you'd get in an episode of 'The X Factor', this tale of the manufactured pop group – fractured by fall-outs and drug abuse and now trying to 'find' themselves as they reflect on their career – is nauseating even for a long-term fan.

But you can't deny their success: BSB have sold 130 million albums; and they've been recording and touring for 20 years. Now, free of a record contract for the first time (the band have their own label, K-Bahn), BSB are on a pilgrimage to find and record their own sound. Stop-offs include time in London to jam, write and look thoughtful holding an acoustic guitar, while returns to everyone's home towns spark tearful memories of where it all began.

The 'boys' might be pushing 40, but having completed their mission and made an 'authentic and personal album' (which has sold 800,000 copies), Backstreet's back, alright.
Release details
Release date:
Thursday February 26 2015
Duration:
0 mins
Cast and crew
Rating Breakdown
5 star:

1

4 star:

0

3 star:

0

2 star:

0

1 star:

0
You know what's nauseating? This review. I put more effort into taking a crap in the morning than you seem to have put into writing this review. Just more evidence that film criticism is DEAD. This isn't critical thinking, it's cynical thinking. Mean spirited, thoughtless, not a whiff of analysis, no consideration of craft, and insulting to the fan base, who, by the way, absolutely love this film! Have you done ANY research or did you just sit at home, watch half of it on your computer with your nose in the air and then crank out this pathetic excuse for a review? Have a look at this - now THIS is writing: http://www.villagevoice.com/2015-01-28/film/backstreet-boys-documentary/full/
Even if you didn't like it, give me some actual critical thought, something to support it. There isn't one interesting idea in your "review." You are a one-star critic. Pauline Kael and Andrew Saris weep.