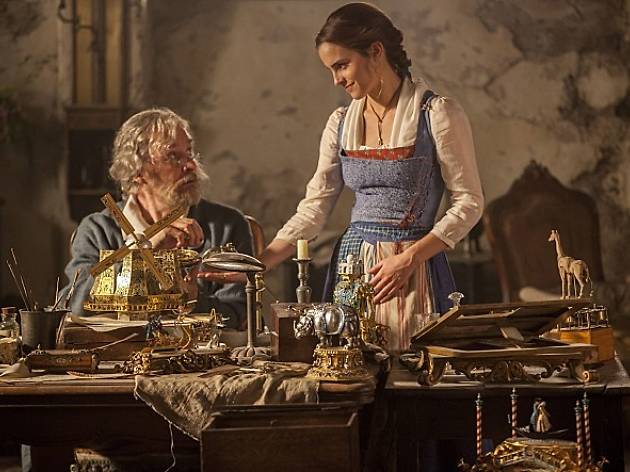 Time Out says
This live-action spin on the classic Disney animation, starring Emma Watson, is lively and modern – but also honours the love for the original film
The virtue of courage is high up on the list of Disney princess must-haves (just below kindness, beauty and a strapping prince in tight trousers). And three cheers for director Bill Condon and star Emma Watson for having the courage to make a live-action musical adaptation of the adored 1991 animation with 2017 gender politics and a diverse cast. Not only is Belle the most feminist Disney princess ever, 'Beauty and the Beast' also features the first (and second) ever interracial kiss in a live-action Disney movie and the first openly gay character in a Disney movie fullstop. And it's all done with a lovely feeling of integrity too.

This is a lavish pull-out-all-the-stops musical. Watson brings sincerity to the role of Belle, the only bookworm in the village in eighteenth-century France. (Her singing isn't bad either). Luke Evans is hilarious as her sexist meathead suitor Gaston, whose charming chat-up lines include: 'Do you know what happens to spinsters in the village when their fathers die? They beg for scraps.' Josh Gad (Olaf the snowman in 'Frozen') is his adoring sidekick Le Fou. The pair's get-a-room bromance is a highlight.

Belle's inventor dad (Kevin Kline) is on his way to market when he takes a wrong turn and finds himself locked in the gothic castle belonging to Beast (Dan Stevens from 'Downton', hiding behind a furry face). Of course, the Beast is actually a dashing prince, transformed by a kind witch as punishment for his cold-heartedness. Only true love – as Céline Dion must surely have once sung – can set him free. You know the rest.

This funny and drop dead gorgeous 'Beauty and the Beast' stands on the shoulders of a giant – the original animation. It's got the same talking appliances, performed here by an all-star cast: Ewan McGregor is Lumiere the French candlestick; Ian McKellen is pompous clock Cogsworth; Emma Thompson does her best cockney as Mrs Potts. And the sheer razzle-dazzle spectacle is totally old-school, with dancing napkins instead of chorus girls and everyone bursting sumptuously into song at every available opportunity.

If you want to pick holes, the Beast is a bit of drip. And while Belle is a young woman in charge of her destiny, it's not totally clear what role there is for her – beyond wifey for lifey – after her happy ending. Did the world need another 'Beauty and the Beast'? Maybe not, but this one is still a keeper.
Details
Release details
Rated:
PG
Release date:
Friday March 17 2017
Duration:
129 mins
Cast and crew
Director:
Bill Condon
Screenwriter:
Stephen Chbosky, Evan Spiliotopoulos
Cast:
Luke Evans
Ewan McGregor
Emma Watson
Dan Stevens

Average User Rating
3.8 / 5
Rating Breakdown
5 star:

12

4 star:

13

3 star:

9

2 star:

3

1 star:

1
it was a last minute, spontaneous decision. I LOVE LOVE LOVE the original animation and the Jean Cocteau black and white versions.
but oh my, was it in for an experience?
I went on a Monday evening at Hackney picturehosue and sat to 4 delightful, gorgeous, hunky spaniards who were charming and friendly. I asked if they were there to watch the film together and they said yes. I texted my friend saying, "I can't get a man to go with me for this movie and here I am with 4 gorgeous ones who offer me their crisps" My friend was Jealous.
The film was sumptuous and beautiful and vivid. Belle was indeed fearless, intelligent, strong, beautiful and kind.
BUT...
The best thing about the film was the songs! And even better... an audience who sing along to the songs knowing every word including my 4 spanish hunks. There were were, the whole cinema singing... Tale as old as time...
and sobbing, and going ooooohhhhhh and aaaaahhhhhh and cheering Belle and Beast every step of the way.
And even feeling broken hearted for Gaston's sidekick who was so misguided.
I hope there won't be another remake. I saw the black and white French original again the next day at the ICA, wishing Alan Menken songs come in as they do on iTunes... so I can sing along.
But this is a grand movie experience and even better because it was unplanned and it became an antidote to a stressful few days which I had and needed an escape from.
PS: the 4 hunks? They bought me a drink and we exchanged numbers... just in case you know we need to go to another romantic disney remake ;-)

A beautiful and immensely charming retelling of the 1991 animation. The notion of leaving the cinema screen without being enchanted seems an improbable one. Few films are this well staged, stylised and orchestrated. The cast all bring their characters to life, even if Luke Evans as Gaston makes the prospect of being Madame Gaston alarmingly appealing...
Just loved it- sat there with a massive smile on my face right from the opening scene although a few tears were shed too in some of the more touching moments. Sumptuous, glorious technicolor & the special effects were incredible too. Loved the campness which added so much humour. I thought Disney couldn't improve on the original animated film but this is a worthy successor. The musical numbers are exuberant & performed with glee. Pure frothy perfection & proud of a predominantly British iconic cast.
Lovely movie but don't expect any major surprises...it's more or less scene by scene copy and pasted from the original animated film. It's still a feel-good, beautiful movie though...With one flaw, the most memorable scene for me wasn't there...the snowy scene where all the birds perch on the Beast, it's insanely cute and should have been there! Too much of a CGI challenge?
This is my top film of the year! I was quite worried before seeing this film. I mean, Beauty and the Beast is a classic, by far one of my favourite childhood films. I was apprehensive would do a "Jungle Book" and remake something that isn't quite the original. However, I was so pleased to be proven wrong with this remake! I thought the added humour, new songs, addition story and scene setting were also brilliant extras in this version. I also thought the casting was spot on. I was pleased it wasn't the "Emma Watson show" and thought every character had their moment to shine. For me, Gaston was my absolute favourite character, really and truly capturing the character as I had always imagined! This film is truly timeless and I'd recommend everyone going to see it.
When I sat down in one of the comfy sofas of the Everyman on the corner by Granary square last Friday evening, I did not expect to like this modern take on a Disney classic as much as I did. Magical, sweet and as enchanting as the characters and the castle which are at the heart of the story- Beauty and the beast is sure to put a smile on your face and remind you that one should always hope for a silver lining.
As a Disney version fan I found it a poor adaptation for an all time classic.
Disappointing to see that they tried to make this film a like for like version of the original instead of a trying a modern version.
There little chemistry between the characters and the animation was not great.
Regardless if you are a fan of the original I recommend you watching to reminisce your childwood memories