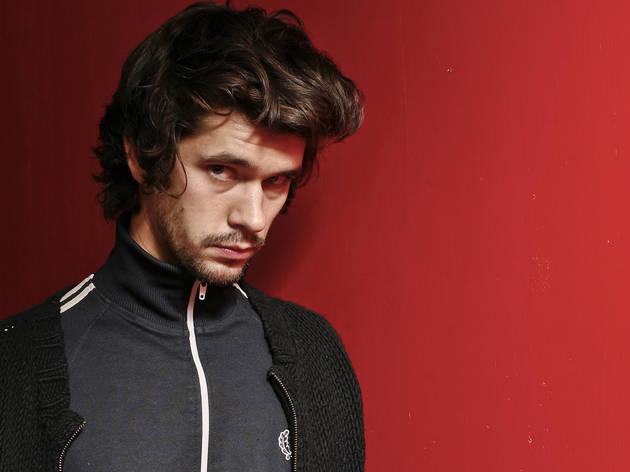 Ben Whishaw interview: 'Yeah, I still get nervous'
He is one of the brightest talents of his generation, but as the star of 'Skyfall' takes on a new stage role he tells us why he isn't ready for superstardom
What is it with Ben Whishaw and cats? Last time I met him, in a bar in Shoreditch in 2004, he was 23. Just six months out of Rada, he'd become famous overnight for his electrifying performance at the Old Vic as Hamlet – all skinny legs, Keith Richards hair stuffed under a beanie and nothing but rave reviews. It struck me that he was completely freaked out, rabbit-in-the-headlights startled by the idea that the world would be remotely interested in anything he had to say. The only personal information I extracted was that he's a cat-lover – 'the most I ever had at one time is 11'.
And here he is today, walking into the granny-chintz meeting room upstairs at the Noël Coward Theatre with a cat trotting at his heels. Turns out she's the theatre's puss, Girl Cat. As Whishaw takes off his duffel coat she slinks around his ankles like a super-fan. Girl Cat is a tiny, black, kitten-ish thing but Whishaw has just found out that she's 18. 'She's in good nick,' he says, talking exactly like his character Freddie on BBC2's retro newsroom drama 'The Hour' – half-luvvie, half-oiky, boyish, gentle and clever.
Since we last met, he's officially become one of the brightest talents of his generation, and everyone I speak to tells me how much they love Ben Whishaw. He was easily the best thing in 'The Hour', as cocky and downright lovely Freddie. And it was genius casting giving him the role of Q in '
Skyfall
' – the Bond boffin reinvented as a floppy-haired geek. Directors he's worked with often describe him as 'otherworldly' or 'poetic'. And he's played his fair share of dreamers – Bob Dylan in '
I'm Not There
' and the poet John Keats in '
Bright Star
'. Whishaw also has a reputation for being shy. But as he takes a seat on a plump sofa he's disarmingly friendly, remembering our last meeting. 'That was Hamlet!' he says, leaning down and pulling up a sock.
I'm sure he'd hate this – but in the flesh he's got an endearingly eccentric way about him. Maybe it's all that gravity-defying hair. It doesn't help that he looks like he's still in his jim-jams, wearing a stripy polo neck and baggy-ish trousers. You can see why Jane Campion cast him as Keats – he genuinely gives the impression of having just tumbled out a draughty attic after writing a poem of staggering genius. When I interviewed Campion a few years ago she told me that she needed someone with 'extraordinary charisma like Ben'. She added – no lie – that the first time she met him she thought, 'Oh my God, he's a cat!'
His latest character is the man who inspired Peter Pan. In a couple of hours, Whishaw will be on stage with Judi Dench. The play is '
Peter and Alice
', and he stars as Peter Llewelyn Davies, one of five brothers befriended and unofficially adopted by 'Peter Pan' writer JM Barrie. 'He thought of the boys as his children,' says Whishaw, ploughing a hand through his hair thoughtfully. The play imagines what happened in 1932 when Llewelyn Davies met Alice Liddell Hargreaves, the muse for Lewis Carroll's 'Alice in Wonderland', played by Dench. He was 35, she was 80. 'It's like two child stars meeting,' says Whishaw with a grin, 'and talking about what a horrible time they had.'
Peter Pan never grew up. Llewelyn Davies did – into a damaged man. Newspaper headlines followed him all his life: 'Peter Pan Marries!' 'Peter Pan Goes to War!'. 'He hated it,' says Whishaw. 'Peter just wasn't built for that sort of attention. He had an awful life. He ended up taking his own life in his sixties, throwing himself under a train.' But he doesn't believe, as some do, that Barrie's interest in the brothers was sexual. 'I don't think there's any evidence of physical abuse by either Carroll or Barrie,' he says, 'but in some way the relationships that they both had were inappropriate and abusive in some sense.'
Whishaw doesn't discuss his own sexuality, though plenty of people do it for him online, trying to figure out whether he's gay. Why won't he talk about it? 'Honestly?' He takes a deep breath and slips into what feels like a practised speech: 'It's just not something I'm comfortable talking about to people I don't know. That's it, really. I'm a fairly private person.' Is he shy, like people say? Whishaw laughs, and tells me that his agent reckons he's faking it. 'He doesn't believe it's shyness. He thinks I'm being difficult. That I'm not making an effort.' Is that true? 'I don't think so!' he says, mock-outraged.
Still, he's the last actor you'd expect to pop up in a Bond film, as he admits: 'When Sam Mendes called I thought we were going to talk about Shakespeare.' The all-new Q was written as a mix of Julian Assange and Mark Zuckerberg. But Whishaw hasn't got a clue about computers. Learning to touch-type was as close as he came to research. Is he in the next film? 'I'm told that I am.' Would he like more scenes? 'Yes please, I'd like to get out of that bunker.' And shoot someone? 'That would be fun.'
'Peter and Alice' looks like a Bond reunion. It's written by 'Skyfall' scriptwriter John Logan and stars M and Q. 'Not so fast!' says Whishaw. He had never even met Judi Dench until the 'Skyfall' premiere. Sweetly, he says he's besotted with her. 'She's masses of fun and a very amazing human being. We're all really in awe of her.' Does he still get the jitters working with an actor like Dame Judi? 'Yeah, I get nervous, but I try and control it because at the end of the day people are paying to come to see you do a performance. They're not interested in whether you're nervous or feeling inadequate.'
He hasn't got a clue what made him want to be an actor growing up in Bedfordshire. No one in his family is at all thespy. His dad was a footballer before moving into IT. His mum worked on the make-up counter in John Lewis. But from the age of five Whishaw was dressing up and acting in school plays. He loved studying at Rada but didn't have a grand plan. 'I remember feeling like I didn't want to be a failure. My fear was not getting a job. Beyond that, nothing.' Did he worry about having to go back home to Bedfordshire? The question has him giggling. 'That was not an option!'
Acting hasn't made him rich – 'I'm comfortable, it's given me freedom' – and he's still not madly ambitious. 'I don't have any concrete things that I'm going for.' He does sometimes wonder if he should be more go-getting. 'But I'm amazed at how things just sort of happen.' Nor is he interested in fame. Being snapped by the paparazzi is his idea of hell. 'I'd hate that. Not being able to get on with your life. Awful.'
So we wouldn't catch him flicking through Grazia in the supermarket? 'No!' Does he even know what Grazia is? 'I do! I think I've spoken to someone from Grazia.' He pauses, like he might be coming over as a bit super-serious and tells me he enjoys talking to fans hanging around the stage door with pictures of him as Q. 'It's nice. I like it. I like them coming up to me. It makes it all worthwhile, actually. I never feel like it's an invasion.' But Girl Cat hasn't got the message: she's nowhere to be seen, as he disappears downstairs for his supper.
'Peter and Alice' is at the Noël Coward Theatre until Jun 1.