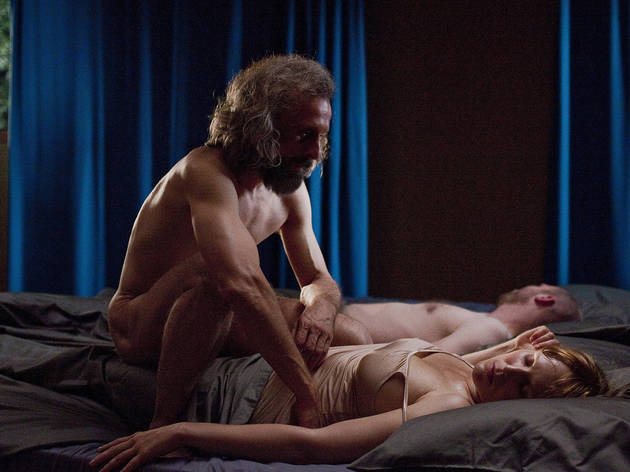 Dutch writer-director Alex Van Warmerdam's 'Borgman' is a mischievous fantasy about an enigmatic tramp-like figure, much more nasty than he first appears, who leaves his forest lair and, with a gang of co-conspirators, inveigles himself into the life of a well-off family living in a modernist bungalow-cum-mansion.

We first meet bedraggled Borgman (Jan Bijvoet) being chased from his hole in the woods by some local vigilantes, including a breathless vicar. Soon he persuades wealthy wife and mother-of-three Marina (Hadewych Minis) to let him live secretly in her outhouse, even after he receives a vicious beating from her permanently angry husband, businessman Richard (Jeroen Perceval) on his first attempt to convince them to let him take a bath. Persuasion and perverse leadership are Borgman's strengths, and it's not long before his two sidekicks (one played by filmmaker Van Warmerdam) are working their way into the family's lives and finding ways of turning one against the other. And what's that strange scar on the backs of those under Borgman's control?

Films about middle-class emotional bankruptcy and unwelcome intrusion are fairly common – of recent stories, 'Dogtooth', 'Funny Games' and 'Lemming' come to mind. But less usual is the black comic, borderline absurdist tone that Van Warmerdam adopts here, mixed with a strong vein of sexual menace. So the horror of seeing someone having their head encased in a bucket of concrete is tempered by the sick humour of seeing that same body and bucket sink to the bottom of a lake like a submarine sculpture.

'Borgman' is always curious and imaginative, and occasionally funny, in a creepy sort of way. But beyond the shocks and games, there's not a great deal to take away in the form of meaty ideas or lingering themes, and its catchy premise doesn't really deliver in the end. As a satire of the bourgeoisie it's fairly gentle and distinctly unfocused, and unlike, say, 'Dogtooth', there's not enough rigour to the logic of this removed world for us properly to be sucked into its rhythms and its rituals. Similarly, it's not savage enough to make you sit up and take entirely seriously Borgman's gradual takeover of these lives. It's a loopy, lopsided experiment.
Cast and crew
Director:
Alex Van Warmerdam
Screenwriter:
Alex Van Warmerdam
Cast:
Hadewych Minis
Jeroen Perceval
Jan Bijvoet

Average User Rating
3.8 / 5
Rating Breakdown
5 star:

0

4 star:

1

3 star:

0

2 star:

0

1 star:

0
I loved Dogtooth but i never had a doubt that director Lanthimos copied Warmerdam, not the other way around. I'd say Funny Games is a completely different movie, imho a very preachy conservative film, while Borgman is more of a free fairytale. Have not seen Lemming :). How about Teorema? @Ton, It is completely normal to have blasphemy in a Dutch movie, it has been for 40 years or so. Thank god.
If you like horror, I guess it's an "enjoyable" film. Personally I was deeply shocked that it was possible for this deeply disturbing film to enter into the prestigious Cannes competition and that it will have it's biggest-ever premiere in 145 Dutch cinema's (I saw it at my favourite cinema's Sneak preview). It will be shown also in arthouse cinema's so it's not your average horror film but nevertheless it is one. Innocent people get killed and then have their heads in cement before being dumped in the garden pond. The killings go on and on, without any motivation as to why. It also contains the most horrible blasphemy I ever heard in a film, when the main villain is telling a bedtime story to children about Jesus Christ. This makes it clear that we are dealing with the Devil here. Sadly I have not read this in any review I read, as if t is completly normal to utter such blasphemy nowadays. In an interview in a Dutch newspaper (Volkskrant 17 August ) Van Warmerdam says there's something very attractive in evil, without explaining why he thinks so. He puts it in all his films and the film he himself watched the most (8 times) is (no surprise) Deliverance. What people can find so funny in horror is beyond me. For me this film is a total waste of time, money and efforts and caused a sleepless night out of sheer anger. In the end still nothing is explained and the audience is left to wonder why everything happened. Sad, sad. sad, sad, sad.