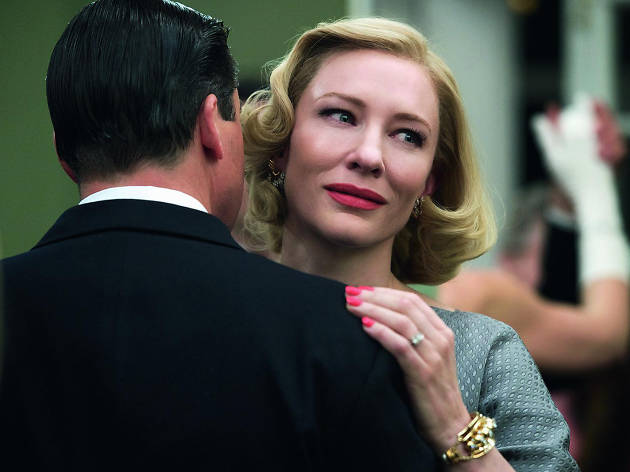 Cate Blanchett and Rooney Mara shine in Todd Haynes's beautiful, 1950s-set Patricia Highsmith adaptation
With 'Carol', the American director Todd Haynes returns us to a place similar to the repressed 1950s East Coast universe that he explored in his 2002 film 'Far from Heaven'. It's historically not long past but this is an emotionally oh-so-distant world, recreated here with exquisite craft, where the big city offers a tiny slither of hope to those suffocating in the stultifyingly conservative suburbs. This is the story of two women, Carol (Cate Blanchett, staggering) and Therese (Rooney Mara, equally so), strangers who meet on either side of a Manhattan department store counter and must choose to face or ignore their feelings for each other as Haynes examines gay desire and repression.
Of course, nobody says the words 'gay' or 'lesbian' in 'Carol', adapted by Phyllis Nagy from a little-known 1952 Patricia Highsmith novel, 'The Price of Salt'. In fact, no one talks much at all, so hard is it for our main characters to say what they're thinking – or to even know what they're thinking. Head-turning in a glamorous fur coat (Sandy Powell's costumes are a dream) Carol is a suburban wife and mother going through a divorce and, we later learn, on the verge of ostracism by her family and friends because of her past relationship with a woman.
Carol is Christmas shopping when she spots twentysomething Therese, a store worker and aspiring photographer who won't commit to her keen male suitor. The attraction is immediate and mutual, initially haltingly expressed via the few seconds of a transaction. The pair's subsequent friendship challenges Therese to confront feelings that she may not have even dared to consider before. Not knowing oneself is a refrain: 'I barely know what to order for lunch,' says Therese. Later she admits, 'I don't know what I want; I always say "yes" to everything.'
Gestures, looks and touches carry enormous weight, and Blanchett and Mara, both excellent, invite micropscopic readings of their every glance and movement. Much of the film is a loaded dance of desire so that, when it finally comes, a kiss has rarely been so well-earned. This is a subtle, exquisitely designed drama that's calibrated like an expensive watch, its moving parts working in quiet, unshowy harmony.

It's far from melodramatic, even when the plot takes some surprising, eventful turns. And 'Carol' also differs from 'Far From Heaven' in that its careful, beguiling colour scheme is muted, leaning heavily on greens and greys and sidestepping bright colours. It moves with a stealthy precision, rarely letting its emotions run over but, crucially, inviting a graceful punch in the air in its choking, triumphant final moments.
Release details
| | |
| --- | --- |
| Release date: | Friday November 27 2015 |
| Duration: | 118 mins |
Cast and crew
Director:
Todd Haynes
Screenwriter:
Phyllis Nagy
Cast:
Cate Blanchett
Rooney Mara
Kyle Chandler

Average User Rating
3.6 / 5
Rating Breakdown
5 star:

4

4 star:

10

3 star:

4

2 star:

1

1 star:

2
now i understand why CAROL is being showered with all the film awards and nominations. it's sublime. Phyllis Nagy's script is beautifully structured and seamless with simple one liners which will haunt you for hours after you've left the cinema. Carol's short but powerful speech to her husband during the divorce scene is heartbreaking, i could just go on about endless detail in the writing of the script which is a haven of subtlety. then Todd Haines decides to film it on proper 16mm film. wow! the grain! the immensity of pondering close-ups on both women, the shots behind all types of blurry glass, the observational camera, the silences... and that last scene, those last shots... i stayed on my seat until the very end of the credits and on my way out two women were kissing long and hard in the cinema and they couldn't care less if the usher had put the lights up and wanted to clean the place. they were having their moment and i wanted to know their story... Cate Blanchett had not had a really good part since ELIZABETH, in 1999, and i started to wonder whether that was it, whether she was ever going to shine again. all she got was all these badly written or half-baked characters, but then BLUE JASMINE came along and now CAROL will certainly cement her credibility as one of the greatest of her generation. and she was perfectly matched with the wonderful Rooney Mara, which for a split second during the film became the spitting image of Audrey Hepburn. Todd Haynes had already punched us in the stomach with FAR FROM HEAVEN and well before that with POISON in 1991. When I grow up I want to be a film director like him.
Surely the most overrated film of the year. Haynes puts us through what feels like four hours of back-to-back cinematic cliches (in fact it's only two hours long). OK, it's mostly a good-looking film, but in a very try-and-tested, unimaginative way. OK, a huge proportion of films are made for adolescent boys, and there's nothing necessarily wrong with making films for adolescent girls, as this surely is. Haynes plays to that audience - and their sense of injustice - through use of stereotypical, two-dimensional (in fact cartoon-like) patriarchal characters. The women, of course, are absolutely lacking in any character flaws; any lapses can be explained as a reaction to the impositions of the evil patriarchs.

The praise that has been heaped on Haynes for this film only goes to show how easy that is to gain in a climate where feminism sells. Confirming privileged young women's self-deceptions of how badly done-by they are is a sure way to success - even if it's necessary to turn to an era (the 1950s) where it is much easier to conceive of repressive social illiberalism. This era produced thousands of films depicting idealised hetero-sexual romance, most of which dross is now long forgotten. This film, with its equally idealised, painfully laboured, lesbian romance, will go the same way.
I really like Cate Blanchett - she's yet to better her superb performance in 'Notes on a Scandal'. But, like Sarah G, and also John C (both below). I was bored. In fact, I was bored to the point I had a snooze, came round,and it still wasn't any better. Visually attractive, but dull. One star. (And I can't remember the last time I rated a film that low.)
.
How a Time Out critic can say this film is 'far from melodramatic' beggars belief. Todd Haynes has made something of a career out of making melodramas and is openly inspired by Douglas Sirk, who made a shedload of them.
This film is beautifully crafted and acted, although the pacing is a problem and it could do with a few moments of humour to vary the mood a bit. I agree with other reviewers that the themes of repression don't feel that relevant now, so it's not as moving as it would like to be.
It's still good though, but it would be nice to see critics applaud other types of films as much as they lap up dramas.
An adult film that does not kowtow to young people..Excellent film adaptation of the Highsmith novel..The film is infused with the sepia brown of the dull,men dominated 1950s.It is not just a love story,but also a narrative on the social restrictions of that era.The cinematography is first class,complementing the film's tender sadness.The director allows the film to be slow paced and thoughtful. Blanchett is competent,but Mara is superb in her character.Her acting is moving,introverted and filled with softness.A perfect Monday evening film to see alone.4 stars
A beautiful, intelligent, heart wrenching, film about falling in love. The cinematography is simply stunning (Saul Leiter influence) perfectly capturing the feel of 1950s New York. Rooney Mara is totally captivating. Cate Blanchett delivers her best performance yet. The soundtrack is wonderful too! I agree with TimeOut - it's the best movie of the year - go see it!