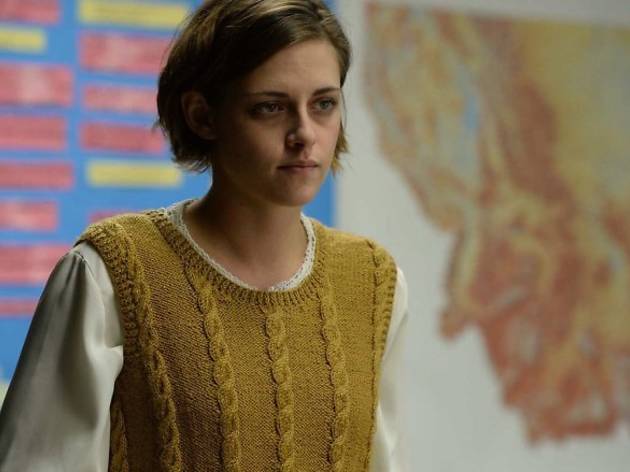 Kelly Reichardt brings a delicate touch to a trio of Montana-set stories dominated by complex women and starring Kristen Stewart and Michelle Williams
A slow-burn, low-key indie drama made up of three tales linked by geography and the inner lives of its female characters, 'Certain Women' feels almost like a summary of writer-director Kelly Reichardt's films so far. Another intimate, intensely felt story of American life on the fringes, the new film has the sweeping Midwestern landscapes of 'Meek's Cutoff', the aching loneliness of 'Wendy and Lucy' and the shaggy-bearded men of 'Old Joy'. Adapted from short stories by Maile Meloy, 'Certain Women' also has a strong whiff of Raymond Carver about it: three precise, emotionally direct tales of promise and despair.
The setting is Montana in winter, where the Rocky Mountains roll down into the dry, open plains. In the first and funniest story, a lawyer (Laura Dern) has to deal with a client on the verge of losing his mind; in the drily observational second tale, a wife and mother (Michelle Williams) meets an elderly man (René Auberjonois) about buying some vintage sandstone, and has to cope with her husband's tactlessness. But its the final story that hits the hardest, as an isolated horse trainer (extraordinary newcomer Lily Gladstone) wanders into a night class on education law and promptly falls in love, or something like it, with the teacher (Kristen Stewart).
'Certain Women' moves, as all Reichardt's films do, at a languid pace, and a handful of characters – notably Williams's – could have been a little more developed. But it's hard to recall a movie with such a precise, immersive sense of place, and the very specific mood that comes with it: stunningly photographed on celluloid in shades of brown and grey, the screen is filled with sprawling ranges, huge skies, wide open prairies. The stories themselves are intimate by comparison, and it's from this meeting of 'small' lives and grand vistas that 'Certain Women' draws its strength.
Release details
| | |
| --- | --- |
| Rated: | 12A |
| Release date: | Friday March 3 2017 |
| Duration: | 107 mins |
Cast and crew
Director:
Kelly Reichardt
Screenwriter:
Kelly Reichardt
Cast:
Michelle Williams
Kristen Stewart
Laura Dern

Average User Rating
4.3 / 5
Rating Breakdown
5 star:

2

4 star:

1

3 star:

1

2 star:

0

1 star:

0
A fine film.It's been done many times before but l never tire of the subject of numbness and emptiness in small town America.The performances are good and exceptional for the aged man who is suffering from dementia who gives his stones for a couple's new home.The sky is an endless expanse of either darkness or grey light.It's winter.People shuffle along in a mindless drift.It's sadness lingers on the mind..4stars
I loved "Wendy and Lucy" which was the first Kelly Reichardt movie I had seen so I eagerly rushed to see her follow-up, "Meek's Cut-off" which was so awful I couldn't believe it came from the same source.
"Certain Women" has gathered so many critical plaudits that it had to be seen…and thank goodness I did so because it is a superb work of art.
Set in the brooding and snowy winter vastness of Montana the lives of three women are scrutinised and I was reminded of Rebecca Miller's 2002 film, "Personal Velocity" also chronicling the traumas of her subjects, three women facing critical moments in their existence.
However Reichardt's women are more ordinary than Miller's and her subjects' problems deal with more mundane matters. A small-town lawyer who gets drawn into a complicated relationship with a mentally disturbed client, brilliantly portrayed by Laura Dern.
Michelle Williams is a socially mobile lady trying to coax a feeble old man to give up a pile of stones in his garden to build an "authentic" wall in the new family home while the third vignette is the sad tale of a lonely farm worker with amorous longings for her evening class teacher.
All three are beautifully resolved in the ending and Reichardt moves the scenes along at a stately pace while small details in the cinematography add to the depth of the whole film.
My partner and I want to see it again soon but like before it has to be on a big cinema screen and not a TV.