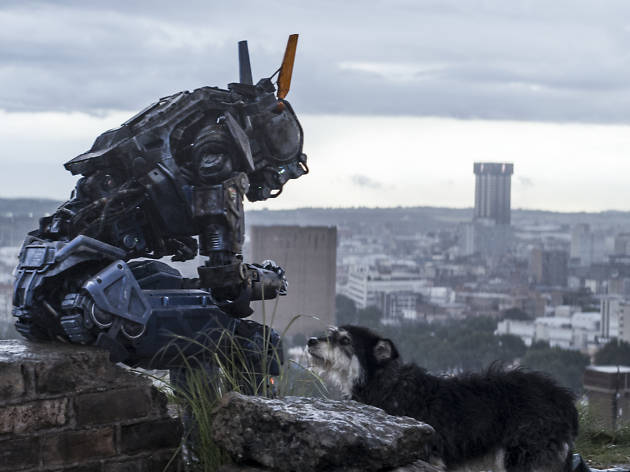 After the out-of-nowhere sucker punch of his 2009 debut 'District 9', Neill Blomkamp's second film, 2013's 'Elysium', felt like the work of a Hollywood-designed, blockbuster-producing robot: slick and anonymous. So it's a huge relief to discover that, with 'Chappie', the South African filmmaker has re-engaged his emotion chip and ramped up the weirdness factor for this lovably scattergun cybernetic satire. We're in near-future Johannesburg, where a platoon of faceless android crimefighters have begun the mammoth task of cleaning up the streets. But their inventor (Dev Patel) has greater ambitions: he's working on the world's first true artificial intelligence, a computer that can not only think, but create.
The result is Chappie, a creature with the body of a killer but the mind of a child. And when Chappie falls into the hands of wannabe gangsters Ninja and Yolandi – played, roughly as themselves, by Afrikaans electroclash duo Die Antwoord – his future is thrown wide open. Will he become a benefit to humanity? Or a menace to society? It would have been easy for Blomkamp to use Chappie as a cipher, a metal shell to be filled with symbolic notions of nature versus nurture, corporate greed and post-human existential angst. But thanks to a wonderful vocal performance from Sharlto Copley, this droid is so much more: he's adorable, sympathetic and even relatable, a lost soul in a harsh world.
'Chappie' the film isn't so perfect. The plot is threadbare, the nods to 'RoboCop' are laid on thick and it's hard to overlook the fact that Blomkamp has made another Jo'burg-based movie strangely lacking in black characters. But with its stunning urban landscapes, trash-talking titanium hero and mulleted, God-bothering bad guy (Hugh Jackman, never better), this hugely entertaining oddity could never be mistaken for the work of any other filmmaker.
Release details
Rated:
15
Release date:
Friday March 6 2015
Duration:
120 mins
Cast and crew
Director:
Neill Blomkamp
Screenwriter:
Neill Blomkamp, Terri Tatchell
Cast:
Sharlto Copley
Hugh Jackman
Sigourney Weaver
Dev Patel

Average User Rating
3.2 / 5
Rating Breakdown
5 star:

2

4 star:

0

3 star:

2

2 star:

1

1 star:

1
We loved it!!! Neil Blimkamp is very clever, it's a must seen movie
This film has so much heart. The visuals are stunning and Chappie is enchanting. It's a unique & fun film ( not a lot of them out there!) and I would highly recommend seeing it.
Probably the worst film I've seen in many a year. Stupid plot, one dimensional, pure-cliché characters. Would be good for kids except for the expletives every few seconds. Saw it in IMAX so at least the speical effects were OK, but not worth £18....Would have walked out if I hadn't have paid so much to see it. Hugh Jackman should be ashamed of himself for such a performance.
If you must see it, wait for it to appear on Netflix or the like.

District 9 was a superb film because it did not dilute it's plot, narrative or impact. Elysium was great but was slightly watered down and faltered with plot holes. Unfortunately for all it's charm and wonderful charisma Chappie suffers the same fate. The premise is wonderful, the robot adorable and hilarious. There are some genuine moments of depth and humour here but unfortunately it sort of all falls apart. Instead of what could have been a fantastic film we are given something that has unique stylisation but is simply entertaining and nowhere near as challenging as District 9. A shame then because it could have been so much better.