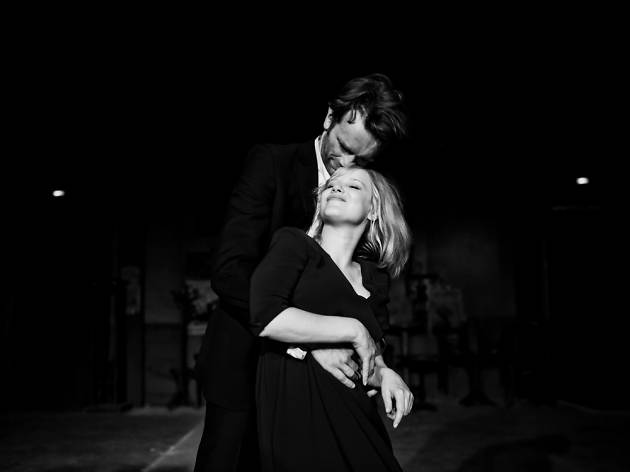 Time Out says
Pawel Pawlikowski's epic love story is an achingly romantic, melancholy joy.
If you've ever been stuck hundreds of miles from the love of your life, wondering if it's really worth all the heartache and phone-checking, Pawel Pawlikowski has made the movie for you. With a monochrome love story spanning two decades and four countries in post-war Europe, the Polish filmmaker has conjured a dazzling, painful, universal odyssey through the human heart and all its strange compulsions. It could be the most achingly romantic film you'll see this year, or just a really painful reminder of the one that got away.
Beginning in 1949, twentysomething singer Zula (Joanna Kulig) and middle-aged pianist Wiktor (Tomasz Kot) meet in the least auspicious of settings – an austere Polish musical academy that could easily double as a prison. Wiktor is charged with assembling a troupe of folk musicians to extol the greatness of the motherland, but he's had his fill of songs about agricultural reform and the global proletariat. Zula's defiant spirit catches his eye, they fall for each other and he promises her a new life on the other side of the Iron Curtain. But when he defects to Paris, she surprises him by staying behind, setting in motion a 20-year love affair that plays out like a swinging '60s version of 'Doctor Zhivago'.
Chemistry is not in short supply between the two. There's an age gap – that hoary old bugbear – but Pawlikowski semi-subverts it by making Wiktor the more lovelorn of the couple. They meet and part on Parisian boulevards, in smoky jazz clubs and at concerts in Yugoslavia, but Zula is a firework he can barely cling on to. She has dreams of stardom as a musician back home that he can only hamper. Whatever it is that keeps drawing them back together, it's not good sense.
Both actors are terrific – Kulig, in particular, is a real discovery; she brings the brassy confidence of a fully fledged film star to every scene. The other star is behind the camera: Pawlikowski has added another seriously impressive calling card to his CV. As with his last film, 'Ida', he frames 'Cold War' in the Academy ratio, a boxy throwback to a bygone cinematic era that acts like a time machine. When Kulig sways on to a Parisian nightclub dancefloor to swirl drunkenly to Bill Haley & His Comets, you could almost be in a 1964 cinema, watching Anna Karina dancing in 'Bande à Part'. It's one of the most colourful things you'll ever see in black and white.
Details
Release details
Cast and crew
Director:
Pawel Pawlikowski
Screenwriter:
Janusz Glowacki, Piotr Borkowski, Pawel Pawlikowski
Cast:
Joanna Kulig
Borys Szyc
Agata Kulesza
Tomasz Kot

Average User Rating
3.6 / 5
Rating Breakdown
5 star:

2

4 star:

0

3 star:

2

2 star:

1

1 star:

0
Beautifully shot, fantastic acting and a soundtrack worth going back to the cinema several times for. A work of art, don't miss it.
As I write, this movie is still showing at several London screens but I cheated and watched it on my TV screen, courtesy of Curzon home cinema.
Within seconds I regretted not bothering with a bigger cinema context as the razor-sharp monochrome images of bleak post-war Poland rolled - every frame a work of art. Just beautiful.
I hadn't realised that Pawel Pawlikowski had directed the delightful British film "My Summer of Love" which I saw and enjoyed more than a decade ago.
Anyhow although "Cold War" has picked up an array of awards and critical bouquets (including best director 2018 at Cannes) I found it disappointing on the whole.
After such a stunning start - a group of "talent spotters" tour the Polish backwoods looking for singers and dancers. Wiktor, the piano player, takes a shine to Zula, a rivetingly attractive young girl selected by the group and destined for the big time.
From then on, it's a love affair of middle-aged musician and young singer/dancer - both talented but unpredictable.
Defections to the West, followed by affaires, separations, arguments, rapprochements, continue until a somewhat embarrassing ending didn't convince this viewer.
Worth a look but overhyped
Gorgeous, seductive, but ultimately a failure. Shallow, if very well-meaning work.