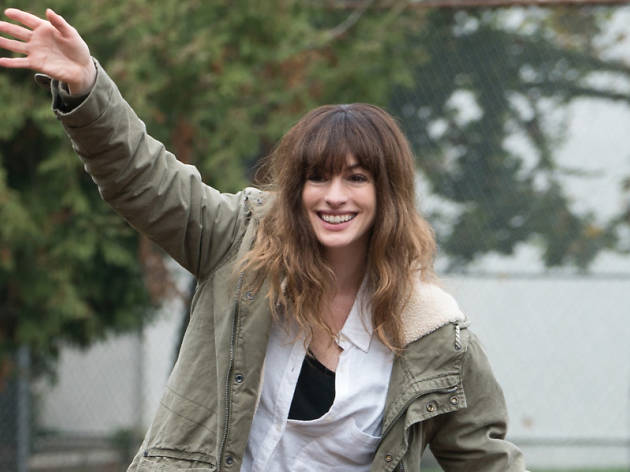 Anne Hathaway impresses in this wry comedy that's part indie character study and part monster movie
Talk about a sledgehammer metaphor: when aimless party girl Gloria (Anne Hathaway) starts to slip from casual drinker into full-blown alcoholic, her fractured psyche somehow conjures a thousand-foot lizard in South Korea that destroys anything it touches. That's the starting premise for this determinedly bizarre, psychologically inquisitive and in the end rather wonderful black comedy from Spanish director Nacho Vigalondo. Think 'Trainwreck' meets 'Pacific Rim', with a dash of 'Forbidden Planet'.
Gloria's life is already in decline before Godzilla shows up: she's just been booted out by her prissy New York boyfriend (Dan Stevens), forcing her back to her folks' abandoned home in rustic Nowheresville. It's here that she meets Oscar (Jason Sudeikis), a good-natured small-towner with his own bar, and a close circle of dropout buddies into which Gloria slots neatly. And then Seoul gets flattened, and everything takes a turn for the weird.
For the first half, 'Colossal' lurches amusingly if a little awkwardly from smart, snappy indie comedy to oddball disaster movie and back again, carried along by a wry, casually self-mocking performance from Hathaway (complete with a monster fringe). But every time it seems poised to tip into nod-wink hipster self-parody the plot twists, the intrigue deepens and everything gets a little sharper and more savage. Not everyone here is quite who they appear to be, and the city-smashing antics begin to take a back seat to the gripping, at times brutal character melodrama.
'Colossal' could use a spot of tightening up, and there are times when it feels just a little too pleased with its own wilful strangeness. But by the climax all concerns have gone out the window, as Vigalondo delivers an operatic finale that feels both earned and genuinely cathartic. For better and worse, you won't have seen a movie like 'Colossal' before, and you won't again. And that, in itself, is a strong recommendation.
Release details
Rated:
15
Release date:
Friday May 19 2017
Duration:
110 mins
Cast and crew
Director:
Nacho Vigalondo
Cast:
Anne Hathaway
Dan Stevens
Jason Sudeikis

Rating Breakdown
5 star:

1

4 star:

2

3 star:

1

2 star:

2

1 star:

1
Anne Hathaway's been great in a number of films, but it would be hard to describe this film as anything other than complete drivel. At around 20, audience numbers weren't exactly high at Curzon Soho, and after a few walk-outs, a couple who decided to have a conversation mid-way through, and a guy who was well and truly asleep a few rows in front of me, I think it's fair audiences don't 'engage'. I couldn't wait for it to be over. One star.