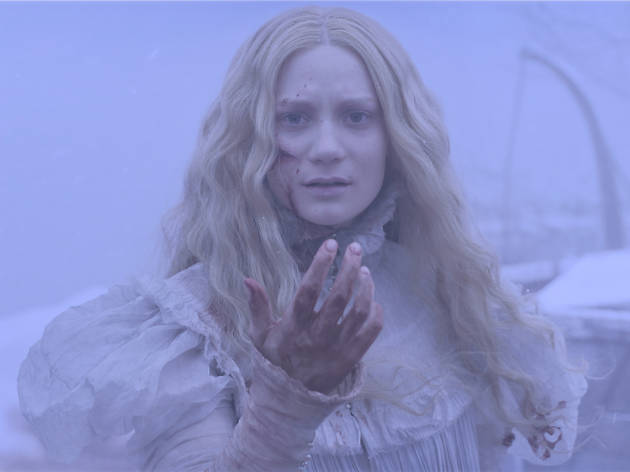 Guillermo del Toro's latest is a fun but predictable Gothic ghost story starring Tom Hiddleston and Mia Wasikowska
Mexican director Guillermo del Toro has built a reputation on his imagination: films like 'Pan's Labyrinth' and 'Hellboy II' are crammed with eyeless demons and flesh-eating fairies, tangling fantasy and horror in intoxicating fashion. So it's a surprise – and a shame – to report that his new film 'Crimson Peak', while often entertaining, feels like a mish-mash of overfamiliar elements, falling way short in the wild, weird, what-the-fuck-was-that department.

Mia Wasikowska plays Edith Cushing (yes, we see what you did there, Guillermo), an independent young writer in turn-of-the-century New England who allows herself to be wooed and won by Tom Hiddleston's dashing but down-at-heel English aristocrat Thomas Sharpe. Returning with him to his crumbling Lakeland mansion, Edith must face not only Sharpe's grasping, possibly incestuous sister (Jessica Chastain) but also a lurking supernatural presence.

The elements are in place for an old-school gothic shocker in the finest Hammer tradition – but 'Crimson Peak' feels more like something Tim Burton might cook up, and not in a good way. Del Toro wraps his intricate sets in a super-saturated CGI sheen: what should've been grimy and solid feels slippery and not-quite-there. It doesn't help that the Canadian locations feel absolutely nothing like Cumbria – the local post office looks like a Wild West staging post. All three actors work hard – Hiddleston and Chastain's sibling relationship is deliciously grotesque – and when the melodrama hits fever pitch, 'Crimson Peak' lurches into life. But overall this lacks weight and intensity: a Brontë-esque bauble smeared in twenty-first-century slickness.
Release details
Release date:
Friday October 16 2015
Duration:
119 mins
Cast and crew
Director:
Guillermo del Toro
Screenwriter:
Guillermo del Toro, Matthew Robbins
Cast:
Charlie Hunnam
Tom Hiddleston
Jessica Chastain
Mia Wasikowska

Average User Rating
3.4 / 5
Rating Breakdown
5 star:

1

4 star:

1

3 star:

5

2 star:

0

1 star:

0
This film harkens back to some of Guillermo del Toro's older films in theme. It is quite similar to The Devil's Backbone in many aspects of the plot, which leads to a fair amount of it being rather predictable.
While the plot may be a little on the disappointing side the visuals are stunning. There is fantastic use of strong colours to influence the mood of the scene, as del Toro has done before with films like Pan's Labyrinth, making colour an integral part of how it all comes across and making it well worth seeing on a big screen as opposed to a smaller one.
Over all it is not up to the standard of some of his other films, which I think have caused many people to have very high expectations for it, but it is a good film when judged by itself.
Unusually, TimeOut's review is very accurate. Predictable and drags. Mia Wasikowska also leaves me a bit cold tbh. 6/10