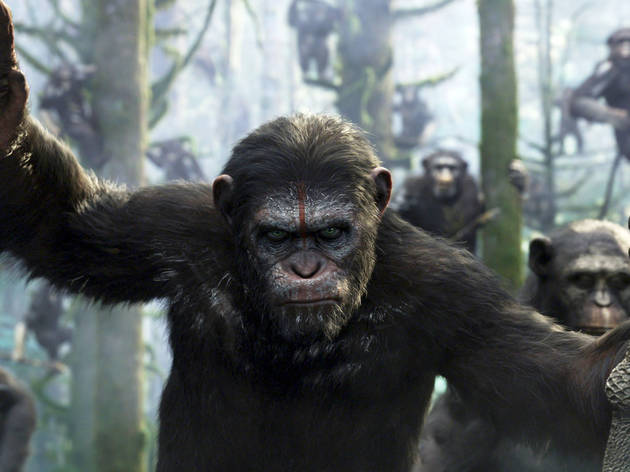 Let's face it, high-minded ideas are all very well, but can they compete with a chimp on horseback firing an Uzi?
2010's 'Rise of the Planet of the Apes' was as smart as modern sci-fi gets, ditching the 1960s-born franchise's gritty dystopian roots for a slick, high-minded story of scientific overambition (with a few explosions chucked in for good measure). This first sequel, however, plunges us straight into the post-apocalyptic pressure cooker, a world of burgeoning ape civilisation and fading human dominance, as the survivors of a devastating epidemic huddle in the ruins of old San Francisco. It may lack its predecessor's lofty ambitions, but once the bullets, spears and hairy fists start flying you'll be too wrapped up to care.
Among the apes, the heroic Caesar (Andy Serkis) has retained clan control, leading his simian family through a decade of growth and prosperity. But for the humans it's a whole different story, as desperate leaders Malcolm (Jason Clarke) and Dreyfus (Gary Oldman) debate different strategies for dealing both with an impending power shortage and the encroaching threat of the apes.
The effects are nothing short of jawdropping: rarely has CGI been employed with such dexterity and depth. Caesar and his followers are complete characters, rendered flawlessly down to each wrinkle and back hair (though it can be just a little tricky at times to tell them apart). 'Cloverfield' director Matt Reeves marshals his action sequences superbly – a ferocious central battle is a triumph.
The script's shameless prioritising of brawn over brains can cause problems – the plot twists are signposted a mile off, and the human characters tend to lack depth. The complete absence of a decent female character, whether human or ape, leaves it all feeling a bit punchy and macho. But perhaps that's appropriate for this muscular tale of social collapse and base animal urges.
Release details
| | |
| --- | --- |
| Rated: | 12A |
| Release date: | Thursday July 17 2014 |
| Duration: | 130 mins |
Cast and crew
Director:
Matt Reeves
Screenwriter:
Rick Jaffa, Amanda Silver
Cast:
Andy Serkis
Gary Oldman
Judy Greer
Jason Clarke

Average User Rating
4.3 / 5
Rating Breakdown
5 star:

4

4 star:

4

3 star:

1

2 star:

0

1 star:

0
Loved it! True, you can see the plot twists coming but still, you love it/dread it when they do. My friend cried half the movie!
It was spectacular and the 3D was really well done.
As if a sequel to 2011's amazing 'Rise of the Planet of the Apes' wasn't enough to look forward to this month, Time Out only went and held a free preview in 20th Century Fox's private screening room for a group of their lucky card holders...blimey Time Out, you are too good to us and we love you for it!
So how is it? Well, frankly, it's damn near perfect. Director Matt Reeves ('Cloverfield') has a tight grip on the reins here, never letting special effects overwhelm story - Michael Bay, please take note - and never letting sentiment become manipulative. The result is a fantastic blend of action and heart with set pieces that wow, explosions that literally make your seat shudder, an atmospheric score and apes that absolutely steal the show.
The human characters are a little 2D but maybe they just seem that way because Andy Serkis is so phenomenal as Caesar, leading a dozen other actors to deliver performances that blow their homosapien counterparts out of the water, moving you to rage, to humour and even to the odd tear.
The disturbing sight of an enraged tank-driving, machine-gun-wielding Kobo shows the very worst side of humans who shoot first and think later and you'll find yourself cheering for the loyal chimps, colossal gorillas and utterly lovely orangutan Maurice from the get go. See this movie with all the high expectations that it's predecessor left you with...you won't be disappointed.
A clunkingly predictable story arc with characterisation that offers virtually no insight or interest at all. All the potentially interesting political dimensions that the film could offer are buried beneath the massive weight of its own lumbering conventionality. Seems such a shame that all the time, money and talent that went into making such a film could result in something so bland.
Lucky enough to attend the free private screening- excellent experience. Amazing film and effects
Superb. Loved it. Monkeys with machine guns. What is not to like
Better than "Rise of Planet of the Apes", the characters are so believable and well drawn you forget you are watching special effects 95% of the time. I cried at several scenes. Loved the amazing sets and backdrops, they deserve to be seen on the biggest cinema screen you can find. Every time Maurice the orangutan is on screen you wanna reach out and hug him. The last act drags a little but ultimately this is a very satisfying blockbuster. 9/10

Great movie, awesome special effects! This sequel has a great storyline compared to lots of other big budget sequels which tries to milk their prequel. You can truly empathise with both the apes and the humans in this summer blockbuster. Definitely a must see! Thanks Timeout!