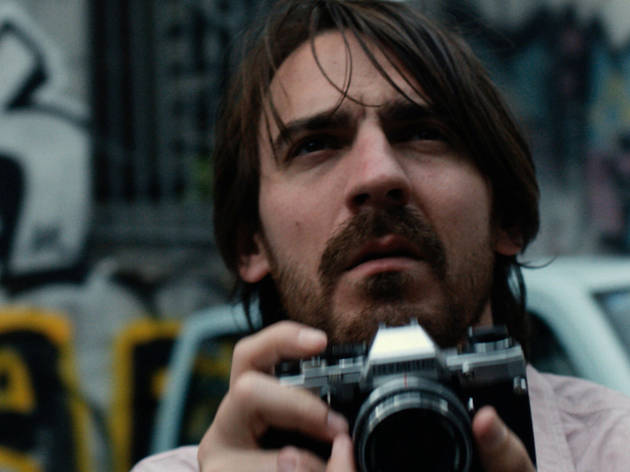 At the launch of Time Out's '100 Best Horror Movies' project early in 2012, we asked what the new wave of horror movies would look like, the films that would shake this tired and tiresome genre out of its torture porn and remake-induced torpor. Along with a handful of recent releases – which include Ben Wheatley's 'Kill List' – 'Dead Europe' provides the beginnings of an answer. These are horror movies which aren't quite horror movies, utilising the techniques and imagery of the genre to present a subversive, sidelong view of real-world events and situations.
In 'Dead Europe' the issue is exploitation, and how the echoes of Europe's brutal past continue to shape our troubled present. Ewen Leslie plays Isaac, an Australian photographer who heads to Greece – his family's birthplace – following the untimely death of his father, Vasilly. There he becomes embroiled in family drama – his Greek relatives all feel that Vasilly ran away from his responsibilities – but also in something more sinister: an immigrant child (Kodi Smit McPhee) appears and disappears, and the citizens of Vasilly's home town seem to be harbouring some dark secret. The hunt for the truth will take Isaac to Paris and Budapest, encountering the victims and perpetrators of different kinds of hate crimes, past and present.
'Dead Europe' packs a lot of story into 84 minutes, and the result can feel a little busy, storming onward without sufficient attention to character or tension. But it gets so much right, asking timely questions about the way we treat one another and creating a vivid, intensely felt mood of crumbling grandeur and lost chances. It's beautifully photographed and confidently performed, with a script steeped in mystery and misdirection. And although it may lack a raw, confident force to make it truly special, 'Dead Europe' completely nails its devastating, unexpected ending.
Release details
| | |
| --- | --- |
| Rated: | 18 |
| Release date: | Friday December 14 2012 |
| Duration: | 84 mins |
Cast and crew
Director:
Tony Krawitz
Screenwriter:
Louise Fox
Cast:
Ewen Leslie
Marton Csokas
Kodi Smit-McPhee

Average User Rating
3.1 / 5
Rating Breakdown
5 star:

0

4 star:

1

3 star:

1

2 star:

0

1 star:

0
As a long-time subscriber to TO, both in its print & now the new online edition, I have enjoyed the consistently high standards of their film reviews, under the editorship of Dave Calhoun. Unfortunately, I was disappointed by Tom Huddleston'e review, after having seen the film at the Curzon Renoir on last Wednesday afternoon, for the following reasons. He failed to explain that it was based on a novel written by the Greek author Christos Tsiolkas in 2005, & adapted for the screen by Louise Fox, omitting some of its more symbolic elements. His summary of the film's themes as being based on exploitation & Europe's brutal past, including different kinds hate crimes past & present. He omitted to explain that Vasili Raftis, the father of Isaac, fought in the resistance against the Nazi occupiers He failed to explain that Vassili Raftis, the father of Isaac, fought in the resistance against the Nazi occupiers of Greece during World War II, & saved a Jewish boy named Elias from being deported to Auschwitz, as nearly all the Greek Jews were during this period. The themes of anti-semitism & persecution also played a significant part in this film, for example in the scene where the Arab Muslim refugee Amina, whom Gerry Orschach, an old friend of Vasily's in Paris, asked Isaac to smuggle her into Australia as an illegal refugee. When she met Isaac for the 1st time in Paris, she attacked the Jews in exremely anti-semitic language, stating that they wished to exterminate the Paleastinians in Israel, like the Nazis did to the Jews in Europe, & also that they killed Christian children, in order to use their blood for "Matzot" in the Passover festival, which is taken directly from the Catholic Church's persecutions of the Jewish communities in Europe during the Middle Ages. The TO reviewer should have mentioned these important themes in his review, instead of quoting vague general statements about exploitation from Europe's brutal past, & the different kinds of hate crimes past & present, which failed to give a proper account of the film's contents. Finally, I would agree that the film as directed by Tony Krawitz, was exremely well made, with powerful actors, & an unsettling suspense throughout, as Kate stated in her above review. For further details on this film's background & credits, I would recommend the full review in the "Sight & Sound" issue of January 2013, which can be read free of charge in the BFI Reuben Library at its Waterloo Southbank centre, unless you already have a subscription either to its print or digital online edition.
I am surprised the reviewer said this nailed the ending or that the ending was unexpected. I disagree with both statements. The cinematography was great, and it keeps up an unsettling suspense throughout, but I felt the ending felt unsatisfying. The beginning and middle parts of the film were very, very good, and capture the decaying urban landscapes of continental Europe excellently.