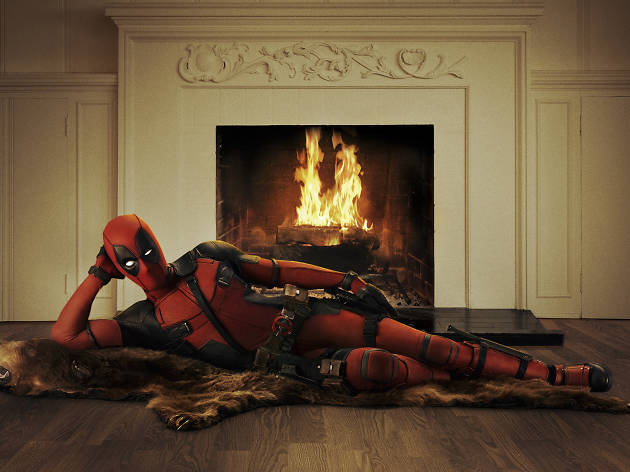 Time Out says
The latest Marvel-inspired superhero effort is smug, shallow and wilfully offensive
'You are relentlessly annoying,' barks arms dealer Ed Skrein to Ryan Reynolds's wisecracking, fetish-clad anti-superhero midway through this latest romp inspired by a Marvel comic. It's an insult that applies just as easily to the film itself. Bloody, shallow and oh-so-smug, 'Deadpool' is so eager to offend that it'd almost be sweet if it wasn't so, well, relentlessly annoying.

We first meet Wade Wilson as an ex-military drifter, working as a thug-for-hire and about to fall madly in love with (you guessed it) a hooker-with-a-heart, Vanessa (Morena Baccarin). When he's diagnosed with terminal cancer, Wade is suckered in by a shady corporation run by the villainous Ajax (Skrein), who promises to save his life. The cure leaves Wade disfigured and scarred, but pumped with advanced healing powers, a hunger for revenge and a thing for bright red Lycra.

Clearly inspired by the ooh-aren't-we-naughty sweary superheroics of Matthew Vaughn ('Kick-Ass', 'Kingsman'), 'Deadpool' is the kind of movie that thinks a shot of the hero being dildoed by his girlfriend on International Women's Day is feminist enough to make up for the fact that she's a foxy ex-prostitute and the script is peppered with rape jokes. It all looks cheap and grimy – whether this is a stylistic choice or a budgetary issue isn't clear. Meanwhile the action sequences sacrifice tension and excitement in favour of hyperactive editing and splattering gore. The result is rarely boring, but it's not half as smart, funny or subversive as it clearly believes itself to be. That said, sweaty 15-year-old boys are going to be in heaven.
Details
Release details
Release date:
Wednesday February 10 2016
Duration:
108 mins
Cast and crew
Director:
Tim Miller
Screenwriter:
Rhett Reese, Paul Wernick
Cast:
Ryan Reynolds
Morena Baccarin
Gina Carano
Ed Skrein

Average User Rating
3.3 / 5
Rating Breakdown
5 star:

2

4 star:

10

3 star:

8

2 star:

4

1 star:

1
You can tell they had a lot of meetings about the movie as it starts so well, charges along until you realise its run out of ideas, still cannot remember how it ended!
Everything I asked for, I never read any Deadpool comics, but I heard good things about him before watching. Watch with friends.
Marvel has done it again - bringing something different while having a very well- written and humurous movie. I think Marvel did Deadpool's character justice, as I had very low expectations going to see the movie thinking that it will be overhyped. Would watch it for the humour, and will keep closing my eyes for the gore. All in all, a 4 out of 5 for me.
The only superheroes I like are the reluctant heroes like Hellboy and Deadpool would work well in a dynamic duo with Hellboy. The dark humour suits me and Deadpool doesn't disappoint. The only area that went on a little too long was the girlfriend stuff, probably featured to attract a female audience.
If you liked HB then you'll love this film
Deadpool is like a cheeseburger.

It's not gourmet. It's not going to win awards and you've had better meals in your lifetime. Almost certainly.

But sometimes, sometimes, you just want a cheeseburger. And Deadpool is a damn good cheeseburger.

So exactly how is it possible for Deadpool to be 'inspired' by stuff that came along several years later , it looks like the douchebag at timeout seems to have a few facts mixed up , probably better to do a little research before writing reviews in future my dear ...

I see the reviewer doesn't have a clue about source....since kick-ass is 2008 while deadpool is from 1991....