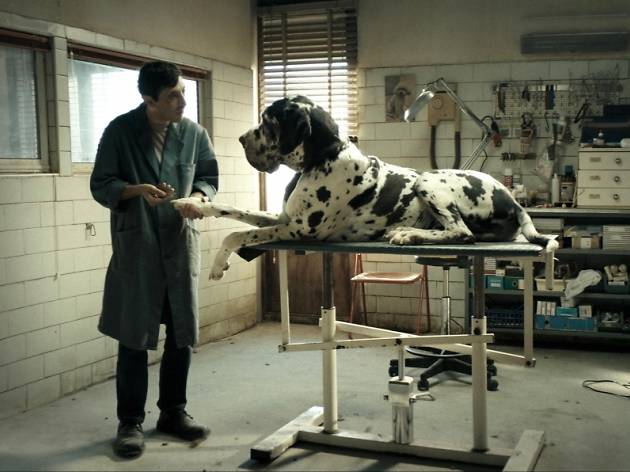 Time Out says
Matteo 'Gomorrah' Garrone's intimate parable of a downtrodden dog groomer is a well-crafted gem.
With 'Gomorrah', his seedy, hyperkinetic delve into Naples' criminal underbelly, Matteo Garrone vividly mapped out a whole ecosystem of organised crime, populating it with sharply drawn characters and bursts of vicious violence. In 'Dogman', his latest odyssey through Italy's hardscrabble fringes, the crime is of a more disorganised, spontaneous variety, but the gritty world-building is just as impressive – and this time the focus is tighter and more claustrophobic. Loosely based on a real incident, it's an intimate tale of an essentially good man paying a heavy price for his weaknesses. It suggests that man and mutt aren't really all that different when backed into a corner. The overall feel is of the kind of Aesop's fable Scorsese would tell his kids.
Marcello Fonte is Marcello, the doleful, divorced owner of a dog-grooming shop on a poor Lazio estate that clings apologetically to the seaside. He does his job diligently, sensitively tending to the canines in his care, and he tries to be a good dad to his young daughter. The pair go scuba-diving off the coast together, and he daydreams of one day taking her to the Red Sea. But he's in thrall to local bully Simone (Edoardo Pesce), a petty crim who throws his substantial bulk around this tight-knit community at every opportunity, and seems unable to shake off his attentions. For reasons that remain hazy, Marcello supplies Simone with cocaine, a rash move that soon leaves him as an accessory to a violent crime.

This alpha-beta dynamic brings the film's title into focus: Marcello is basically a poodle for this bruising, casually brutal mastiff of a man. Newcomer Fonte is terrific in the lead role, communicating Marcello's meek protests with a twitchy physicality that grows slowly into a sketchy defiance. You can almost visualise Steve Buscemi in a US remake set in the boondocks of New Jersey.
The film's scrubby, beat-up locale is its secret weapon. The rusting shopfronts, concrete estates and scrubland of this distant suburb of Rome crackle with the unmistakeable static of a Wild West town gearing up for a showdown. Cinematographer Nicolai Brüel lends this urban wilderness a sweeping, widescreen feel that leaves the diminutive Marcello looking dwarfed and alone. But slowly, as he finds something approaching grim resolve, Garrone reminds us of that old Mark Twain adage: it's not the size of the dog in the fight, but the size of the fight in the dog.
Details
Release details
Cast and crew
Director:
Matteo Garrone
Screenwriter:
Ugo Chiti, Matteo Garrone, Massimo Gaudioso
Cast:
Marcello Fonte
Alida Baldari Calabria
Edoardo Pesce

Rating Breakdown
5 star:

0

4 star:

2

3 star:

0

2 star:

0

1 star:

0
Italian director, Matteo Garrone, came to prominence with his controversial movie, "Gomorrah", uncovering the nasty underbelly of the Naples crime gangs about a decade ago.
His latest film also focuses on crime but in a small-time seedy location in a run-down Roman seaside suburb.
Marcello Fonte deservedly picked up "best actor" at Cannes earlier this year for his portrayal of the "Dogman", an amiable canine groomer who is forced into a robbery by a local thug who terrorises the neighbourhood.
His namesake character, Marcello, is not averse to a little cocaine dealing as a sideline to his dog activities but gets in much deeper than he intended.
Shots of the location and wintry Mediterranean are splendidly atmospheric and although one has every sympathy for Marcello, his eventual dilemma leads to unexpected consequences that have a profound effect on his life and relationship with his young daughter and neighbours.
Most enjoyable and the cinematography is of the highest order.
Another excellent film from the director.The last film forced him to leave Italy and live in France due to the negative tone of his first film.In this film we again have a meek simple individual who gets caught up in the vicious ugliness of crime and violence.The individual has compassion,and a deep love for his dogs and daughter but lacks the confidence to break off from the unpleasant thug he is involved with.He spirals downhill and with consequences.The setting is again a place of deep poverty and slum type dwellings.The colour palette is faded and it is gut wrenching at times..A must see film 4stars