Don't Stop Believin': Everyman's Journey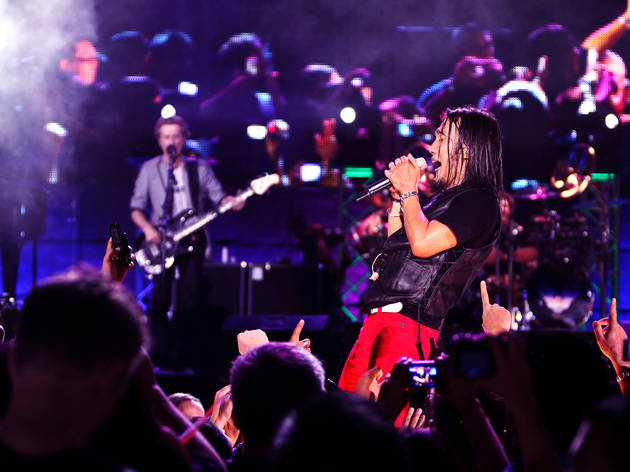 In most respects, Journey has followed the same path as many other arena-rock acts: Having hit big in the '70s and '80s, the group watched its future dim as internal strife made it hard to push forward, and listeners moved on to new sounds. Then came a fallow period, followed by a revival-circuit return—minus a few key members—for lucrative engagements in front of nostalgic crowds. (See also: Styx, Kansas, Grand Funk Railroad.) After reuniting with vocalist Steve Perry for a late-'90s comeback album then going their separate ways, the San Francisco band went through several prospective warblers, before their story took an odd turn. A permanent replacement was found in the form of Arnel Pineda, a Manila singer the group discovered singing Journey covers on YouTube—and sounding uncannily like the voice behind their biggest hits.
Unfortunately for this rock doc, this fan-to-frontman saga is not that interesting a turn. Pineda's story—which involves extreme childhood poverty and some grown-up struggles with substance abuse—is compelling, but not compellingly told, with the new singer appearing to be little more than an affable guy who understands how lucky he's gotten. Beyond that, the film mostly features a lot of touring tedium and unspectacular concert footage, though director Ramona S. Diaz manages to wring what drama she can out of Pineda contracting a cold. Spoiler alert: He gets better.
Release details
| | |
| --- | --- |
| Release date: | Friday May 2 2014 |
| Duration: | 113 mins |