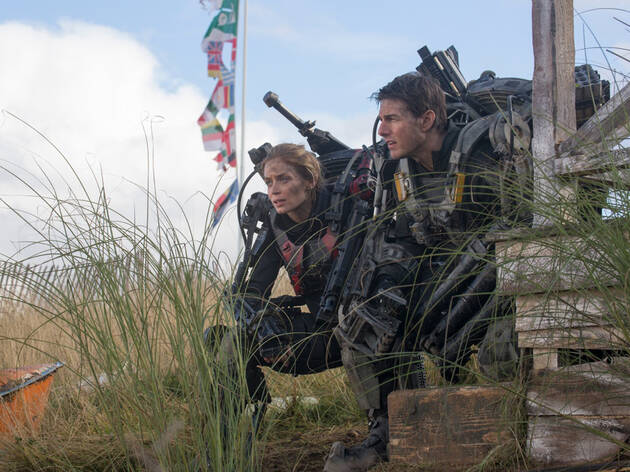 Time Out says
It's not summer until you've eaten your first Magnum or Tom Cruise has saved the planet. At 51 (but looking like a boy of 35), Cruise is battling a spidery race of aliens called Mimics in Doug Liman's action sci-fi blockbuster. The film's 'Groundhog Day'-meets-'Independence Day' plot is actually pretty genius. Cruise is Bill Cage, the army's top PR guy – a total coward with a salesman's smile. After pissing off the wrong general, Cage finds himself demoted and on the frontline, where he's killed in two minutes flat. But (and here is where it gets Groundhoggy) he wakes up in a loop, forced to fight the same battle over and over again. Each day, it takes a little bit longer to die, and Cage teams up with the army's badass-iest fighter, Rita Vrataski (Emily Blunt), aka 'Full Metal Bitch'.

Doug Liman directed 'The Bourne Identity' and goes for gun-metal realism here too, possibly at the expense of the special effects, which aren't much to write home about. As for Cruise, he's on to a winner for approximately half the film. In coward mode it almost looks like he's taking the mick out of Tom Cruise, action hero. He sweats and he squeaks, looking frankly petrified. Then he starts with the search-for-the-hero-inside-yourself routine and goes on to autopilot like he's barely got a thought in
his head.
Details
Release details
Release date:
Friday May 30 2014
Duration:
0 mins
Cast and crew
Director:
Doug Liman
Screenwriter:
Jez Butterworth, Christopher McQuarrie
Cast:
Tom Cruise
Emily Blunt
Bill Paxton

Average User Rating
3.9 / 5
Rating Breakdown
5 star:

5

4 star:

3

3 star:

6

2 star:

0

1 star:

0
Great movie. I went in there not knowing a thing about the movie and was pleasantly surprised. Intelligent sci-fi movie with really good graphics.
Good chemistry between Emily and Tom, convincing battle scene special effects, likeable characters and just the right amount of humour. It's a good solid well acted Tom Cruise popcorn movie. Cruiseheads will love it. Everyone else can frankly bore off.
I enjoyed it more than I expected to for an action flick and the 3D effects were nicely done. The twist in the story kept things interesting til the end.
Groundhog day meets Iron Man. I loved this movie, the logic was fautless, the script progessive and taut. The action was un-relenting, no filler. And the wife was quite happy when I told her no normal guy could find plastic Emily Blunt remotely attractive. I didn't ask her about Tom Cruise but I know she finds me more attractive than him. Winner all round ;-)
Went to see this movie, courtesy of Time Out (thanks!) last Tuesday. My expectations weren't high, as movie plots with Tom Cruise are normally quite flat. But it was overall a nice evening and me and my friend enjoyed the movie.
Thanks Timeout, this was an amazing movie. Best action movie this year in my opinion and brillant performance from Tom Cruise (whom I don't usually like, but this time , hats off to him). If you like time loop, alien, intelligence and a bit humour, this movie is for you.
Thanks Timeout, this was an amazing movie. Best action movie this year in my opinion and brillant performance from Tom Cruise (whom I don't usually like, but this time , hats off to him). If you like time loop, alien, intelligence and a bit humour, this movie is for you.
Thanks Timeout! I wouldn't have chosen to see this normally- aliens aren't really my thing!- but I actually really enjoyed the movie. It's pure, pure adrenaline with a pinch of humour thrown in. Tom Cruise is brilliant and the 3D is awesome! The ending will keep you pondering too...
With thanks to the TimeOut Card pre-release screening team here follows my review of last Tuesday's screening:
This is Ground Hog Day meets Independence Day. As a Sci-Fi/ Adventure fan I loved this movie and would see it again. Tom Cruise does a very convincing job of acting the cowardly general and I found myself laughing with delight as I witnessed him being forced to join the army over and over again. Could have done with some more Alien involvement - the screen shots of the Aliens were disappointingly short-lived. Emily Blunt looks amazing as a blonde. It was a thoroughly enjoyable film and I rarely feel the urge to go and see a Sci-Fi again. Thumbs up!
Also Saw as part of the Time Out previews.
I liked it much more than I thought I would - It's certainly not a repeat of the dire 'Oblivion' from last year.
Tom Cruise plays the first half of the movie against type and is interesting doing so.
Also full of British actors and mostly set around the UK.
Also watched at the TimeOut screening. Enjoyable sci-fi romp even if the plot does seem implausible if you think about it too deeply. It started off a little mundanely, but once the time-loop factor kicked in it became far more interesting and opened up to a good mix of action sequences and light-hearted scenes. Cruise and Blunt work well, though I found Cruise far more convincing as the novice warrior rather than when he's in full battle mode. CGI effects were not bad but not amazing...the images of war and apocalyptic cityscapes was well portrayed but the alien adversary was disappointingly spared any detail by its rapid movement as well as the short fast camera shots. The ending appeared disjointed and rushed for me, but overall I found it very entertaining. And it is always nice to see London being featured, albeit a more idyllic looking one with no traffic or crowds!! Thnx TO!
Some ferocious action interjected with a silly twist, which got quite few laughs out of me! Emily Blunt and Tom Cruise are very easy on the eyes, but you'll definitely need to be tolerant of alien shenanigans. Saw this at the TimeOut Card pre-release screening - so thanks!

Just got home from The Time Out Card screening. This film is nonsense but most enjoyable. Brightened up a rainy Tuesday evening.