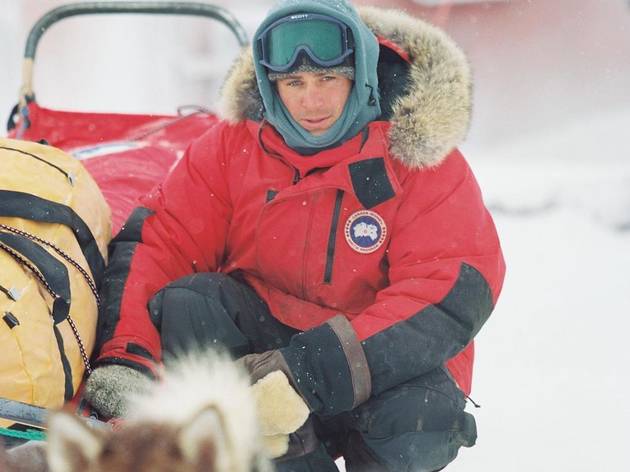 No doggie flicks for years and then four turn up at once. After 'Lassie', 'Greyfriars Bobby' and the abominable 'Shaggy Dog' comes this likeable adventure set in the wastelands of Antarctica. It's inspired by a true story from 1957 about a pack of husky sled-dogs that had to be abandoned when all the scientists were forced to evacuate ahead of a storm. In the film, the dogs' charge, survival guide Jerry Shepard (Paul Walker), is devastated that there isn't enough space to get his eight dogs into the emergency plane, but he knows it won't be long before he'll rescue them. The weather, though, has a different agenda…

Frank Marshall's latest addresses notions of hardship, endeavour and loyalty without ladling on the mush. But it's still dogged by padding and lumbered with too many subplots, improbabilities and contrived moments of tension. Despite all that, it's heartwarming, occasionally exciting, and some of the cinematography is exemplary.
Release details
| | |
| --- | --- |
| Rated: | PG |
| Release date: | Friday April 21 2006 |
| Duration: | 120 mins |
Cast and crew
Director:
Frank Marshall
Screenwriter:
Dave Digilio
Cast:
Paul Walker
Bruce Greenwood
Moon Bloodgood
Jason Biggs

Rating Breakdown
5 star:

3

4 star:

0

3 star:

0

2 star:

0

1 star:

0
Its was a heart warming film. My heart went out to the dogs and what they went through. Please rent or buy the DVD its worth it.
This movie is excellent. Watched it Easter night on TV and was riveted. I fully intend to purchase the film for my home and as a gift to others to enjoy. The whole story, the interaction of characters, the dogs, and Antarctica is worth seeing again. It gets TOP STAR.
Talk about a bitch of a film shoot; sub-freezing temperatures, ice fields, dogs and killer seals…it can only be the new Walt Disney feature film Eight Below. Based on a Japanese Antarctic film and inspired by a real-life story of sled dogs who survived extended subzero abandonment In the extreme wilderness of Antarctica, Paul Walker plays Jerry Shepard, a guide at a research base. When a University Professor arrives asking to be taken to Mount Melbourne in an attempt to find a rare meteorite, Shepard's intuition tells him it is too late in the season to make the treacherous route, yet he agrees. Worried about the snowmobile breaking through the thinning ice, he elects to use his beloved dog sled team for the journey. Upon their return, Shepard pauses to patch up one of the dogs, the professor slides down an embankment through thin ice and almost drowns. With both men battling hypothermia and frostbite, it is the dogs' stamina and keen sense of direction that gets them back to base. All personal are immediately evacuated, unfortunately, they must leave the dogs and return for them later. As the storm worsens it becomes clear no rescue will be attempted until the next spring. The movie proceeds to profile the dogs' plight and Walker scrambling for months to get his furry friends back. Stranded, the intelligent, courageous dogs spend the next six months fighting for survival and battling the Antarctic wilderness. Heartbroken Shepard tries all avenues to return for his beloved dogs and more than six months later he is given the opportunity. Six of the eight dogs survive by eating whatever they could get their paws on; birds and whale. It shows that even though there is little food available, the dogs look out for each other, share food and make sure no one is left behind. The Verdict As far as non-animated Disney films go this is one of the best I have seen in along time. Outdoorsy Paul Walker knows exactly what flick would suit him. Last summer he went deep sea diving in the Bahamas in Into the Blue and this film see's him stride through ice and snow with a pack of Huskies. With no troubles he manages to effectively convey a guy dedicated to rescuing his best friends. Movies about animals always live with the temptation to give them human characteristics. Lassie could do nearly all things humans could, well, except dial the telephone and drive a car maybe. March of the Penguins involved the penguins expressing themselves in voiceover dialogue. This story see's the dogs as exactly what they are. It is remarkable, how in a film where we know most of the dogs must survive, it succeeds as an effective story, by focusing on the dogs, rather than the humans and pulling the audience into the incredible adventure. While Walker hunts for help to save his beloved dogs, the subtitles keep count of how long the dogs have been on their own: 50 days ... 133 days ... 155 days. Even though it was not shot in Antarctica but rather the ice capped mountains in British Columbia and Greenland, there is some spectacular ice-cap photography, and audiences are unable to tell the difference. In a tale of survival and friendship, this film makes anyone want to grab your favourite pet and promise you'll never leave them. Eight Below delivers a bracing blast of puppy power that helps dispel the outrageously boring, and quite dreadful Disney's 2002 films Snow Dogs.