Fantastic Beasts and Where to Find Them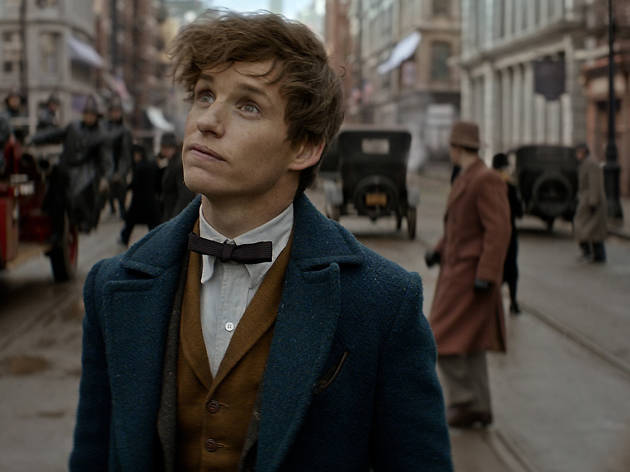 This entertaining first spin-off from the Harry Potter movies is both inventive and familiar – and Eddie Redmayne makes an endearing new wizarding lead
Has JK Rowling been taking divination lessons at Hogwarts? With spooky clairvoyance, the first movie in her new five-film wizarding franchise opens with two factions in America at each other's throats. No, not Republicans and Democrats. It's 1926, and wizards and muggles (only in America they call them 'no majs') are on the brink of civil war. Oh, and in the non-magical world, a bully-boy heir to a fortune is wooing voters. Top of the class, JK!
'Fantastic Beasts' is basically a Harry Potter prequel (though you'll get a detention for saying that). JK Rowling, writing her first film script, and longtime Harry Potter director David Yates have created an entirely new corner of the wizarding world. They strike a savvy balance between shiny new elements and recognisable ones for Potterheads. I'm not sure which is more adorable, Eddie Redmayne as eccentric magician Newt Scamander or the creatures he smuggles into the US in his battered and bottomless leather briefcase. Redmayne radiates a wet-eyed warm glow as stumbling, bashful Newt – an English wizard in New York. He's perfect for Rowling's world, where a kind heart is the most potent magical power of all.
Like a hot young David Attenborough with a wand, Newt is a bit of an eco-warrior, arriving in the US on a conservation mission to release into the wild a creature he's rescued from captivity. The cutest of his beasties is the naughty Niffler, a kleptomaniaccross between a platypus and a cuddly penguin, with its expressive snout and Gollum-like thing for gleaming trinkets. When the Niffler breaks loose and scampers around New York stealing treasures, Newt goes in search with his new gang – two wizarding sisters (Katherine Waterston and Alison Sudol) and Jacob (Dan Fogler), a muggle – sorry, a no maj – who's possibly more loyal and big-hearted than Ron Weasley. On their trail is Colin Farrell as Percival Graves, the brooding boss of security at the American Ministry of Magic.
It looks like we'll be spending more time in the no maj world in this franchise than in the Potter films. Rowling cleverly delves into America's history of witch trials, with Samantha Morton playing Mary Lou Barebone, a religious crazy who preaches hellfire and damnation.
There are not quite enough thrills in 'Fantastic Beasts' to keep you always on the edge of your seat, and no film-stealing baddie to dig your teeth into – but then Voldemort didn't make a proper appearance until 'Harry Potter and the Goblet of Fire'. Still, Farrell is in possession of some of the most menacing eyebrows in Hollywood, and we know that Johnny Depp is on his way as Dumbledore's nemesis Gellert Grindelwald. And Redmayne's lovely performance sets up the emotional core of the franchise. So yes, the magic is still there.
Release details
Rated:
12A
Release date:
Friday November 18 2016
Duration:
133 mins
Cast and crew
Director:
David Yates
Screenwriter:
J.K. Rowling
Cast:
Eddie Redmayne
Colin Farrell
Katherine Waterston

Rating Breakdown
5 star:

13

4 star:

9

3 star:

8

2 star:

1

1 star:

1
"Fantastic Beasts and Where to Find Them" is a cute, funny, and enchanting film that I had a lot of fun with.
It doesn't cheat itself by using nostalgic or references to win you over. It manages stands on it's own feet and give us a fresh look of the wizarding world. That's the biggest praise I can give to this movie, as you can watch this without any acknowledgment of the Harry Potter films and you still know what's going on. I know fans will embrace this spin-off and rightly so.
Eddie Redmayne was excellent as Newt Scamander. He's likable, engaging, and has a very distinct personality. The same goes to Dan Fogler as Jacob Kowalski who isn't the annoying sidekick that I thought he was going to be. He added a lot to this film, which is the laughter and heart to the story. Come to my surprise, his character towards the end was the most emotional part of the film.
The rest of the cast were pretty solid and I can easily see fans falling in love with the characters.
Katherine Waterston was good as Tina, who's investigating the strange things that's going on in New York City.
When I said that Fogler brought the laughter and emotion to the story - well Colin Farrell (Percival Graves) and Ezra Miller (Credence) brought the dramatic elements. Both of their scenes I found pretty intense and was more interested in that story-line.
David Yates can be a hit or miss for me. (*COUGH COUGH* "The Legend of Tarzan" *COUGH COUGH*). I did like "Order of the Phoenix" and "Deathly Hallows: Part 2". The other's on the another hand, not so much. But I can say this about Yates, he understands the universe very well and him returning to direct must feel like home to him. While the action scenes are basic and duels aren't that special, but the best part & the main focus are the characters.
My issues with the film are mostly with the effect's, editing mistakes, and the heavy exposition scenes.
I kinda wish there was more practical work with none-effect characters. Like the Goblins or Elves didn't have to be cgi and could've easily had make-up on. Because the effect's for them looked fake and pretty bad which is unfortunate to say. It really did stick out and not in a good way.
Overall rating: There's plenty of room for improvement for "Fantastic Beasts", but the flaws didn't stop me from enjoying the film. And I don't mind that there's gonna be five of these. Seriously, I don't mind at all.
There is no storyline that I could discern. The special effects are spectacular but that is not enough to keep you interested throughout. Also, Eddie seems to have failed to recovered full facial control after his utterly brilliant performance as Stephen Hawking. His blinking and gurning are extremely irritating.

A great film for those old time Harry P fans! I wasn't overly impressed with the story but I loved all the little animated creatures which totally made the film worthwhile.
For anyone that is concerned about this ruining the Harry Potter franchise for them, fear not!! I was exactly the same. Being set in America separates this new JK Rowling series completely from what we already know and love of the wizarding world, and although there are loose connections, the characters are totally different and its set 70 years prior so there are only indirect mentions of Hogwarts etc. Don't underestimate JK Rowling!! Without giving too much away... Fantastic Beasts has so much imagination and power behind it and this opening movie is without a doubt the start of something truly magical!
Funny, great special effects, sustained my interest all the way through.
Good film for all family.
It's a rare occasion that I sit in the cinema after a film and consider waiting until the next showing starts to watch it all over again. I very almost did this at the weekend. Fantastic Beasts and Where To Find Them is a Harry Potter lovers dream. The main plot line whilst a little confusing in parts is bolstered by Newt Scamander's (Eddie Redmayne) briefcase of magical creatures ranging from the needy plant like stick insect to a cute little duck billed platypus niffler. To top it all off, real fans can delight in their geekiness by recognising little hints of Harry Potter plot lines that only true fans will notice. Go and see this film.
If you're a Potter fan then you will absolutely love Fantastic Beasts. An incredible cast and production qualities at an all time high - it certainly filled the wizard world hole in my heart that's been present over the last few years. I loved exploring the magical community in a new country and era as well - the 1920's speak easy being a real highlight. My only qualm (and the loss of one star) would be the plot isn't as tight as you'd hope (I won't give specific examples as everyone hates a spoiler), but the story lacked some of the telling that the original Potter tales did so well, but then again.. that was a pretty highly set bar!