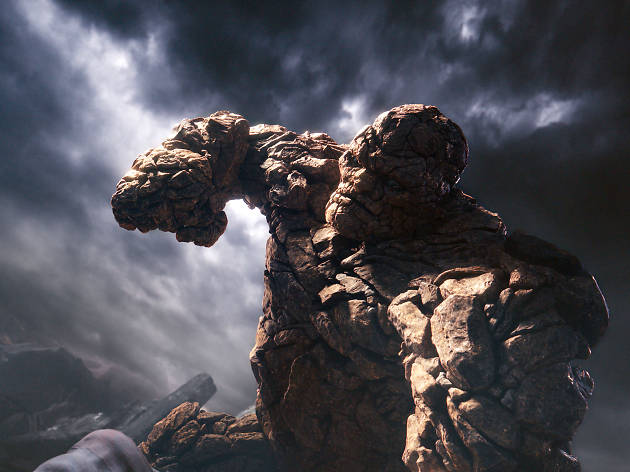 This reboot of the Marvel superhero franchise is a film of two halves: the first likeable and fun, the second tiresome and loud
Following delays, dodgy trailers and on-set rumours, the advance buzz on this reboot of Marvel's goofiest superhero team has been increasingly gloomy. It's hard to imagine what the pundits were expecting. This is after all a story featuring teenage characters called Mr Fantastic (special power: stretchy limbs), The Invisible Woman (special power: take a guess) and the villainous Victor von Doom, adapted from a lightweight 1960s comic strip and given a twenty-first century makeover by a guy whose first film, 2011's 'Chronicle', was an ugly, noisy found-footage mess. Frankly, it's amazing the result is watchable at all.

And more than that – for the first 45 minutes or so, 'Fantastic Four' is actually a lot of fun. We're squarely in Joe Dante country, as pre-teen science whiz Reed Richards and his bulky best-pal-cum-bodyguard Ben Grimm set to work on the world's first inter-dimensional teleportation device. Flash forward seven years and these high-schoolers, now played by Miles Teller and Jamie Bell, are ready to present their invention to the world. Following an invitation to continue this research in a proper scientific setting, Reed and Ben trip off to a parallel universe in the company of similarly nerdy youngsters Sue Storm (Kate Mara) and her adopted brother Johnny (Michael B Jordan). But after an encounter with a bizarre energy force, the quartet return with supercharged powers and are immediately whisked off by shady government forces.

At which point the film goes badly off the rails. Following a spot of genuinely unnerving body horror courtesy of Teller's infinitely extendable arms, the second half is nothing more than a sub-'Avengers' roundelay of superhero tics: naff catchphrases, brain-grinding exposition and lifeless punch-ups, the talented cast totally overwhelmed by the duff CG special effects. It's a shame, because there are points early on where this promises to transcend its silly source material and become a worthwhile addition to an increasingly overstuffed and predictable genre.
Release details
| | |
| --- | --- |
| Release date: | Thursday August 6 2015 |
| Duration: | 100 mins |
Cast and crew
Director:
Josh Trank
Screenwriter:
Simon Kinberg
Cast:
Kate Mara
Toby Kebbell
Miles Teller
Jamie Bell
Michael B. Jordan

Rating Breakdown
5 star:

0

4 star:

0

3 star:

0

2 star:

0

1 star:

1
I honestly can't believe I'm going to say this. I never thought the day will come when I say that "Batman & Robin" is no longer the worse superhero movie ever made after seeing this movie, but the difference between the two is that at least Batman & Robin was fun to watch and wasn't depressing and dull that Fant4stic was.
The story is about a contemporary take on the classic super-hero team - four young scientist are involved in an experiment where they find themselves teleported to another dimension. When they return, they find themselves gifted with unique powers - ones they will have use to stop an evil rising to power.
It's been 10 years now since the 2005 "Fantastic Four" was first release. Looking back on that film is like looking back on a bad memory that you wish will fade away. The 2005 movie wasn't all that good, but to me it wasn't on the same level as Batman & Robin as some people think. Rise of the Sliver Surfer was the squeal that nobody asked for but they made anywhere because...well I don't know they just did. The squeal wasn't all that great just like the first movie, but the movie itself wasn't like the worse thing ever as some people have make it out to be. I'm not going to talk about the 1994 movie, because already did a review for it. So check it out.
Now here's 20th Century Fox fourth attempt of making a Fantastic Four movie. We got a new director and a new cast to start off fresh and try to make a new franchise. Many people didn't react very well to the news of a reboot and people got even more mad at the new cast and the fact that they young and Michael B. Jordan was cast as Johnny Storm. I felt like I was the only one giving this movie a chance, as I believed that Josh Trank will make a great Fantastic Four movie and make us forget about the other ones and Trank is a good director. But it's not until I sawed the movie myself and my jaw was on the floor and it's not because the movie was amazing, but how god awful this movie was. "Fantastic Four" (or best known as Fant4stic from the posters) is one of the worst superhero movies of the year and of all time.
I heard a lot of bad things coming from director Josh Trank. Some people who worked with him have openly said that he was awkward to work with and at one point came on set intoxicated while filming a scene. The problems that happened behind the scenes really do show in this movie, as I could tell some of the re shoots with Kate Mara hair keeps changing color in a couple of scenes. I blame the studious for changing a lot of things and making it a living hell for the director and the cast. Josh Trank is best known for directing the 2012 film "Chronicle" and that movie was a smallish movie that Trank had a lot of freedom to work on with and at least there wasn't any studious coming in and changing things and making it really hard for everyone else. It's very clearly that Josh Trank wasn't ready for something big like this and he was originally suppose to direct the upcoming Star Wars sequels, but dropped out because he couldn't do it.
The biggest opportunity that was wasted was the cast. They didn't do a terrible job as their characters but they didn't do anything special. That's a real shame, because these are great actors that had nothing to do in this movie.
The visual effects in this movie are probably some of the worst looking effects I've seen since the early 90's and it's quite shocking that this movie with a lot of money behind it and have such awful looking effects. The CGI used on The Thing was completely hideous and I kind of miss the 2005 Thing a little bit. Some people may like the CGI used on The Thing but I didn't. There's a shot in the movie where Reed Richards (after he gets he's super powers) stretches his face to look like someone else to be in disguise, but when he puts his normal face back to normal and the CGI used in that one shot looked laughably bad. There wasn't a single shot in this movie that didn't even look convincing.
Now lets talk about Dr. Doom in this movie or I like to call him Mr. Freeze #no. 2, because Dr. Doom is this movie was a complete joke and he wasn't in the movie that much, as he just turned up towards the end of the movie. Dooms motivation in this movie was pretty random and wasn't well written at all. Before Victor turns into 'Doom' the only character development that we got from his character is that he thinks he's smarter than ever one else and he just hates people...WHAT?! The way Dr. Doom looks like that robot from Superman 3, but if you put a black bin bag around it and set it on fire, then let it dry out a bit, then you add some Christmas lights around it and now you got Dr. Doom. The final battle scene with Doom and The Fantastic Four is only five minutes long, and yes, I actually did time to see how long it was and it was short.
Watching this movie from beginning till end is like watching one of those MTV parody skits that's funny because of how bad it is, but also being self ware. This movie takes itself way too seriously and tries to be all dark and gritty. At least the other two Fantastic Four movies had a sense of fun and adventure to it if you compared it to this dull flick.
Overall rating: Fant4stic is a depressing, grim, poorly cast movie that's no fun to watch. I rather watch "Batman & Robin" than this movie ever again. I mean, at least that movie doesn't take itself too seriously.