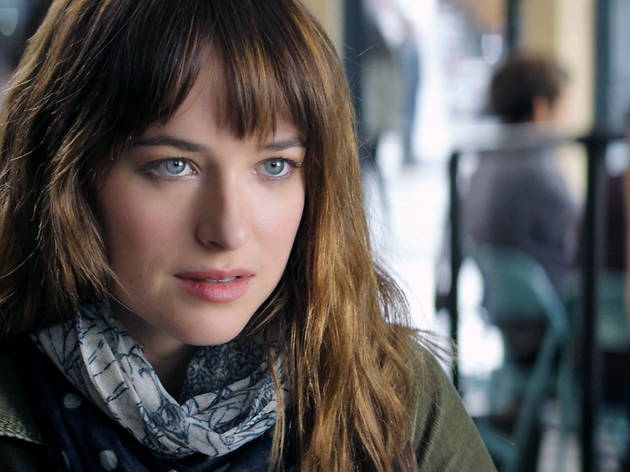 Time Out says
A watered-down adaptation that hides coyly under the sheets, 'Fifty Shades of Grey' is full of all sorts of sex, but it's still a hopelessly softcore erotic drama that fails to be even a fraction as titillating as the EL James books that inspired it. And yet, strangely, that's exactly why it works.

'Fifty Shades' begins with Anastasia Steele (Dakota Johnson, nuanced), a demure college student, arriving for an interview in the office of Christian Grey (Jamie Dornan, stiff), Seattle's most eligible billionaire. It isn't long before the two are bound together like the pages in the spine of a saucy paperback. The virginal Anastasia, however, is in for a surprise: Christian is as kinky as he is rich.

Inevitably, this telling of the tale has been neutered to the brink of recognition. Christian is an S&M fetishist, and when Anastasia is invited into her new partner's 'Red Room of Pain', she's confronted by a wonderland of leather, rope and recycled circus equipment. And yet, by the time the movie ends just a few mild spankings later, 'Fifty Shades' feels like going on a trip to Disney World and only riding the monorail.

But British director Sam Taylor-Johnson's film becomes fascinating for the finesse with which she navigates the prudishness forced upon it. The director is capable of pivoting from romantic comedy to erotic drama at the crack of a whip, her dexterity allowing the tepid sex scenes to be framed by a surprisingly sensitive story of self-discovery.
Substituting heartache for handcuffs, 'Fifty Shades' is the rare studio romance in which the characters actually try to understand one another. As this is the first part of an epic trilogy, how much there is beneath the surface remains to be seen, but Taylor-Johnson seems genuinely interested in finding out.
'Fifty Shades' may not make you come, but you'll still be glad you went.
Details
Release details
Release date:
Friday February 13 2015
Duration:
124 mins
Cast and crew
Director:
Sam Taylor-Johnson
Screenwriter:
Kelly Marcel
Cast:
Jamie Dornan
Dakota Johnson
Marcia Gay Harden

Average User Rating
2.2 / 5
Rating Breakdown
5 star:

0

4 star:

0

3 star:

4

2 star:

3

1 star:

2
I've seen the film on a pretty big screen which was about 80% full. Obviously, there were no teenagers (it's rated 18) but a lot of people were laughing a lot of the time.
I suspect that this wasn't the films objective, especially since they weren't laughing at the few scenes which (I think) were supposed to be funny.
I found the film extremely boring. That basically sums up all I want to say about it.
The dialogues seemed to have come from my diary when I was 14 and I wrote down my daydreams about being swept of my feet by my gorgeous hero, Fox Mulder, and we would show those aliens who are abducting us just how hot humans can be when they are totally in love. I don't remember having any whips in my repertoire, but without internet, it was harder to broaden one's imagination. These days...
Okay, to sum it up, the guy doesn't want to be touched and wants her to sign a sex contract where she agrees that he will control everything in her life. (Not just when and how they have sex.) She can't talk to anyone about them either. And if she wants to, you know, live her life, she'll be punished. Right. He says he's 'that way' and won't talk about himself which I would translate as, hey, let's try some therapy, it might help you and I still might want to be tied to a bed and try out some of those gadgets in your sex room. But no... So everytime she tells him she doesn't want to be with him, he appears uninvited in her flat, a party etc and persuades her to have sex (which he normally doesn't practice, but she is 'changing' him) and then asks her to make up her mind (hint - she already did).
Too many clichés in the film. He's her first love, and she's the first one that he actually 'cares' about enough to stalk her most of the film which is supposed to prove he is really falling in love.
Girls and boys, remember, loving (or lusting after) someone doesn't mean the person now belongs to you. It just means you have emotions. They are still someone completely autonomous and they make they own decisions which (surprise!) might not be what you want.
Having different kinds of fun in bed is all well, but perhaps you should properly talk about it, blind trust generally doesn't work out.
Oh and selling her car without even asking her? What?!
The poor actors seem to be throwing these nonsensical lines at each other and hope for the best.
The characters are so underdeveloped it's cringe-worthy. All I know about them is that he's rich (very very rich) and goes occasionally to some very stylish meetings straight from a film set and she's a bookworm who works in a hardware store, continually sucks on her lip and plays with her hair.
I identified best with the glass of (hopefully pretty expensive) wine. I really really wanted one.
And I kept thinking, well...who cleans that sex room. His cleaning lady? I hope he pays her extremely well.
I think this film is already being over hyped! A sure sign it won't live up to the novel. Sorry girls.
I was intrigued to see this film but was disappointed to find that Jamie Dornan's acting has all the erotic tension of a lampshade. Dakota Johnson takes a reasonable stab at playing his gorgeous ingénue. There is something fresh and quite captivating about this naïve but spirited heroine. As a heterosexual woman however - the target audience for this quasi porno series -I didn't expect to find the female lead more interesting than the hero. He might as well be a block of wood with a whip. The other major source of appeal is the lavish furnishings of his property portfolio... so not so much lady porn as property porn. All in all, a case of deflated expectations.
As a happily married parent of two in my early forties, I went to see 50 shades on valentines day eve with my husband (who hadnot read the book).... Well, what to say! We actually enjoyed it... My expectation was spot on: Bridget jones but darker crossed between pride and prejustice re attitudes of characters...Jamie Dornan is very fit and plays the part well although he has been slated by the critics, the last half hour were his finest moments.... (The script could have incorporated the comment that Christian made about the presence of Ana's pubic hair when he first undresses her to give his character more depth/comic interpretation and also references to the beetle being a 'death trap' whence his need to replace it without further discussion... These and many other aspects of his character were glossed over which is a pity) Can't wait for part 2 now as we will hopefully see more of their personalities and their inner struggles for acceptance....
Does the film stand up without having read the books....? Not sure! The no knickers scene when Ana meets his parents/family isn't really clear unless you have read the book, my husband wasn't too sure what was going on at that point (proves the point really) the best thing was that there was no inner goddess ever mentioned hoorah!!!!! A good friend wanted to go and see it so I'm going again tomorrow night!!! If you are expecting to see a soft porn movie (9.5 weeks etc) then I think you will be dissappointed but as a love story that unravels throughout a trilogy of books then the foundation is good, book 2 is more gritty so here's hoping the film will be too!!!! Signing off for now x