Five things we learned at SXSW 2014
From freaky festivalgoers to the future of film, here's what we encountered at this year's South by Southwest festival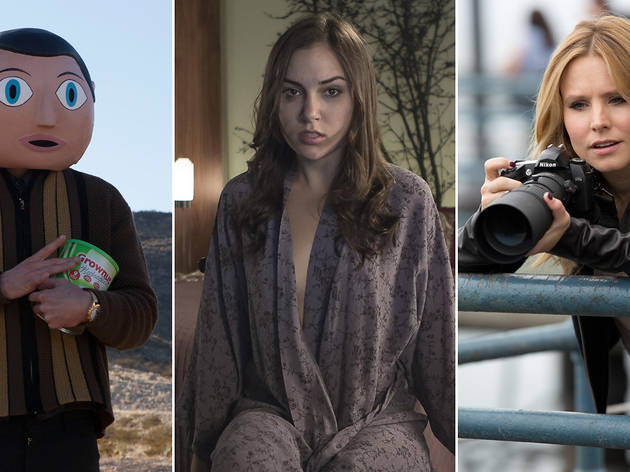 Take all the wacky-hat-wearing tie-dyed 'free hugs' types you find at Glastonbury, then multiply them by ten and add Texan sunshine. That gives you a pretty good impression of what it's like walking down 6th Street, Austin's main drag, during SXSW. I saw six hippies on Segways and a whole fairground's worth of goths on stilts.
Weirdest of all was a group of pro-gun protesters ('less crime, more guns!') having a stand-off with a lady with her chesticles out ('boobies, not guns'). The vibe is gently sent up in the off-beat Michael Fassbender comedy '
Frank
', which screened here at SXSW. You'll watch the film thinking 'yeah, right'. But if anything truth is freakier than fiction.
Considering the crowdfunding site Kickstarter only turns five this April, its impact on film is huge. Now anyone at all can pester friends and family with requests to help fund their film (instead of using JustGiving to annoy people with requests to fund their trip to Belize to swim with dolphins 'for charity').
At SXSW, one of the most eagerly anticipated Kickstarter films was unveiled just ahead of its London release: the movie version of the cancelled TV detective show '
Veronica Mars
'. With a record-breaking $5.7 million sourced from the community, it's on a completely different scale to most Kickstarter projects. Some indie filmmakers have criticised big name projects like this (and Zach Braff's 'Wish I Was Here'), but there's no denying the numbers: Kickstarter is here to stay.
At a crawfish boil (don't ask) I bumped into SXSW regular Elijah Wood, who convinced me to see his new movie 'Open Windows'. Unfolding mostly in open windows on a computer screen, an unseen manipulator convinces a fan to spy on the object of his affections.
It sounded intriguing, but I'll be honest, the film's biggest selling point is the idea of putting Elijah Wood, Neil Maskell (the dead-eyed psychopath in 'Utopia') and porn star Sasha Grey (from Steven Soderbergh's '
The Girlfriend Experience
') in a film together. It's the best pop-culture Venn diagram since Buffy the Vampire Slayer, The Rock and Queenie from 'Blackadder' shared a screen in '
Southland Tales
'.
I've left more food on my plate in Texas than a London restaurant serves up as an entire meal. Plus, at SXSW, no marketing stunt is too grand, or idea too silly. Don't get me wrong, whopping portions and daft promotional items have a certain joy to them (I speak as someone who now has a bottle of '
Anchorman 2
' hand sanitiser on their desk). But the 'bigger in Texas' rule hits a low when it comes to how far you have to travel to get to far flung corners of the festival. (So-called SXSW Satellite screenings are presumably named after an actual satellite orbiting the earth, because they are approximately the same distance away.) Here's an idea for next year's over-the-top promotional give-away: all delegates and filmmakers to be given an awesome pick-up truck. You're welcome.
SXSW is a multipurpose festival, celebrating film, technology and music. Turns out, you can easily tell who's here for which, because (to generalise wildly) the tech gathering is basically a bearded check-shirted sausage fest, then when the music side of things kicks off, some actual women arrive.
Understandably, the film programme included a healthy line-up of music-related films. Festival-favourite Edwyn Collins doc 'The Possibilities Are Endless' premiered to rave reviews. Sheffield's own Jarvis Cocker arrived with an amiable doc about Pulp's final show, while 'Our Vinyl Weighs a Ton: This Is Stones Throw Records' provides inspired insights into the pioneering LA hip-hop label.
See the latest Time Out film features