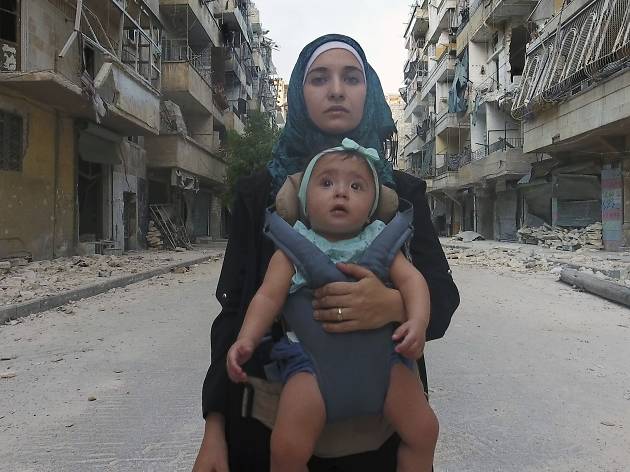 Time Out says
This documentary, which was filmed within the siege of Aleppo, is an acute and horrifying look into the realities of conflict.
A documentary set inside the maelstrom of Aleppo, 'For Sama' is an often harrowing, sometimes uplifting, entirely unique chronicle of life in wartime. It's the work of Syrian journalist-turned-filmmaker Waad Al-Kateab, who charted her city's slow death over five years of revolution and repression, and British director Edward Watts, who helped shape it into this stunning doc.
It's rated 18, which tells you what you need to know about the footage Waad has captured. As Russian jets thunder overhead and shells crash in, her camera plunges into the bloody aftermath. Dust fills corridors, doctors (including her own husband) work in makeshift operating theatres, and your heart sits permanently in your mouth as you wait to find out who made it and who didn't. The cruelty of the attackers is monumental; the resilience of the besieged even more so.
'For Sama' plunges deeper into the conflict than even the grittiest war film could manage. Drone shots time-stamp the city's bomb-scarred state and CCTV footages shows the moment a bomb hits a hospital. It's a miracle the film was even made, mainly because it's a miracle Waad survived, but there are moments of joy too. Patsy Cline's 'Crazy' plays softly at her wedding, the discovery of a persimmon fruit is greeted with tongue-in-cheek jubilation, and gallows humour abounds. All the time, Sama, Waad's baby daughter for whom the film was made, plays nearby. You don't need to be religious to find yourself praying for her.
Details
Release details
Rated:
UC
Release date:
Friday September 13 2019
Duration:
94 mins
Cast and crew
Rating Breakdown
5 star:

1

4 star:

0

3 star:

0

2 star:

0

1 star:

0
This remarkable documentary is made up entirely of phone footage shot over five years in Aleppo and progresses from student protests to a horrendous siege of the city which is continually bombed by Russian warplanes.
The "Sama" of the title is the baby daughter of journalist Waad Al-Kateab who bravely filmed the suffering and slaughter of innocent civilians and dedicates the film to her child who has known no other life.
Her husband is a doctor who tries, often in vain, to tend and help the injured in the hospital he has set up, often without even the most basic of medicine or even water.
The phone footage was co-ordinated by British director Edward Watts, and it is certainly unlike any documentary I have ever seen. I am not particularly knowledgeable about this conflict, apart from the fact that a power-crazy madman is happy to ruin and murder on a colossal scale, with the aid of Russian air power, to keep control of Syria.
Not a film for the faint-hearted in its record of the human damage inflicted on innocent citizens and their children as even hospitals are bombed. Such inhumanity on an unimaginable scale and the fortitude of the Aleppo population even brought this usually hard-hearted cinemagoer near to tears.
An incredible achievement from Waad Al-Kateab and one day hopefully Sama will admire the ordeals her mother went through from her infanthood to eventual safety.