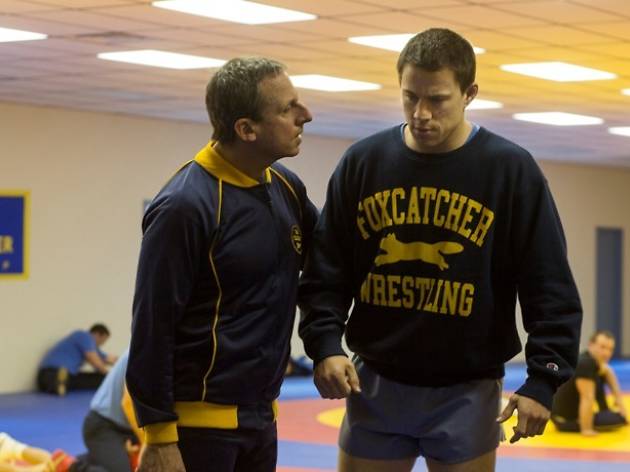 This should have been something truly remarkable: a peerless cast of playing-against-type Hollywood bigwigs, a director whose track record ('Capote', 'Moneyball') screams quality and a real-life story that speaks to timely themes of wealth, privilege and exploitation. But somehow 'Foxcatcher' is more fascinating curio than genuine heavy-hitter: intense, thoughtful and studded with startling moments, it's just too dour and muted to ever properly catch fire.

Channing Tatum gives the performance of his career as Mark Schultz, the bruised but unbowed Olympic wrestler who signs up to a new training centre run by oddball millionaire John DuPont (Steve Carell), the scion of a serious old-money family. Grasping the chance to escape the shadow of his successful older brother (Mark Ruffalo), Schultz Jr falls increasingly under DuPont's malign, mesmerising influence.

It's hard to say exactly what's at fault here: the performances are flawless – Carell fully justifies his unlikely casting, while Ruffalo is as dependable as ever – and the script is astute, intimate and at times shocking. But there's just no real life in the film: aiming for a tone of studied foreboding, director Bennett Miller instead sucks all the energy from his story. 'Foxcatcher', then, is something of a failure – but it's a peculiarly compelling and indelible one.
Release details
| | |
| --- | --- |
| Release date: | Friday January 9 2015 |
| Duration: | 130 mins |
Cast and crew
Director:
Bennett Miller
Screenwriter:
E. Max Frye, Dan Futterman
Cast:
Channing Tatum
Steve Carell
Mark Ruffalo

Average User Rating
3.6 / 5
Rating Breakdown
5 star:

1

4 star:

1

3 star:

3

2 star:

0

1 star:

0
If you don't know the true story behind Foxcatcher, don't look it up before watching, I'm not saying that the way things end is a particular surprise - it can definitely be seen coming, but what is enjoyable about the film is the journey there, the perfomances of the actors, the psychology behind the actions, the realistic wrestling sequences, the interplay between the characters and being involved in the journey of two relatively poor brothers (despite being olympic gold medalists) into a someone else's life of money and excess.
You wouldn't know it was Steve Carrell playing du Pont without being told before hand or seeing him in the credits, he gives a great believable performance, apart from maybe the end which in a way despite the set up of the previous 2 hours, did seem to come a little out of the blue. But I guess you can't complain, it's a true story after all and there's only a limited amount of time with which to show the 5 years or so over which it happened.
Overall I enjoyed this film as much as Moneyball, another film by the same director I highly reccommend watching, and it has piqued my interest in his other film Capote which I'll be watching soon

It's certainly not Rocky. Much more of a slow burner, perhaps too slow. It's hard to ignore the actor's physical commitment to their roles, the excellent Ruffalo looks quite transformed and not in a good way! The wrestling scenes look realistic but I'm not sure if the film really manages to unravel why Du Pont had such a psychological hold on Channing's character. It's obvious how its going to end even if you dont know the true story and while tragic, you kind of wonder why they didnt see it coming.

Dreary wrestling drama. There might well be psychology and metaphor aplenty in this but unfortunately it all went way over my head. Carell`s character is extremely watchable but wearing a huge prosthetic nose does not necessarily a best supporting actor make.
So Tom, 'no real life' - jeez, this WAS real life. And all the more credit to Bennett for actually avoiding the sort of Hollywood trappings that you seem to be demanding! By eschewing the obvious cod-dramatics that normally plague true stories (especially one of this depth, weight and sheer surrealism) the film insinuates itself under the skin long after the house lights have come on. It catches fire exactly because it adopts this approach.
I would also argue that Carell is the only actor actually playing-against-type. Channing has hardly had a career playing quick-thinking, cerebral types! And Ruffalo, well Ruffalo is classic simple, honest, brother material.
The performances are remarkable (Carell MUST win best supporting actor). The cinematography is blissful on the eyes. The whole thing harks back to a bygone era of the more credible Hollywood of 'All The President's Men' (and even Pakula's other class act 'The Parallax View').
In a 2015 that has already delivered the overrated, emperor's new clothes that is 'Birdman' - I'm convinced that 'Foxcatcher' (and 'Whiplash') will be the movies that prevail in the conscious the longer.